Must Reads: 'Why am I going to die today?': The words of first responders to deadly Las Vegas shooting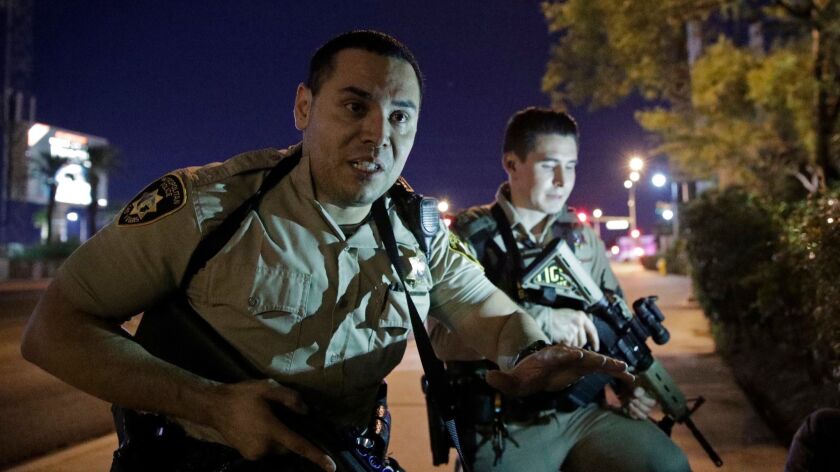 Reporting from Las Vegas —
First-hand accounts by Las Vegas police about their roles in the mass shooting last October that killed 58 people and wounded hundreds at an outdoor concert were released this week, offering a new perspective on the deadliest mass shooting in modern America.
It was the third major release this month in response to a public records request and a court ruling requiring the Las Vegas Metropolitan Police Department to provide documents, body camera footage and 911 call records. Wednesday's release of about 2,000 pages included more witness statements and interviews with staff at the Mandalay Bay hotel — where the shooter was staying and carried out the slaughter. More materials are expected to be released in the coming weeks.
Dozens of the officers' reports paint a harrowing — yet often a more clinical — view of what happened that night when Stephen Paddock opened fire from his 32nd-floor suite — taking aim at 22,000 attending the Route 91 Harvest country music festival.
Officers described feeling fear. One questioned God. Amid the chaos, another recounted remembering seemingly trivial items — like a victim looking for his friend while still clutching a can of Bud Light.
Some of the reports are short — just a few lines. Others are detailed, with a few leading into the shooting by describing what they were doing prior to tragedy. One was busting prostitutes. Another was on a jog near his home. Some were working security for a Las Vegas Golden Knights NHL preseason game. One officer had spent the day celebrating his child's birthday.
Vegas police release first video of officers breaching door of mass shooter at Mandalay Bay »
There were accounts of bravery and heroism amid the tragedy, and some officers used their reports to praise the actions of others — including a recruit at the scene who began performing first aid immediately. But there were also accounts of frustration at some who got in the way of first responders.
None imagined what they were going to see that night. A few officers noted having to decide on the spot whether to help the wounded or try to stop the shooter. One report included ideas for tactics that might have helped save lives, including the use of smoke canisters that could have made it harder for Paddock to pick out targets. There were accounts of hospitals overflowing with patients. "The hospital went from smelling like blood and death to smelling of bleach," an officer observed.
Here is a sampling of what some saw and how they felt responding to the Oct. 1 shooting: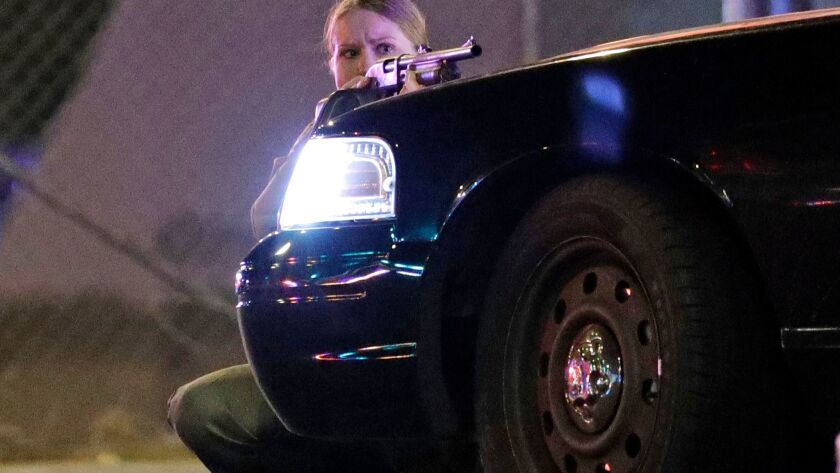 "I was terrified. I questioned God, 'Why?' Why am I going to die today? I don't want to die. This is what I was trained for? I have to see this? Why? I don't want to do this anymore. I thought, 'I want to run, look there's a field, you can run, find a street, call a cab, leave, go home!" Officer A. Mitre wrote. "Then I said to myself, 'how hard have you worked, the academy, the badge, the love you have for people, you have to help, you might die, that's okay, you can't go, you have to stop the threat, you have to save them."
"At this point, I believed I would probably die, as all I had was concealment from a fabric tent," Officer P. Zaragoza wrote. "I continued to make tourniquets, overwhelmed by seemingly dozens of individuals bleeding out, waited for a pause in the gunfire so I could run to gear up, and hoped that if I was shot, it would be in my body, not my head."
"The first victim I came across was a female in her 20s not breathing," Officer D. Hunkins wrote. "I immediately started chest compressions and an unknown male was giving the victim breaths. We worked for several minutes on the female before a member of Medic West checked her vitals. The medic stated: "'She is dead. Move on.'"
"[Officer] Mark [Bordoni] and I kept going back and forth trying to figure out where the shots were coming from," Officer K. Bryant wrote. "I remember very clearly thinking, 'this is it. I only have my Glock 40 caliber and I'm probably up against a fully stocked assault team with tactical gear. I thought about my wife and kids, would I ever see them again. I looked to my right and there were three or four men doing chest compressions on a female who had been shot in the head. I've seen enough death in my 15 years on the job that I knew she was gone, but I was not about to say anything to those brave men."
"Around 10:39 p.m. I called my family and said, 'I'm ok.'" Officer J. Parker wrote. "I must have sounded not ok though."
"As I got home I found it was hard to process what had happened. I just sat in my bed thinking that I hoped what I've done was enough," Officer S. Quijano wrote.
"At this time, a highly intoxicated [man] standing at approximately 6' 0" with a medium build wearing a baby blue polo shirt, having a buzzed haircut and a thin moustache approached me from behind," Officer A. Loos wrote. "He shouted that he was a combat vet and that I should give him my rifle as he emerged from behind the cover of the patrol car and flipped off the shooter. I grabbed him and pulled him back to safety, he promptly stood up again and continued to flip off the shooter. I pulled him back a second time and he demanded my patrol rifle again. He then grabbed onto my rifle with both hands in an attempt to wrest it away from me. I punched him one time in the jaw with my left hand causing him to let go and lay down flat on his back in a supine position."
"I could feel my mouth was extremely dry and cotton mouth and I had no spit. I also felt myself starting to get tunnel vision and I can remember concentrating on tactical breathing to calm myself," Field Training Officer C. Hendrex wrote about searching for the shooter on the 31st floor of the Mandalay Bay.
"Despite the carnage all around us, some people did not seem to understand the danger they were in," Officer C. Cooney wrote. "I even observed two men in the crowd get into a fist fight for unknown reasons. One of the men was punched unconscious by the other and two other men dragged the man to safety."
"I may not know for some time who you all were but I will find you and make sure I get to thank you personally," Officer Bryce Martines wrote.
"Sergeant Hee, who was aware of the fact [name redacted] and I were at the scene of the carnage, did an amazing job in making sure we were okay," Officer Brennan Childers wrote. "In the days following, he went above and beyond for us. I was born and raised in this city, and this was a devastating day for me. Since then, I have been overwhelmed by the community outreach, the stories of heroism and the overall emotion associated with this call. Vegas Strong."
"We did what we had to do, what we wanted to do, to ensure Las Vegas was not taken from us," Officer J. Bryant wrote.
Twitter: @davemontero
---
Must-read stories from the L.A. Times
Get the day's top news with our Today's Headlines newsletter, sent every weekday morning.
You may occasionally receive promotional content from the Los Angeles Times.