'They're shooting to kill us all': Police interviews with Las Vegas rampage survivors are released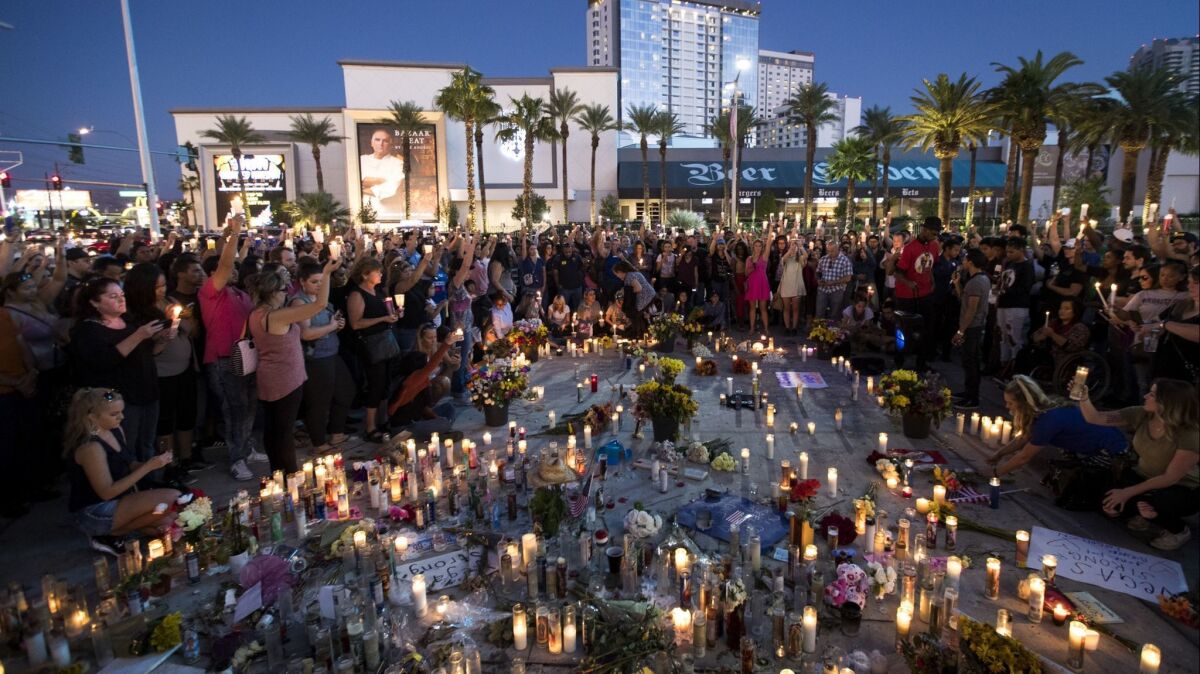 Reporting from Las Vegas —
At first, they thought it was part of the show. Some looked up for the fireworks. But within moments, however, a horrible feeling began to sink in as the screams filled the air.
They wondered whether they were going to die.
Las Vegas police released more than 1,200 pages of witness interviews and officer reports Wednesday that detail the harrowing moments after a mass shooting that killed 58 people in October.
The documents were the second wave of items released by police after the Nevada Supreme Court ordered the department to provide the materials after media outlets, including the Los Angeles Times, sued for them.
In statements and interviews days after the Oct. 1 mass shooting where Stephen Paddock opened fire from his suite at the Mandalay Bay hotel onto a crowd of 22,000 people at the Route 91 Harvest country music festival, victims tell police officers about their wounds and fears.
There are also accounts from Mandalay Bay staff and security and witnesses from inside the hotel during the shooting — including what appears to be an interview with Jesus Campos, a security guard who was shot in the calf by Paddock while in the hallway of the 32nd floor. His name was redacted in the report, but the actions and wound described match authorities' accounts of Campos.
At one point in an interview with officers, Campos described how, after he was wounded, he waited for a lull in the gunfire so he could make it down the hallway to his shift manager and two other security guards. He was then able to take the elevator down to have his wound treated — though he said it was about 90 minutes before a SWAT medic was able to look at his injury.
On the ground at the concert, the collection of statements and interviews reveals terror, confusion and chaos.
A 33-year-old woman with a gunshot wound to the thigh and a broken pelvis told Las Vegas Police Det. T. Townley in a recorded interview that she couldn't understand why the shooting kept up for so long.
"And, um, I kept praying, please let them leave already. Why aren't they walking and leaving? Why aren't they, you know, shooting and then escaping? Like why are they just standing? And just sinking in, like, oh my goodness. They're — they're shooting to kill us all. They're shooting — we're gonna die. And I remember saying we're gonna die."
In a hospital interview with a pair of Las Vegas police detectives two days after the shooting, another victim, whose name was redacted in a police report, described a chaotic, disorienting scene trying to escape the bullets.
A detective — identified as D. Jappe in the transcripts — asks the victim to detail what happened after hearing the gunfire, described as a sounding like fireworks.
"And then I would say, a couple of seconds later, um, I fell to the ground and I couldn't feel my arm," the victim said. "So I just kept yelling, 'I can't feel my arm. I can't feel my arm. I can't feel my arm.' Um, and then my aunt was with me and she was just like — You're fine. Get up. Jason's performing (country western artist Jason Aldean). What are you doing on the ground? Like and then she saw blood coming from my arm."
The victim said after a second round of bullets, everyone hit the ground.
"There was like a bunch of people on top of us — on top of me specifically — um and then when it stopped we knew we had to get up to get going," the victim said. "And I remember not being able to get up. I just remember telling (name redacted) like 'Get off me. Get off me. Get off me.' "
Hundreds were wounded during Paddock's rampage from his perch at the Mandalay Bay. With his arsenal of ammunition and cache of weapons — including at least one AR-15 rifle equipped with a "bump stock" to simulate automatic fire — Paddock killed 58 people in about 15 minutes before shooting himself in the head. The gunman was dead when police entered his hotel room.
Police have not been able to determine a motive for the shooting, but a Caesars Palace casino host who was interviewed described Paddock as "a weird guy."
The department's preliminary investigative report included interviews with Paddock's girlfriend, Marilou Danley, that seemed to support the comment about the gunman's strange behavior. She had described Paddock as growing distant leading up to the shooting and told investigators how three weeks before the shooting, he was constantly looking out the windows of the hotel room, which overlooked the site where the concert would take place.
She said he would move from window to window, as if studying the angles.
In another document released by police Wednesday, an interview a person at the Clark County Detention Center revealed Paddock answered a Backpage ad for schematics for "Auto Sear" for an AR-15 for $40. But the potential seller told detectives Paddock wanted to buy the actual Auto Sear for $500."
Paddock began talking about "anti-government stuff, FEMA camps…" said Katrina was a "trial run" for the government to start "kicking down doors and, um, confiscating gun." He "seemed like another internet nut."
Police have determined Paddock was the only shooter during the rampage.
During the shooting, a witness on the 30th floor in the Mandalay Bay tried to reach the front desk about what he described as "full auto" gunshots going off.
"I tried to call the front desk. I couldn't get through. Uh, so I called the Luxor. I got ahold of them. And I — I told them that the shooter was on my floor," the witness said. "And they said, 'No, he – he's on – he's at the Mandalay Bay.' And I said, 'I'm at the Mandalay Bay.' And she's like, 'Oh, uh, let me transfer you to, uh, Mandalay security.' So she transferred me, and I told the lady, 'The shooter is on my floor. I think he's next door or he — he is nearby.' And she started yelling, 'He's on the 30th floor. He's on the 30th floor.'"
He said the operator hung up on him. The man turned off all the lights in his room, hid and called his father, whom he asked to call police.
The statements also showed many examples of humanity throughout the night. Many victims told stories of people stopping to carry those who were wounded, tying tourniquets to stop bleeding and putting their bodies over others to protect them from bullets.
One victim told detectives that trying to get to the hospital was a frenetic and sometimes dispiriting journey.
A taxi driver rolled up his window and drove off when the victim asked for a ride to the hospital. A limousine driver, after initially directing the victim to a row of ambulances, changed his mind and agreed to drive the victim to Desert Springs Hospital and Medical Center.
"The hospital was on lockdown and people were arriving in pickup trucks," the victim said.
The victim later was transferred to Sunrise Hospital.
"It was just, like, chaos," the victim said. Later the victim told a detective, "People were just in hallways in stretchers."
The victim said the volume of patients was so great that "they couldn't get the names of everybody … so they just had a paper and they just wrote, like, 'She had morphine.' They had an X-ray. But because they took the X-rays before my registration, they couldn't tie it to me, so they couldn't diagnose what was the issue."
The documents released also revealed the deep losses felt by those at the concert.
One statement from a man described being at the concert with his wife and daughter. His wife was shot in the back.
"I made my kids run and tried helping my wife," he wrote. "Others also started CPR and managed to put her on a table and carried her out to Reno and Haven St.
"She didn't make it."
Police said they plan to roll out the release of more documents, video footage and 911 calls over the coming months in compliance with the court ruling.
Two weeks ago, the department released body-camera footage of officers breaching the door where Paddock had been shooting. Officers found him in the room, dead with a gunshot wound to the head and an arsenal of weapons and ammunition scattered throughout the room.
Twitter: @davemontero
---
UPDATES:
7:15 p.m.: This article was updated with additional statements from witnesses.
3:30 p.m.: The article was updated with additional details.
The article was originally published at 1:55 p.m.
Must-read stories from the L.A. Times
Get the day's top news with our Today's Headlines newsletter, sent every weekday morning.
You may occasionally receive promotional content from the Los Angeles Times.