Stroke of luck and gun laws kept Washington state mall shooting from being much worse, police say
Reporting from Seattle —
As bad as it was, the violence unleashed by a gunman this fall at a mall in Washington state could have been substantially worse, police say, if fate and gun laws had not intervened.
More than 30 moviegoers watching "The Magnificent Seven" in a Burlington mall theater could have been sitting targets had the suspect, a troubled, 20-year-old fast-food worker named Arcan Cetin, been able to buy other firearms that day and enter though a theater exit door he had propped open with his cellphone in what police say was an ambush plan, newly released records show.
The phone's placement brings to mind the bloodshed at a movie theater in Aurora, Colo., in 2012 that left 12 dead and 70 wounded. Gunman James E. Holmes had propped open an exit door in order to retrieve firearms from his car.
"I suspect," said Burlington Police Det. Adrian Kuschnereit, "that this theater room and the people inside of it may have been a planned target for a shooting."
But because of Cetin's strange behavior and reluctance to go through a background check, a gun store clerk refused to sell him a .45-caliber handgun hours before the suspect went to the mall. And Cetin's cellphone, wedged in the theater exit door, was spotted by a moviegoer and removed.
Cetin was able to kill five people at the mall, shooting them at close range inside a Macy's store before he ran out of ammunition.
In interviews and hundreds of pages of police investigative documents obtained by the Los Angeles Times through a Public Records Act request, Cetin is portrayed as volatile, obsessed with guns and the product of an unstable childhood. He expressed no remorse.
After his cellphone was discovered at the theater, a nervous Cetin, who had earlier bought a ticket to another movie, "Snowden," showed up in the lobby claiming he'd lost his phone, according to court records. It was returned and he left.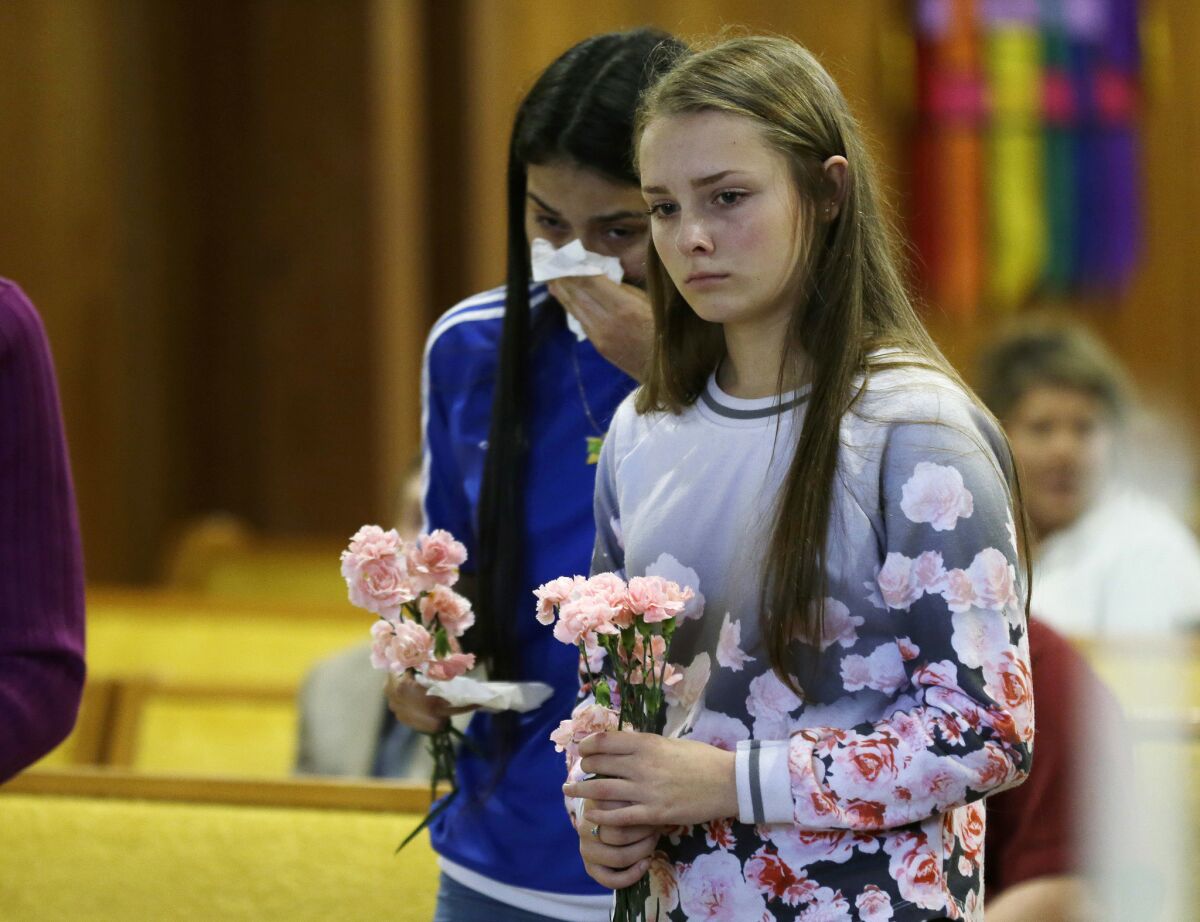 A half hour later, just before 7 p.m. on Friday, Sept. 23, security video showed Cetin entering another door at the Cascade Mall, carrying a semi-automatic Ruger .22 rifle that he had stolen from his stepfather's closet, according to authorities. . Unlike Holmes, who carried out his rampage in Aurora swathed in black body armor, Cetin wore a T-shirt and shorts.
Investigators say he moved swiftly around the Macy's cosmetics area, shooting and killing five victims at close range. In some cases, he stalked them as they crawled away and tried to hide behind clothes racks and sales counters. Then he shot them point-blank, police say.
After the ammunition in his magazine-equipped rifle gave out, he casually set his empty weapon on a counter and joined others hurrying out of the mall, the documents say.
Four victims were shoppers: Sarai Lara, a 16-year-old cancer survivor; Belinda Sue Galde, 64, a probation officer; Wilton "Chuck" Eagan, 61, a longtime Boeing worker; and 95-year-old Beatrice Dotson. Also killed was Shayla Kathleen Martin, 52, a Macy's employee.
The Turkish-born Cetin, whose social media web pages show him posed with assault-style weapons and feature photos of serial killer Ted Bundy, is being held on $2-million bail while prosecutors weigh whether to seek the death penalty. (Washington Gov. Jay Inslee has suspended executions during the time he's in office, citing "too many flaws" in the judicial system.)
According to a transcript of an interview with detectives, Cetin was asked what, theoretically, he would call someone who went into a store and killed five people.
"A murderer," he answered.
"OK, so what are you?" a detective asked.
"A murderer."
"Are you sorry at all?"
"I don't want to answer that," Cetin said.
"Cold. Ice cold," said the detective.
After the mall killings, Cetin drove his used Chevrolet Cavalier an hour south to Seattle, had a salmon dinner and spent the night in his car. When he woke up, he read about himself on his cellphone and saw his picture on Fox News. He drove back to his home in Oak Harbor, where he was arrested.
Documents reveal that just hours before the rampage at the mall, Cetin played his favorite video game, "Call to Duty: Black Ops III," which allows the gamer to assume the role of a futuristic cyborg soldier slaughtering his enemies.
"I asked him," an investigator wrote, "if killing these people [in Macy's] was similar to a video game…. Cetin did not provide a response."
Cetin's former girlfriend, who had earlier left the Burlington area, told investigators he was often angry and that she came to fear him. He had assaulted his stepfather several times and once punched his mother in the face, according to court records.
"The only person he talked to was me," the former girlfriend told investigators, adding Cetin would become jealous if she spent time with others. He failed to take his prescription to combat Attention Deficit Hyperactivity Disorder, she told the investigators, and aggravated his mood swings with excessive use of alcohol and marijuana.
After she broke up with him following repeated bouts of rough sex, she moved near Tacoma. "He messaged me on Facebook," she recalled, "and said he was going to come down here and rape me."
The former girlfriend, who worked at a Macy's near Tacoma, never worked at the Burlington store but had told him it was her favorite Macy's. Witnesses told police that the shooter shouted a woman's name as he killed his victims, but the name has not been disclosed.
Cetin, brought to the U.S. from Turkey by his mother and stepfather when he was 8, described himself to investigators as a devout Sunni Muslim who prayed five times a day, read the Koran and went by the nickname the Turk. On his social media sites, police discovered, Cetin had posted photos of Islamic State leader Abu Bakr Baghdadi and Iranian Supreme Leader Ayatollah Khamenei.
"He was asked if any of his Turkish relatives had ties to terrorists groups and he said no," a police interview summary states. He admitted to watching beheadings by Islamic State on the Internet and reading articles about the terror group.
"He was asked if what terrorists were doing was wrong and he said yes," investigators wrote. "He was asked if he was to be labeled a Muslim terrorist for these shootings would this be okay for him and he said, 'I can' t answer that.' He was asked if terrorist groups such as ISIS inspired him to commit these murders and he again said, 'I can' t answer that.'"
Cetin described a difficult childhood in Turkey, saying that his uncles hit him — one uncle was in prison for murder — and that his father and uncles also beat his mother. He was 6 when a bus ran over him, breaking his pelvis. He was diagnosed with post-traumatic stress disorder.
His mother, in a police interview, said she had gotten pregnant in high school and rejected her boyfriend's demand she get an abortion. She married a U.S. sailor she met in Turkey who was transferred to Whidbey Island, Wash., about 12 years ago.
They raised her son on Whidbey and he graduated from Oak Harbor High in 2015, she said. But he couldn't attend commencement, having gotten kicked out of school two weeks earlier after being accused of sexually harassing two girls.
Anderson is a special correspondent.
ALSO
Jurors find Dylann Roof guilty in hate-crime shootings in South Carolina church
New York Muslim woman fabricated report of Trump supporters threatening her on the subway, police say
In Arizona, Border Patrol doesn't include dozens of deaths in tally of migrants who perish
---
Must-read stories from the L.A. Times
Get the day's top news with our Today's Headlines newsletter, sent every weekday morning.
You may occasionally receive promotional content from the Los Angeles Times.