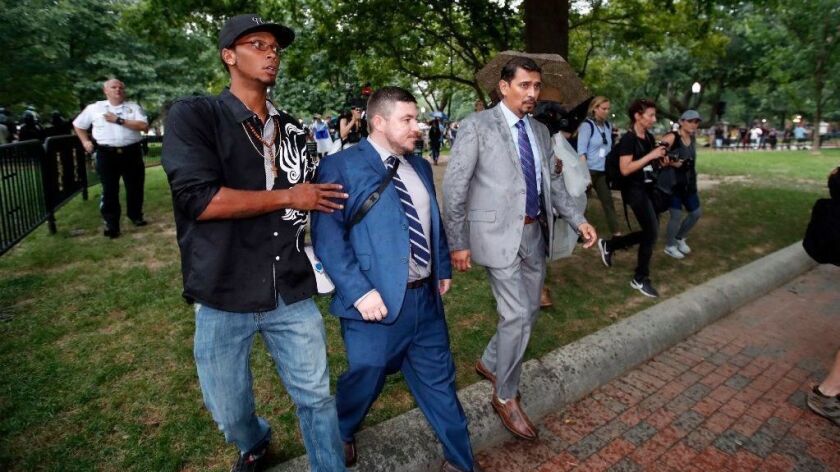 Reporting from Washington —
Marching shoulder to shoulder in the nation's capital, large crowds turned out Sunday to denounce racism as a small contingent of white supremacists staged a rally in a park across from the White House — a disparity that was heartening to many but belied deep fears over rising racial divisions across the country.
A year after deadly violence in Charlottesville, Va., became a nationwide symbol of polarization and mayhem in the Trump era, authorities braced for potential clashes as the two sides converged on the same small patch of greenery in Lafayette Square.
But as the steamy afternoon turned to a twilight thunderstorm, police managed to keep the opposing groups apart, with a few dozen white nationalists surrounded by barricades and vastly outnumbered by police, let alone the thousands of counter-demonstrators.
Shouting matches erupted, with both sides hurling taunts and jeers, but the rallies ended at nightfall with no reports of serious injuries or violence.
President Trump did not hear the chants and music that echoed in the shadow of stately public buildings and monuments in downtown Washington. He will return Monday from a summer break at his golf resort in Bedminster, N.J.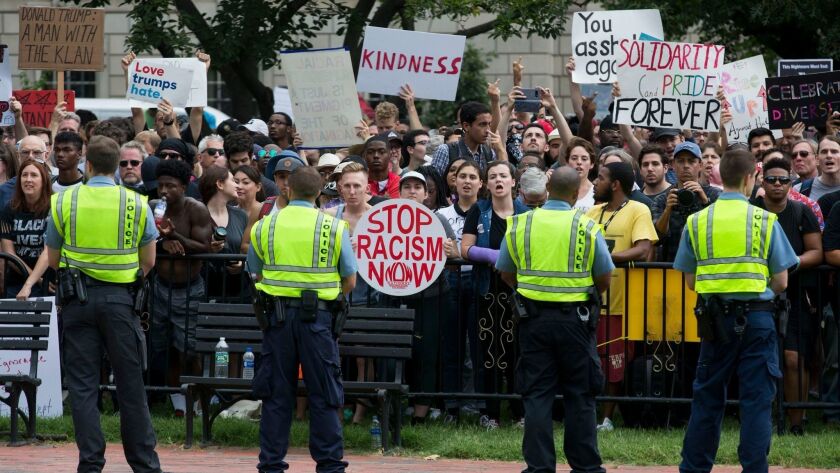 As the counter-march grew in size, however, the president sent a series of angry tweets about the special counsel's Russia investigation, castigating the Justice Department, the FBI and the news media.
On Saturday, the eve of the Charlottesville anniversary, Trump tweeted that he condemned "all types of racism and acts of violence" and called for the nation to "come together."
"Riots in Charlottesville a year ago resulted in senseless death and division," he wrote. "We must come together as a nation. I condemn all types of racism and acts of violence. Peace to ALL Americans!"
Last August, Trump triggered an outcry when he said "both sides" were to blame after a self-declared neo-Nazi rammed his car into a crowd of counter-protesters, killing one woman. The president also said then that many of the white nationalists were "good people."
Some critics said the careful wording of Saturday's tweet about "all types of racism" echoed his earlier assignment of moral equivalence to both sides, even when coupled with his call for unity. They said it was a nod to Trump supporters who believe whites are victims of reverse discrimination and need protection.
Last week, Trump appeared to stoke racial tensions when he insulted the intelligence of NBA star LeBron James and CNN anchor Don Lemon, both of whom are black, and again condemned black professional football players who kneel during the national anthem to protest police brutality.
Counter-protesters began gathering in downtown Washington hours before the small group of "Unite the Right 2" marchers arrived. Elizabeth Oka, 28, a musician from Monrovia, Calif., said she felt morally obliged to protest hatred in all its forms.
"If enough people do this, it sends a message," she said, standing in a crowd in a plaza a few blocks from the White House. "As a citizen, it is my right and responsibility to do this."
Nearby, Garold Jacob, a 36-year-old African American man from Brooklyn, N.Y., said he was afraid the country was moving backward in race relations. "This regression to the past cannot be allowed," he said.
A series of recent polls showed that a majority of Americans believe race relations have worsened under Trump. The results are heavily skewed by political affiliation, however, reflecting heightened partisan sentiment and sharply diverging views of Trump supporters and opponents.
Washington was on edge in advance of Sunday's march. Local authorities, who are veterans of other protest marches, shut several downtown streets, removed trash cans and took other precautions.
Dozens of motorcycle-mounted police, lined in long ranks, awaited the white supremacist marchers who took a train from Virginia and got out at the Foggy Bottom Metro stop in Washington, just less than a mile from the White House. Paramedics waited on standby, and Lafayette Square was cleared at one point for a final sweep by sniffer dogs.
As the counter-protesting crowds grew larger in the late afternoon, some ominous signs emerged. "It takes a bullet to bash fash," an apparent reference to fascism, read a banner carried by "antifa" protesters, many clad in black and wearing masks as they marched toward the White House.
Heavily shielded by police, the white nationalist marchers, some clutching American flags, were whisked away in vans after cutting short their rally, which had been scheduled to run for two hours.
"Who's the intolerant one?" Jason Kessler, who also had organized the original Charlottesville rally last year, asked in a brief speech that was nearly drowned out by hecklers who shouted across the police lines. "Us? Or those who showed up … to stop us from speaking?"
In Charlottesville, 115 miles south of Washington, more than 100 anti-racism demonstrators gathered near the site where Heather Heyer, a 32-year-old paralegal, was run down and killed on Aug. 12, 2017.
Heyer's mother, Susan Bro, marked the anniversary by laying flowers at a makeshift memorial. She also paid tribute to two Virginia State Police troopers who were killed in the crash of a helicopter deployed during last year's clashes.
On the Sunday TV talk shows, critics faulted Trump for helping foment racial divisiveness, while supporters said he had not been sufficiently credited for decrying hate groups.
A former senior White House aide, ex-legislative director Marc Short, said the outcry over Trump's initial blaming of both sides for the Charlottesville violence obscured his condemnation, two days later, of white supremacists and other hate groups.
"We say the president didn't call it out by name, but he did," Short said on ABC's "This Week." "We mixed the messages, which was unfortunate and wrong. But he president did call it out, and too often we don't actually remember that."
Critics painted a picture of a polarizing president who uses racially charged language and cultural grievances in the partisan debate over immigration and other issues.
"There is a concerted effort that [Trump] has been engaged in to divide people, including dividing them based on race," Sen. Tim Kaine (D-Va.), said on CBS' "Face the Nation," citing Trump's tepid response to the violence in Charlottesville as a watershed moment.
Rep. Elijah E. Cummings (D-Md.), who is African American, said Trump's call for unity Saturday did not go far enough in condemning white supremacists and neo-Nazis and seeking to quell racism among his followers.
"I think it's a low bar for the president of the United States to simply say he's against racism," Cummings said on ABC. "He's got to be better than that."
One of the few African Americans who has worked in the Trump White House, Omarosa Manigault Newman, accused him of being a "racist, misogynist and bigot" who used racial epithets, according to a memoir being released Tuesday.
Trump on Saturday slammed his former special assistant as "a lowlife," and senior White House counselor Kellyanne Conway said Sunday on ABC's "This Week" that she had "never a single time heard" Trump utter a racial slur and never heard Manigault Newman complain that he had done so.
The White House took aim again later after Manigault Newman let NBC's "Meet the Press" host Chuck Todd play tapes that she said she had secretly recorded when John F. Kelly, the White House chief of staff, fired her last year in the Situation Room, a secure area of the White House normally used for classified communications.
"The very idea a staff member would sneak a recording device into the White House Situation Room, shows a blatant disregard for our national security — and then to brag about it on national television further proves the lack of character and integrity of this disgruntled former White House employee," White House Press Secretary Sarah Huckabee Sanders said in a statement.
Twitter: @laurakingLAT
Twitter: @tracykwilkinson
---
UPDATES:
4:30 p.m.: This article was updated with additional details after the rally ended.
This article was originally published at 1:10 p.m.
---