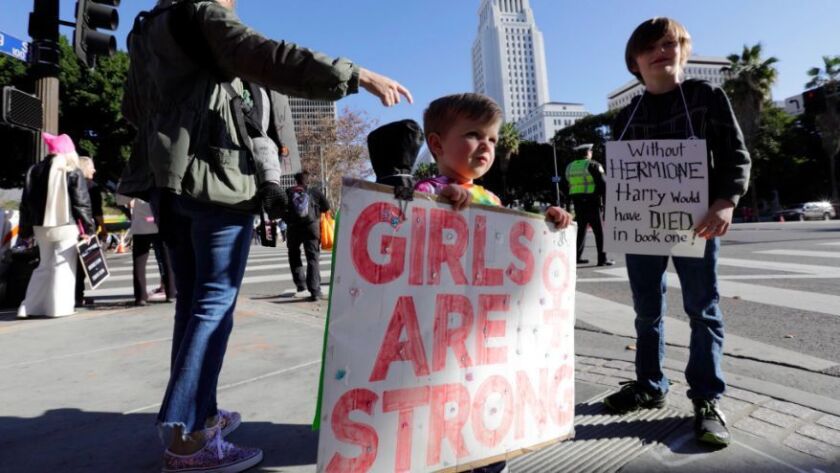 Tweets are fine, but you can't hold up a tweet for your fellow marchers to see. Same goes for videos, blog posts and selfies.
That explains why thousands of people marching Saturday grabbed cardboard, colored paper and markers to make their feelings known.
Here are signs across the country. Let's start with the kids:
Scarlett Cunningham-Young, 11, from Culver City quoted Malala Yousafzai. It's her second women's march and she wants women and girls like her to be heard. pic.twitter.com/TSlCBge4jd

— Andrea Castillo (@andreamcastillo) January 20, 2018
SEXUAL ASSAULT
This year's march takes place at a time when women are speaking out about sexual harassment and abuse more than ever. The global #MeToo movement was a galvanizing force at many of the rallies.
CLIMATE CHANGE
Trump administration policies concerning science and the environment — not to mention climate change, oil drilling and coal — are another favorite target.
IMMIGRATION
In the midst of the first partial government shutdown in five years, protesters—even those on four legs— drew attention to President Trump's policies over Deferred Action for Childhood Arrivals, the program that protects young immigrants in the country illegally from deportation.
CIVIL RIGHTS
Some protesters are recalling past civil rights battles — and suggesting more to come. Organizers of the marches across the country are focusing on registering voters and encouraging those already registered to go to the polls in this year's midterm elections.
"A protest is great, but if you don't follow that up by bothering your politicians and going to vote, it doesn't do much," said Ali Davis, 46, from Koreatown.

"You have to gently but firmly bug people to vote" in 2018, Davis said. #WomensMarch2018 pic.twitter.com/cORPJMSoaB

— Michael Livingston (@letfreedombling) January 20, 2018
---