Opinion: The drumbeat of innocence: Another wrongfully convicted man is freed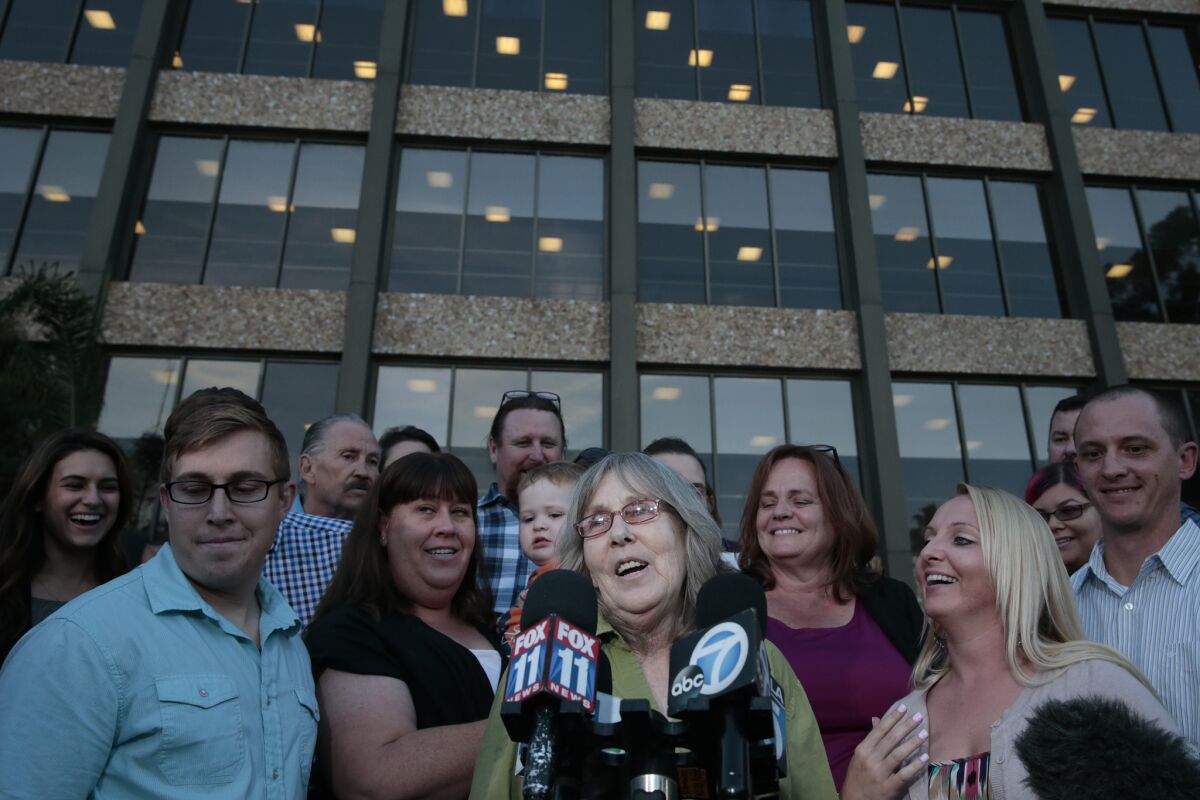 A few weeks ago, North Carolina freed two half-brothers from prison — one from death row — after 30 years because the men were innocent of the murder for which they were convicted. Now the state has released another man who spent 38 years in prison, again because he was innocent of the crime for which he was convicted.
The first impulse is to think, what's wrong with North Carolina? It turns out there's something right about North Carolina: The state has a permanent Innocence Inquiry Commission devoted to trying to unscramble bad convictions. The state bears responsibility for the original miscarriage of justice, but that North Carolina understands that there has been a problem and is trying to rectify it should be lauded and, in fact, replicated in other states. (California had its Commission on the Fair Administration of Justice, but it ended with final recommendations in 2008).
In the most recent case, Willie Womble, now 60, was convicted of being a lookout accomplice to a 1975 robbery and murder near Durham, N.C. It wasn't immediately clear how Womble, who has diminished mental capacity, came to the attention of homicide investigators, but he testified at a hearing this summer that he had been thrown to the ground and coerced into signing a confession he didn't write and couldn't read — he's illiterate. A friend told the commission that Womble was with her and her husband on the weekend of the killing. A witness at the trial failed to place Womble at the scene.
Still, Womble was convicted.
His relief came, though, not because someone in the legal system unearthed evidence of his innocence, but because the killer finally spoke up. Joseph Lee Perry, also 21 at the time, had been involved in the killing and was convicted along with Womble. But he kept silent about Womble's innocence until two years ago when his real accomplice died of natural causes. Since his friend could no longer be punished, Perry spoke up to free Womble.
Womble, who stands to receive $750,000 in compensation from the state, is the seventh person to be exonerated by North Carolina's Innocence Inquiry Commission and the third this year. Nationwide, Womble is the seventh exoneration this month alone, which includes Susan Mellen in Los Angeles, who was freed after 17 years after being convicted of murder in what a judge described as "a failure of the criminal justice system."
I've written before about the appalling use of the death penalty in a legal system this fraught with failure. In fact, analyzing the National Registry of Exonerations database, there have been at least 74 exonerations of major convictions so far this year, 37 — including Womble — of murder or manslaughter.
The guilty need to be called to account for their crimes (short of the death penalty, for reasons I've made clear). But we also need to start demanding more of our criminal justice system. From New York to Illinois to here in California we've seen the damage from failures within the criminal justice system. There are steps we can take to address some of the most egregious weaknesses, from requiring investigators to record interrogations with suspects in major crimes, to mitigating erroneous eyewitness identifications (there are several approaches), to better funding for training, standards-setting and oversight of laboratories, where DNA-testing or interpretation errors can lead juries to reach the wrong judgments.
A system that holds such power over people's freedom, and in some cases lives, needs to be as near flawless as we can make it. And judging by the drumbeat of exonerations, we're far from that.
Follow Scott Martelle on Twitter @smartelle.
---
Must-read stories from the L.A. Times
Get the day's top news with our Today's Headlines newsletter, sent every weekday morning.
You may occasionally receive promotional content from the Los Angeles Times.