10 Images
Jerry Sandusky case: Who's who
Former FBI Director Louis B. Freeh on Thursday released his report on the investigation of the actions of Penn State in the case of child abuse committed by former football coach Jerry Sandusky.
More:
Paterno and others failed, and failed badly, Freeh says
(William Thomas Cain / Getty Images)
Jerry Sandusky, then defensive coordinator at Penn State, is carried from the field by Penn State players after they defeated Texas A&M in the 1999 Alamo Bowl in San Antonio. Sandusky was convicted on June 22 of 45 counts of child sexual abuse.
More:
Jerry Sandusky convicted, could face life imprisonment
(Eric Gay / Associated Press)
Mike McQueary was a graduate assistant on the Penn State football staff when he told head coach Joe Paterno that he had witnessed Sandusky assaulting a boy in a locker room shower.
(Joe Hermitt / Patriot-News)
Jerry Sandusky, left, with Penn State head coach Joe Paterno in 1999. Paterno's legendary career ended in turmoil when Penn State trustees determined he didn't do enough when he was informed of child-sex abuse allegations against Sandusky. Paterno was dismissed Nov. 9, 2011, and he died Jan. 22, 2012, of cancer.
(Paul Vathis / Associated Press)
Former Penn State Vice President Gary Schultz, shown on the way to court for his arraignment on Nov. 7, 2011, faces charges of perjury. The report by former FBI Director Louis Freeh said Schultz was among college officials who "repeatedly concealed critical facts."
(Jason Plotkin / York Daily Record)
Freeh said that former Penn State athletic director Tim Curley, seen heading to court for his arraignment on Nov. 7, 2011, consulted with Paterno and decided not to report Sandusky to authorities. Curley also faces perjury charges.
(Jason Plotkin / York Daily Record)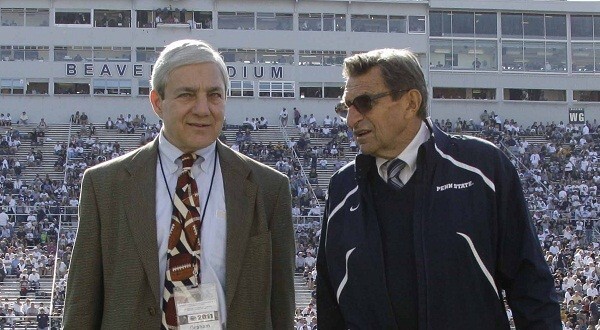 Penn State President Graham Spanier, shown with Coach Joe Paterno before the Nittany Lions played Iowa on Oct. 8, 2011, was also fired by the university board of trustees in the wake of the Sandusky scandal. Freeh said he was also responsible for concealing facts.
(Gene Puskar / Associated Press)
Judge John M. Cleland is hearing the case against Sandusky in Bellefonte, Pa.
(Nabil K. Mark / Centre Daily Times)
Jerry Sandusky, center, leaves the Centre County Courthouse Annex in May after a pretrial hearing, led by attorney Joe Amendola, right, and followed by attorney Karl Rominger. County Sheriff Denny Nau holds the door.
(Nabil K. Mark / Centre Daily Times)