Doodle 4 Google art contest for kids kicks off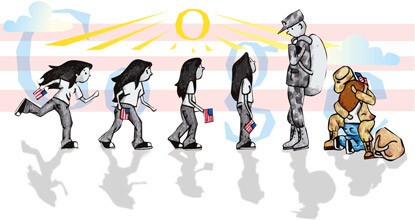 Top winner in 2013 Sabrina Brady, a high school senior from Wisconsin, created "Coming Home."
(Google)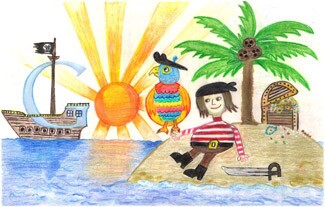 Dylan Hoffman's "Pirate Times" clinched the contest for the Wisconsin second-grader in 2012.
(Google)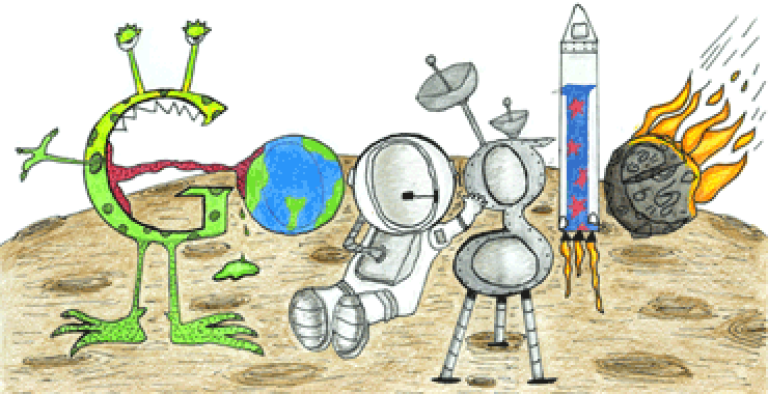 Matteo Lopez, then 7, of San Francisco won top accolades with "Space Life."
(Google)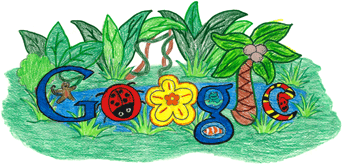 Missouri third-grader Makenzie Melton won in 2010 with "Rainforest Habitat." She said: "The rainforest is in danger and it is not fair to the plants and animals."
(Google)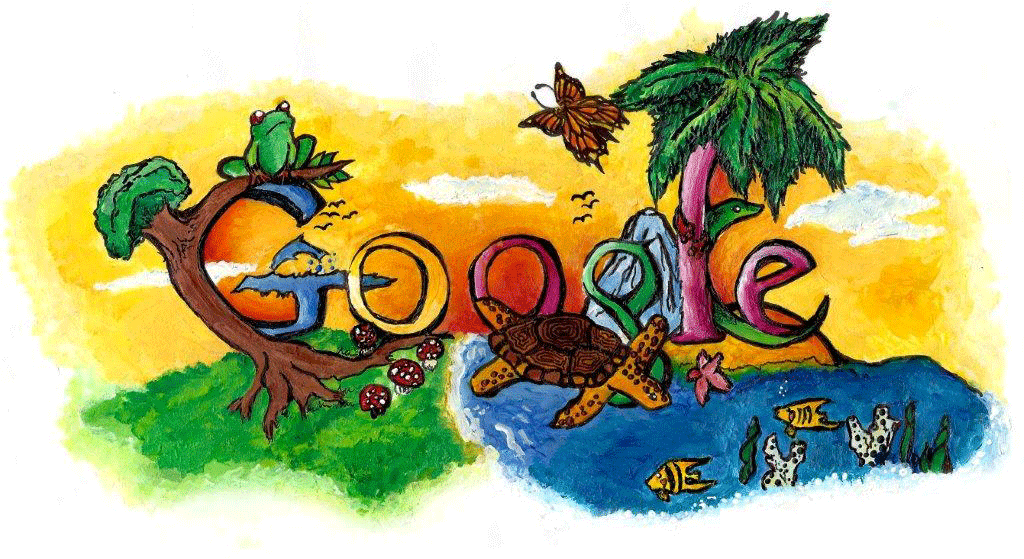 Christin Engelberth, then 12, made "A New Beginning" for the top win in 2009.
(Google)


In 2008, Grace Moon, a middle school student in Castro Valley, Calif., won with "Up in the Clouds." She said it "expresses a world in the sky. This new world is clean and fresh, and people are social and enlightened. Every person here is treated as family no matter who they are. The bright sun heats this ideal place with warmth, love, and brightens everyone's day."
(Google)
Doodle 4 Google, the contest for kids that puts one young artist's work on the Google homepage for a day, kicked off on Tuesday. It's the seventh year for the doodle contest for artists in kindergarten through 12th grade.
Grand prize is a $30,000 college scholarship and $50,000 to the winner's school to create a technology lab. And for this year's contest there's a new twist.
The Google Doodles, if you're not familiar, are those works that incorporate the Google logo and pop up frequently at Google.com. They're primarily created by a team of artists at the search engine giant's Mountain View, Calif., headquarters. Since the inception of the doodle -- a stick figure created in 1998 by company founders Larry Page and Sergey Brin -- the doodles have grown in artistry and complexity. Animation, interactivity and even short films have been featured.
IMAGES: Google Doodles of 2014
This year, Google will pay for all 50 state winners of the contest to visit company headquarters for workshops and other activities. Then the doodle team and the top winner will animate the winning doodle.
Here's how the contest works: Doodles are judged by age groups. A panel of Google employees chooses 250 from across the country. The theme this year: "If I Could Invent One Thing to Make the World a Better Place ..." Then guest judges and the doodle team pick 50, one from each state. Guest judges this year include astronaut Ron Garan; author Rick Riordan (Percy Jackson series); "The Lego Movie" directors Phil Lord and Christopher Miller; and Astro Teller, one of the brains behind the sort-of secret Google X facility and its Moonshots projects that pursue far-reaching techie ideas like Google Glass, a self-driving car etc.
Entries for the contest will be accepted through March 20, and the winning doodle will be featured on the homepage at a to-be-determined date in June, a Google spokeswoman told the L.A. Times. More information about entering at the Google 4 Doodle site.
Love doodles? Me too. Follow me at @AmyTheHub
---
Must-read stories from the L.A. Times
Get all the day's most vital news with our Today's Headlines newsletter, sent every weekday morning.
You may occasionally receive promotional content from the Los Angeles Times.