2014 hot priests calendar is here -- and so are the Nice Jewish Guys
Workers tend to the Christmas tree in Bethlehem's Manger Square, outside the Church of the Nativity, believed to be the birthplace of Jesus Christ.
(Musa Al-Shaer / AFP/ Getty Images)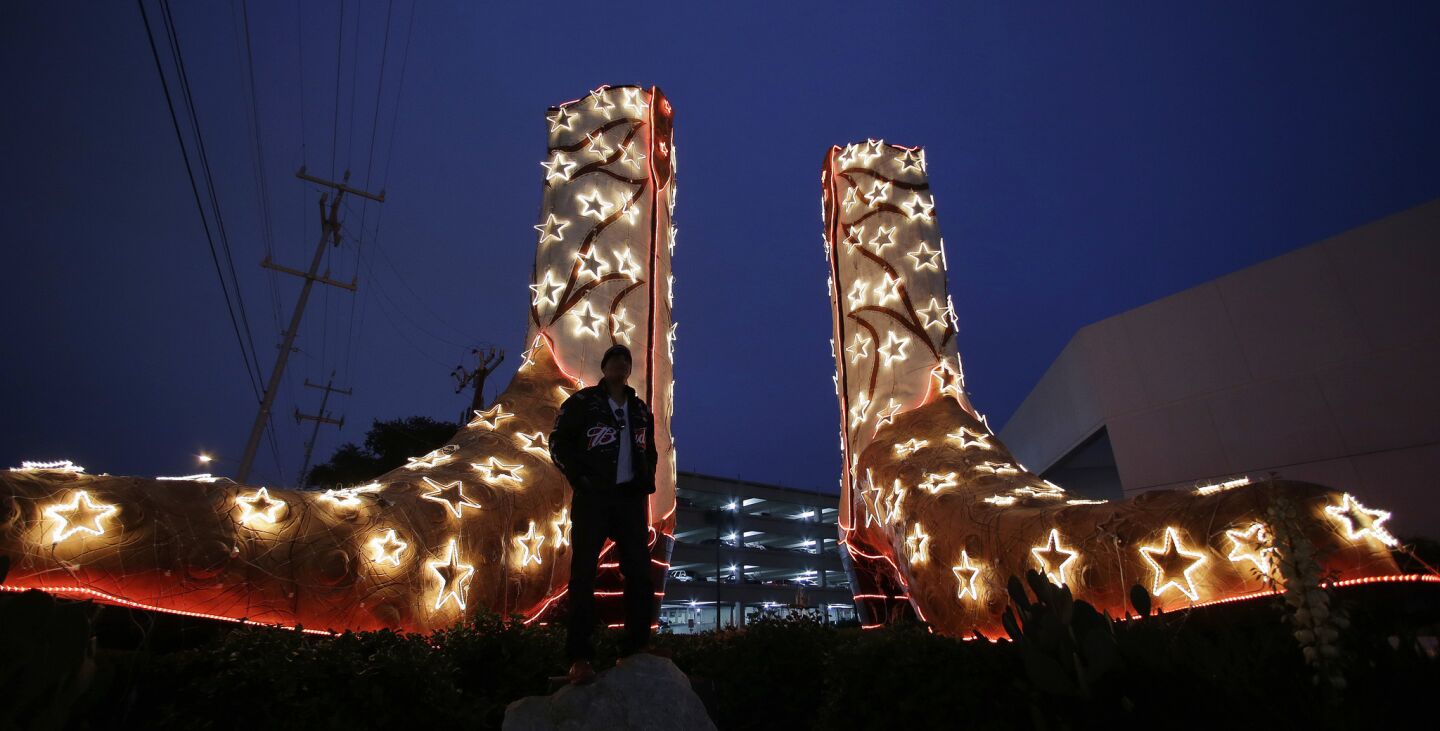 Everything's bigger in Texas. Even the Christmas decorations. A giant pair of boots -- 40-foot tall -- outside the North Star mall are decked out for the holiday.
(Eric Gay / Associated Press)
Christmas decorations alone Burke Street Mall.
(Darrian Traynor / Getty Images)
Travelers through Flinders Street Railway Station ¿ "the" meeting place in Melbourne ¿ are met with this cheery holiday greeting.
(Darrian Traynor / Getty Images)
Hey, shark, have you been naughty or nice this year? This shark won't say as it swims by an underwater Christmas Nativity scene at Zoo Aquarium de Madrid.
(Paul White / AP)
People pass under a giant Christmas tree -- it seems to go on forever -- illuminating the Puerta del Sol, a spot popular with tourists and locals.
(Gerard Julien / AFP/Getty Images)
Nearby, in Madrid's Plaza Mayor, holiday lights appear to rain down on passersby.
(Juanjo Martin / EPA)
These red-and-gold Christmas lights give a glamorous, chic feel to the holiday.
(Alexander Klein / AFP/Getty Images)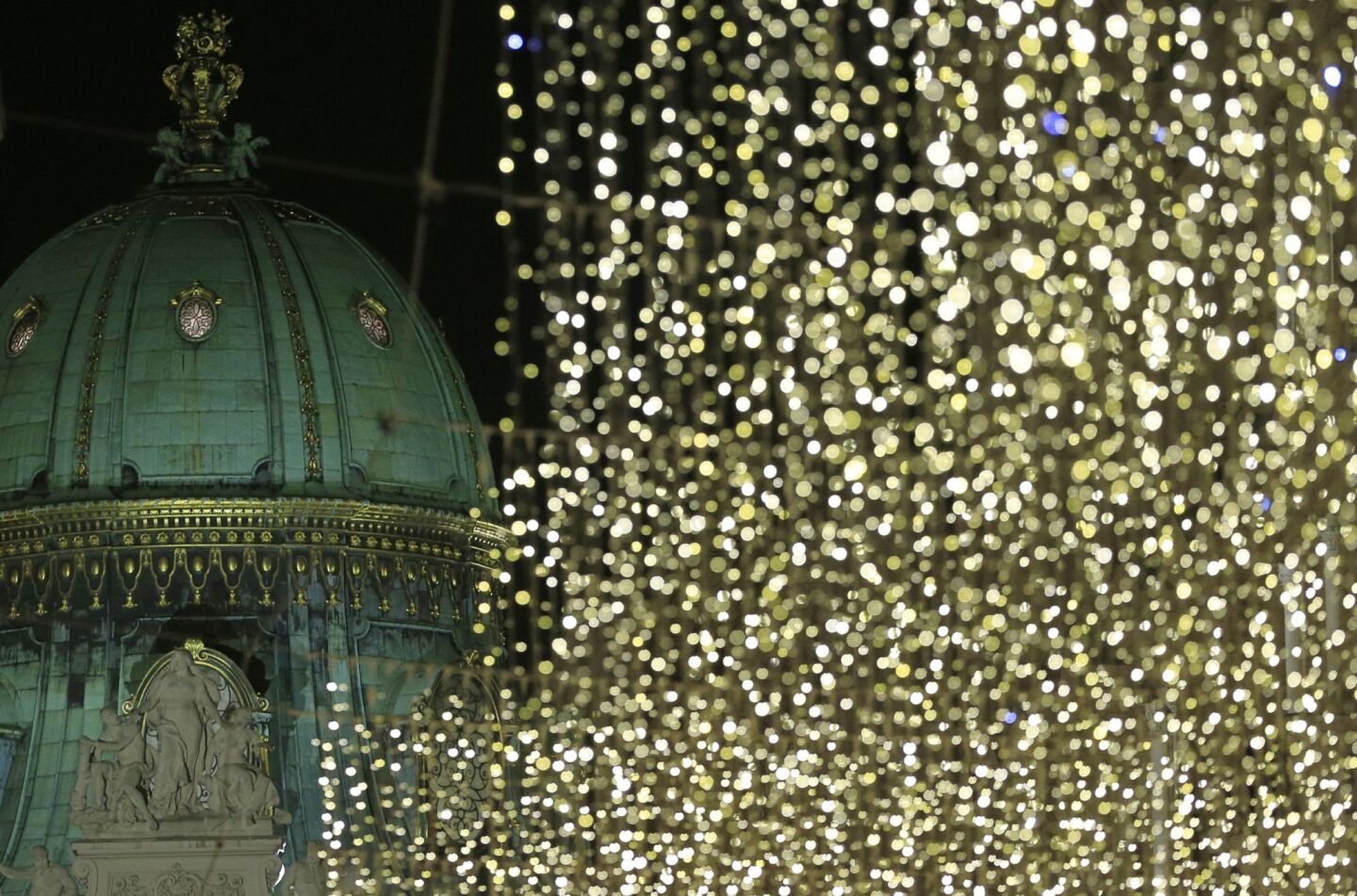 More dazzling Christmas decorations set off the domed Michaelertrakt palace.
(Alexander Klein / AFP/ Getty Images)
Hello, kitty! A shopping mall in Thailand puts its glittering spin on the holiday season.
(Rungroj Yongrit / EPA)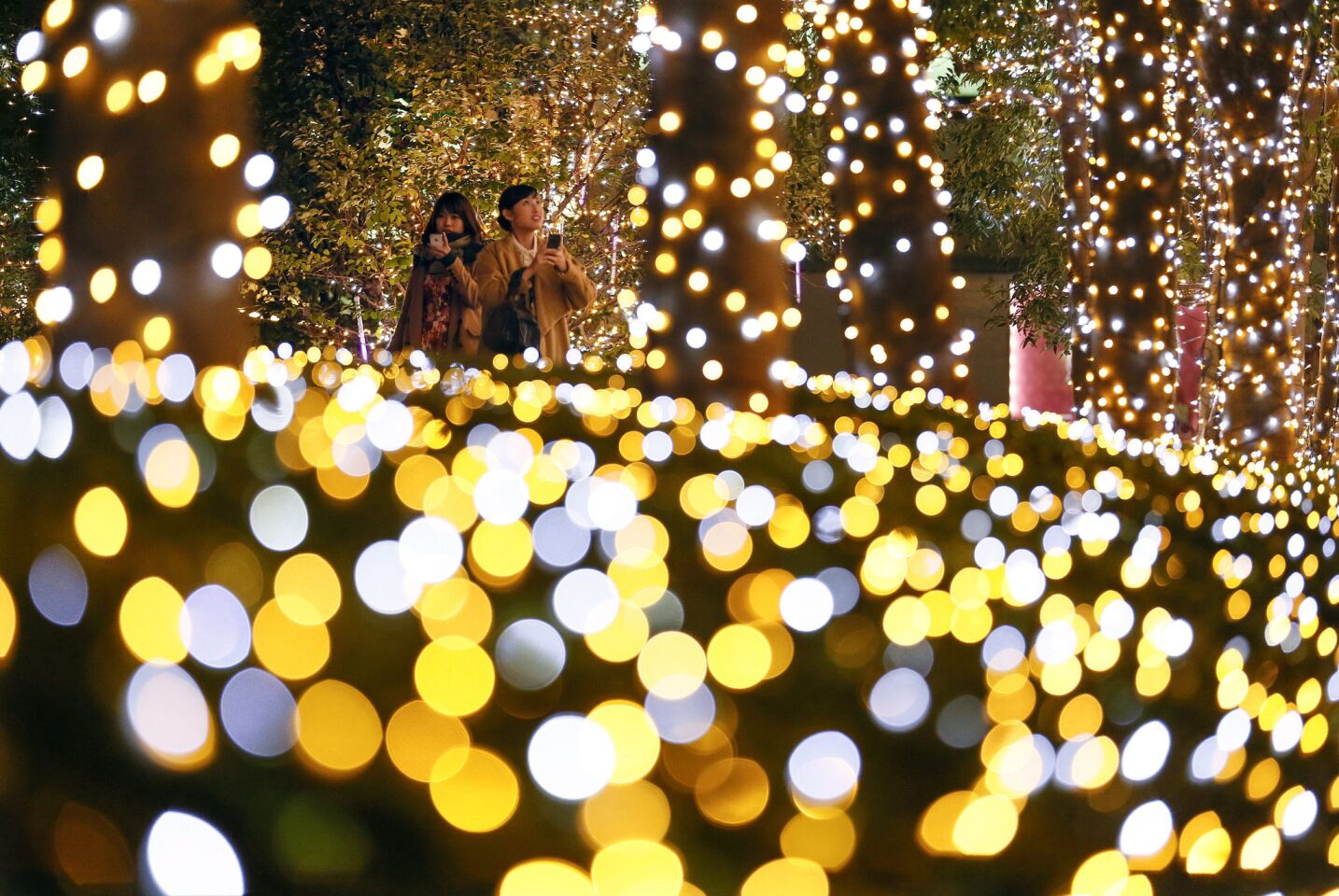 Festive Christmas lights set the Shinjuku business district aglow.
(Kimimasa Mayama / EPA)
Well, it
is
the City of Lights: Holiday decorations along the famed Champs-Elysees.
(Christophe Ena / Associated Press)
Another look at those decorations along the famed Champs-Elysees, leading up to one of Europe's most recognizable monuments: the Arc de Triomphe.
(Christophe Ena / Associated Press)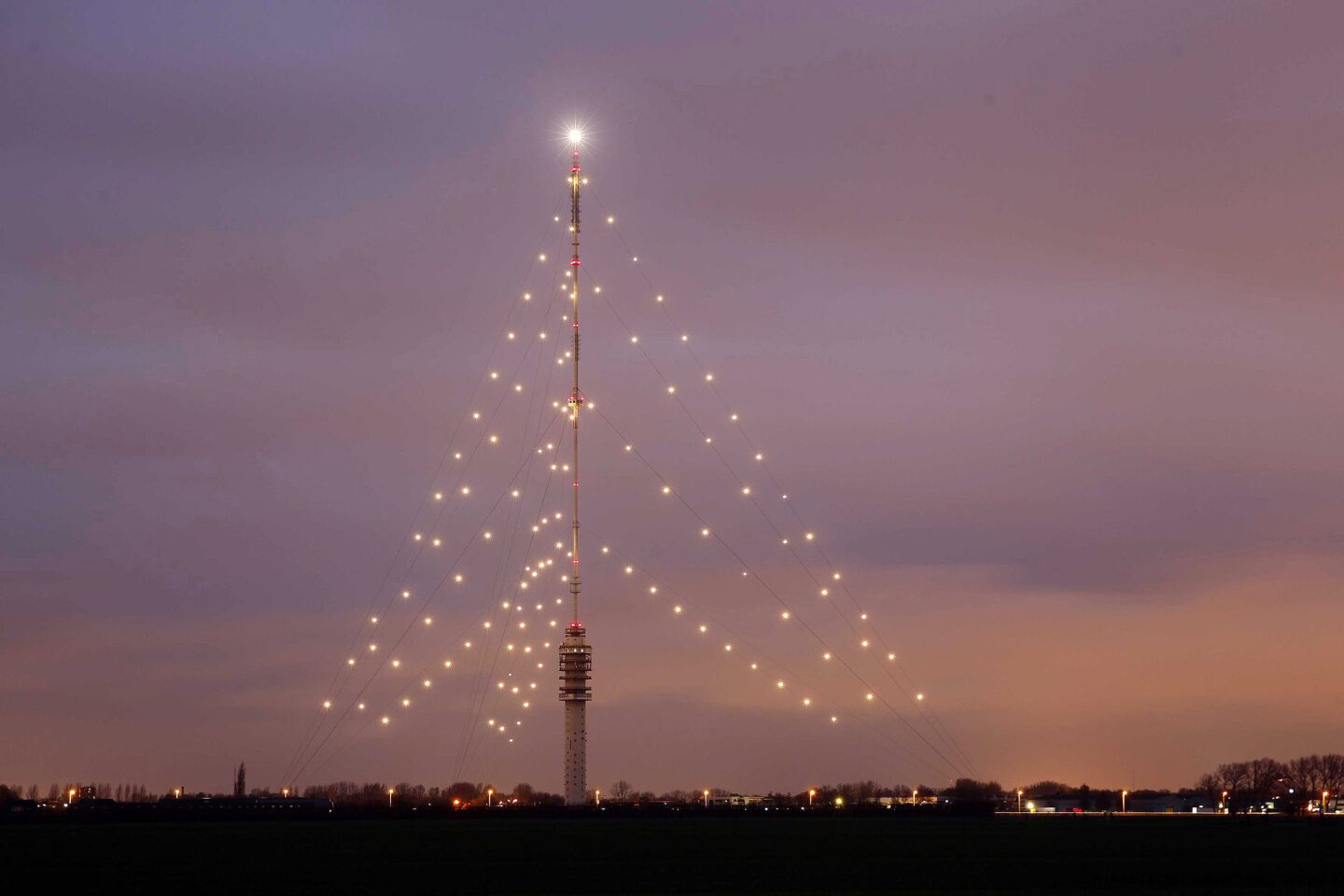 It's billed as the world's largest Christmas tree, even though it's not a tree at all: Holiday lights adorn the Gerbrandy Tower in IJsselstein, The Netherlands. (It's a radio and broadcast tower that stands 1,203.41 feet tall.)
(Bas Czerwinski / EPA)
Pretty in pink: People enjoy the view from inside a Christmas "tree" erected in the popular Orchard Road shopping district.
(Roslan Rahman / AFP/Getty Images)
Ever walk
through
a Christmas ornament? You can here!
(Lionel Cironneau / Associated Press)
Nearby in the city center, a giant Christmas tree is on display in front of a popular Ferris wheel, giving it a halo effect.
(Lionel Cironneau / Associated Press)
Santa's gone fishin'! Puppets adorned with fishing rods help decorate the port of Marseille in time for the holidays.
(Bertrand Langlois / AFP/ Getty Images)
Pope Francis has a front row seat to this Christmas tree in Saint Peter's Square. He looks so close he can almost touch it...
(Alessandro Di Meo / EPA)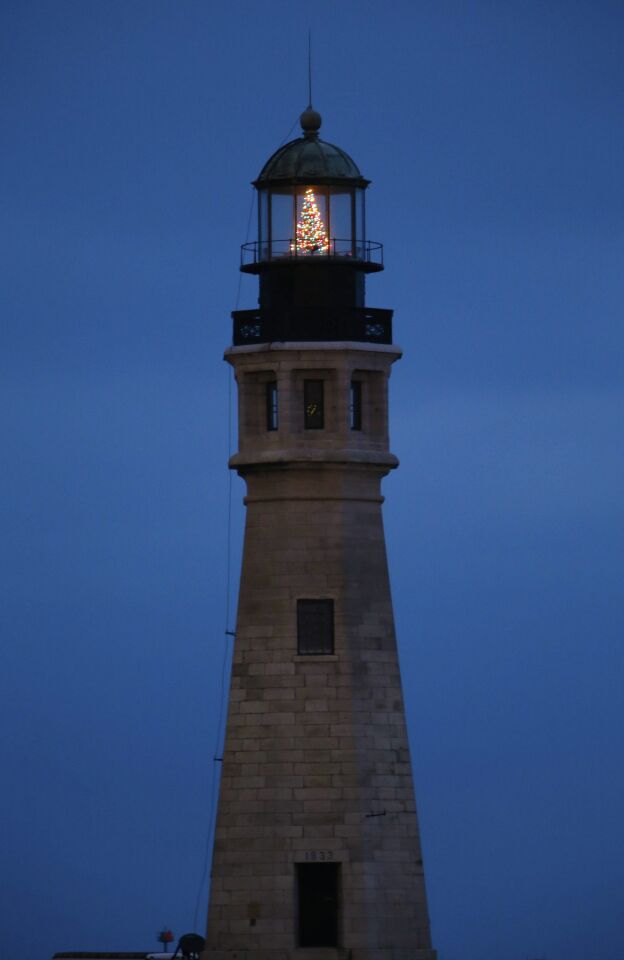 Santa can't miss this one: A Christmas tree glows atop the historic 1833 lighthouse at the mouth of the Buffalo River. It's also a special sight for locals: The lighthouse's lens is under repair, paving the way for what is believed to be the first time ever that a Christmas tree helped cap off the local landmark.
(Derek Gee / Associated Press)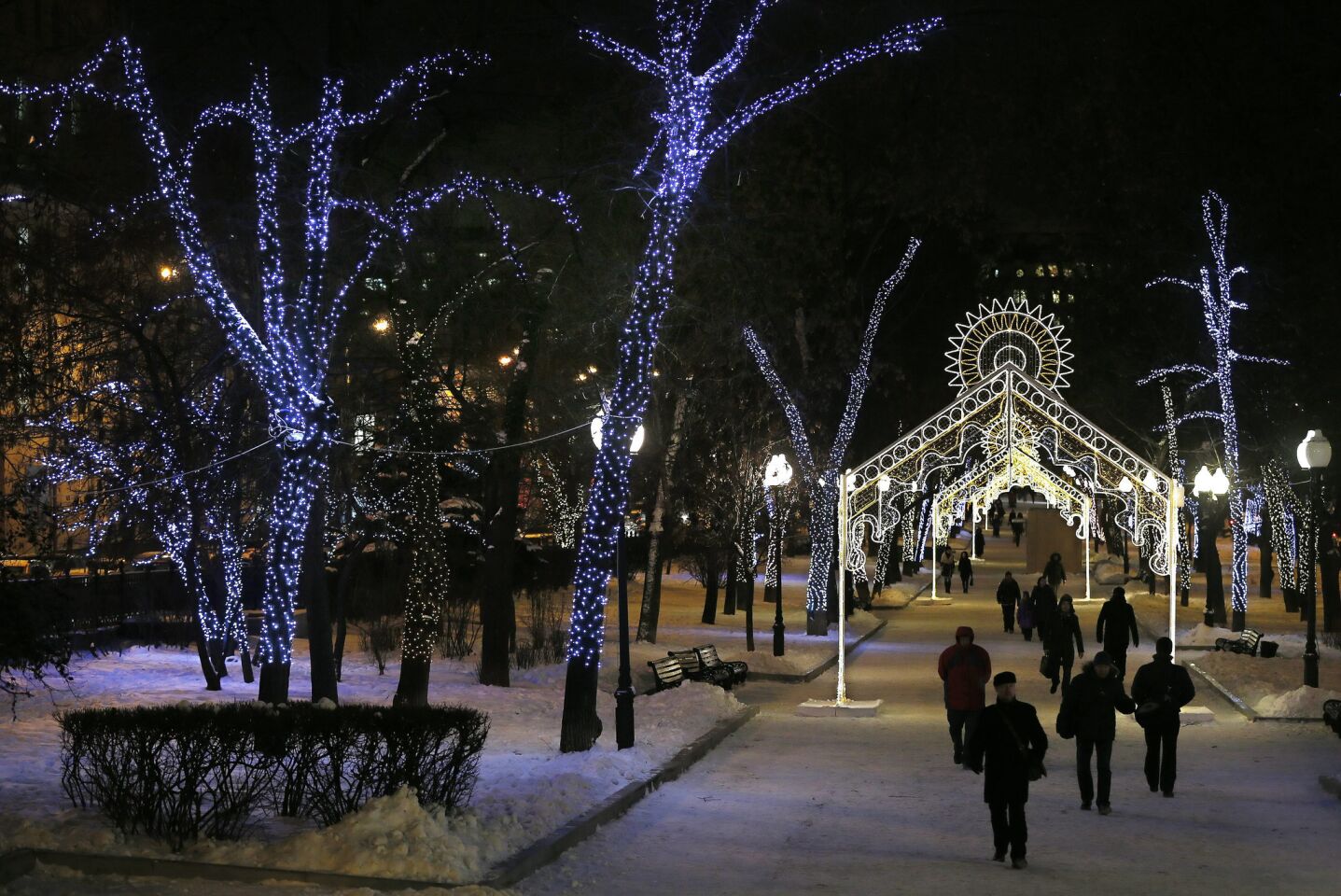 Wintry trees and awnings are decked out in twinkling holiday lights.
(Yuri Kochetkov / EPA)
This is the snowy Christmas scene outside the Monte Carlo Casino.
(Lionel Cironneau / Associated Press)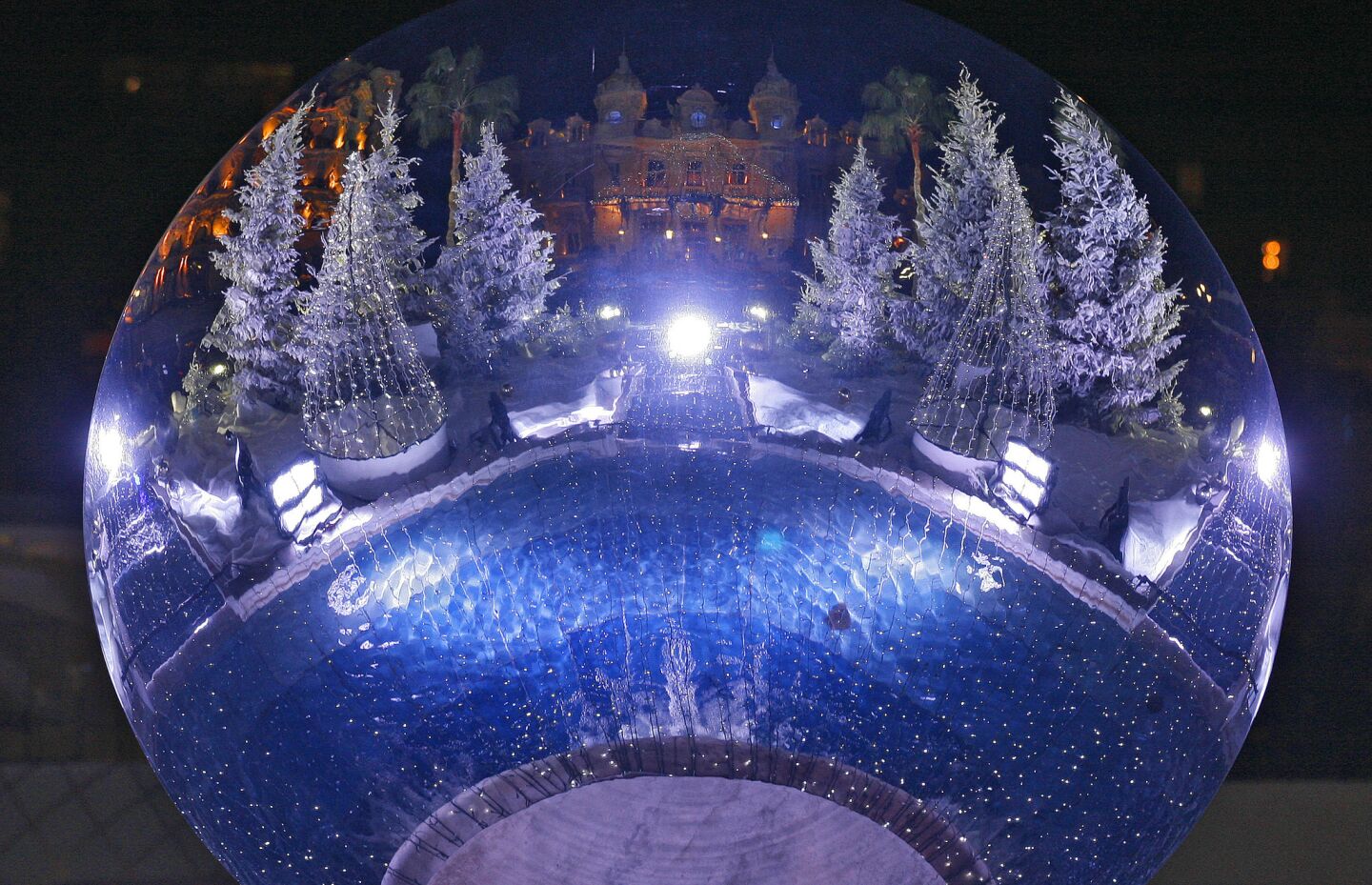 A closer look at the ginormous ornament that reflects the grandeur of the kingdom's casino.
(Lionel Cironneau / Associated Press)
This Christmas tree is a bit of a mystery. It just showed up one day, bobbing on a raft on San Pablo Bay, a colorful backdrop provided by the Richmond-San Rafael Bridge. It's provided many smiles and photo ops for passersby, helping them get into the holiday spirit. But many in the area still wonder: Whodunnit?
(Frankie Frost / Associated Press)
Christmas decorations in Syntagma square, outside the parliament, sport a nautical bent.
(Aris Messinis / AFP/ Getty Images)
Decorations honoring military families hang on the official White House Christmas tree in the Blue Room at the White House this holiday season.
(Jim Watson / AFP / Getty Images)
Even the White House hallways are heavily decorated at this time of the year.
(Jim Watson / AFP/Getty Images)
At the 88-foot spuce outside the U.S. Capitol, decorated with about 5,000 ornaments. This year's tree theme: "Sharing Washington's Good Nature."
(Susan Walsh / Associated Press)
It's a blanket of Christmas lights at Santa Claus Village on Hub Island in Pocheon, South Korea.
(Jeon Heon-Kyun / EPA)
St. Nick meets St. Valentine?
(Yonhap / EPA)
Hark, the herald angels sing, behold what is arguably the world's most famous Christmas tree: the Rockefeller Center Christmas tree. It stands 76 feet tall.
(Jason Szenes / EPA)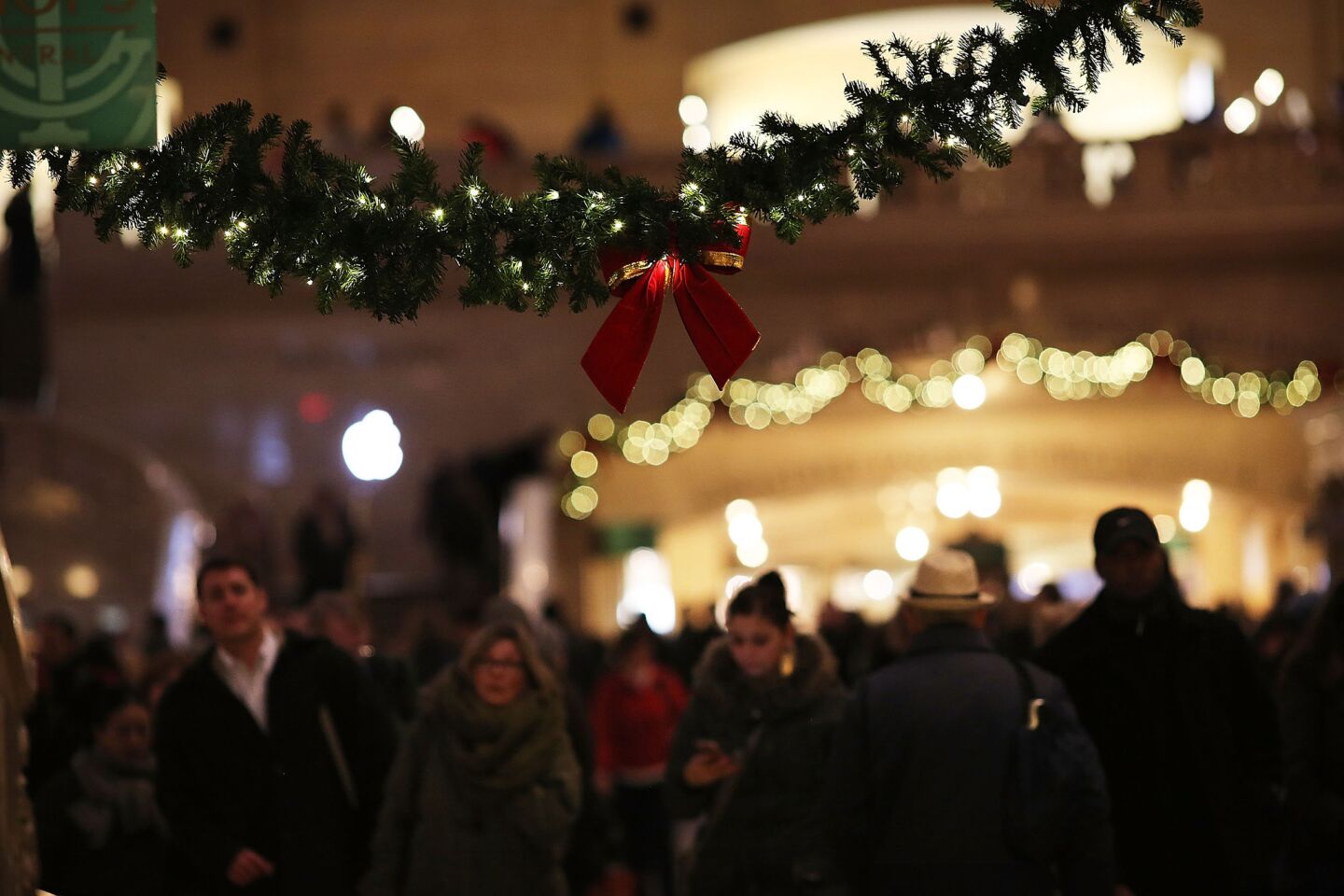 Even busy commuters will take notice of the holiday decorations in Grand Central Terminal.
(Spencer Platt / Getty Images)
This brightly lighted Christmas tree stands at the ready at the front of the Brandenburg Gate landmark. As has become tradition, the tree hails from Norway, an annual gift that began after German reunification and stands as a symbol of peace and unity.
(Bernd von Jutrczenka / EPA)
There are Christmas trees at every turn at this popular shopping mall.
(Stephanie Pilick / EPA)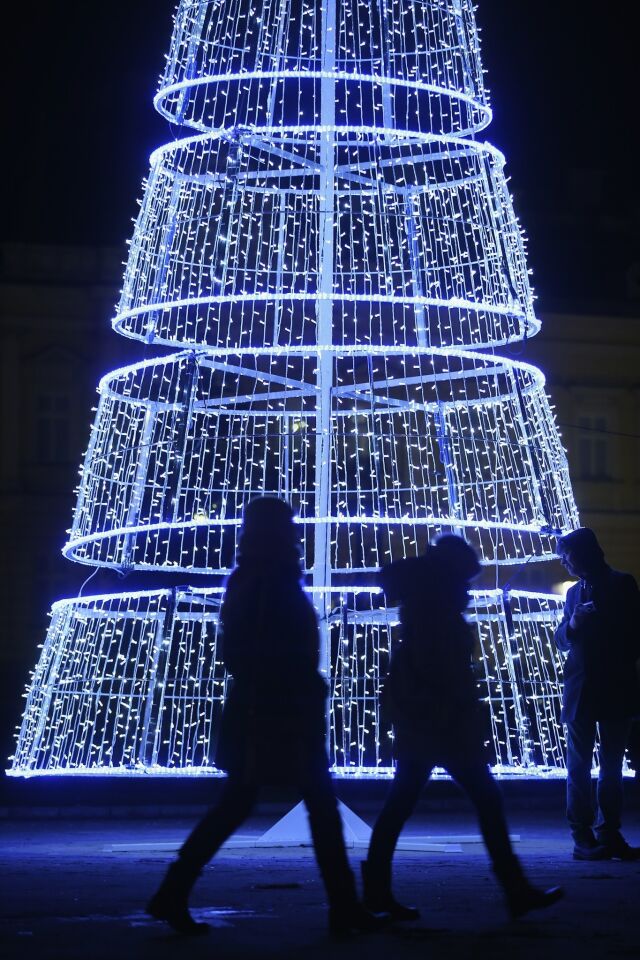 Basking in the glow of the illuminated Christmas tree.
(Sean Gallup / Getty Images)
It takes nearly 4 million lights to ring in the holidays at the Mission Inn Hotel in Riverside, a historic landmark.
(Bob Torrez / Associated Press)
A Christmas tree made of beer bottles has been "planted" on a city street. More than 1,000 beer bottles were used. Think that's weird? Keep clicking.
(ChinaFotoPress / Getty Images)
Bet you've never seen one of these before: A Santa Claus doll that imitates the famous Marilyn Monroe pose.
(STR / AFP/ Getty Images)
A worker tends to the winged angels Christmas display outside a shopping mall.
(Andy Wong / AP)
Shoppers walk past Christmas decorations that look a bit like glowing, glittering jewels.
(Mark Ralston / AFP/ Getty Images)
The Via del Corso is decorated with rainbow lights, ending at a Christmas tree decorated with multicultural spellings of the word "peace." The lights are dedicated to the late South African icon Nelson Mandela.
(Riccardo De Luca / Associated Press)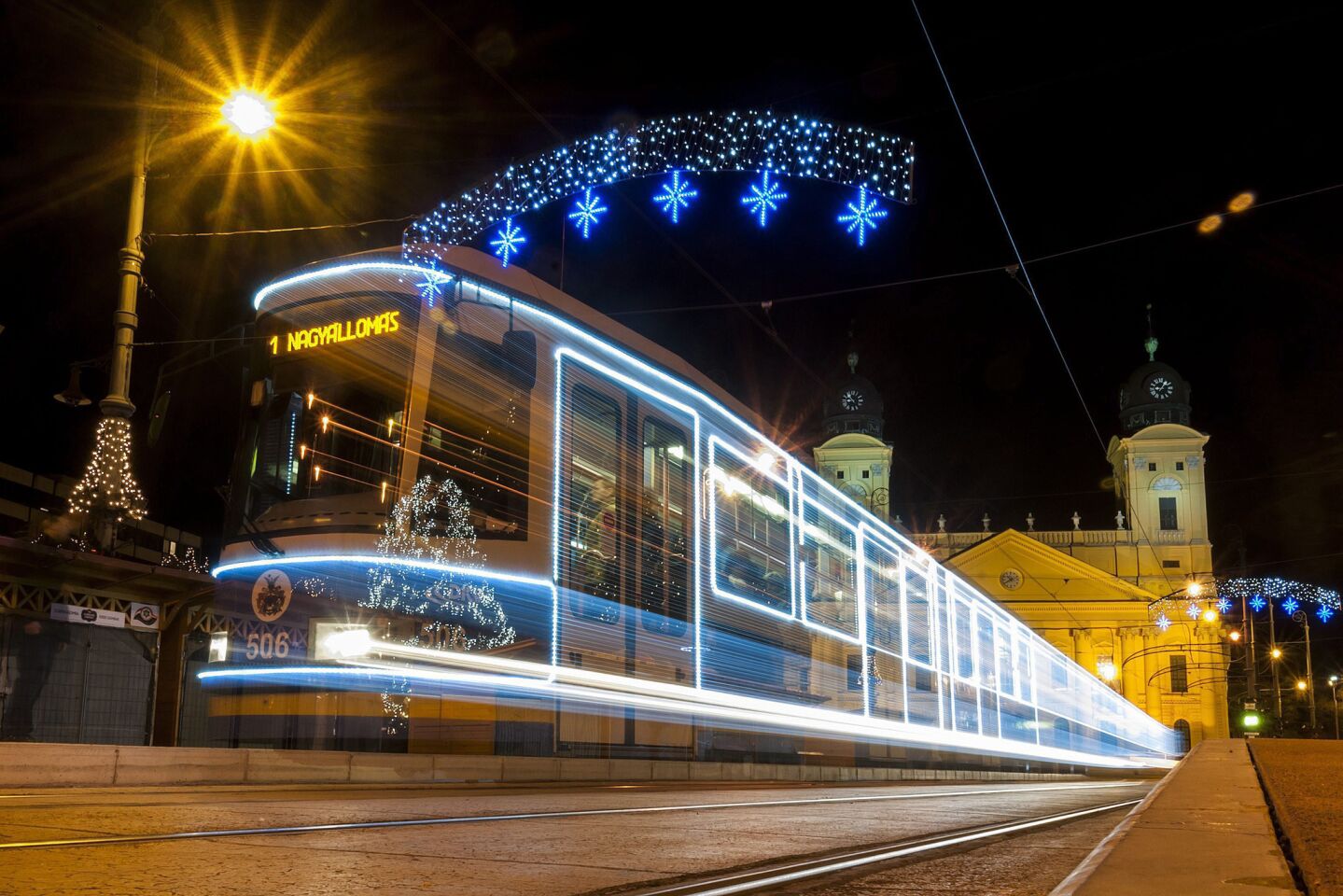 A tram traveling east of Budapest, Hungary, is decked out for the holidays.
(Zsolt Czegledi / EPA)
Hey, where's Rudolph? A mother and child enjoy a neighborhood installation of holiday decorations.
(Wael Hamzeh / EPA)
Christmas decoration peer down over the downtown financial district.
(Nelson Almeida / AFP/ Getty Images)
This is how Christmas gets done in soccer-loving Brazil: with soccer balls and flags, and as a warm up to the 2014 FIFA World Cup being held in Brazil.
(Marcus Brandt / EPA)
The hot priests calendar. In Rome, that's what they call the Calendario Romano. Its pages are filled with good-looking young men in clerical garb, posing for the camera.
Yes, they're actual priests, photographer Piero Pazzi told the Los Angeles Times, or "seminarians or accoliti." (See the gallery, above.)
Roman news outlet the Local says tourists can be seen at gift stands near the Vatican eyeballing the calendar, then snapping it up.
PHOTOS: Meet the Nice Jewish Guys
Pazzi told the Los Angeles Times that the calendar, which he's put out since 2003, consists of portraits of men he photographed in the streets of Rome and Seville, Spain.
The photographer has said the point of the calendar is simply to promote the Vatican and Rome. And the Local notes the calendar has an informative section about the museums of Rome, the history of the popes and more.
Do these men mind being seen as Roman Catholic beefcake?
"I think they are happy to appear in the calendar," Pazzi said.
If Christianity's not your thing, one great alternative is the 2014 Nice Jewish Guys calendar.
"Take them home to Mom!" suggests the calendar, which is a partnership with Jewish dating site JDate and actually features Howie Mandel's son Alex among the guys.
The best part? These guys can get married one day.
ALSO:
The most retweeted tweet of 2013
Peace and joy 2013: From Palestine to Fenway Park and beyond
WestJet asks 250 fliers what they want for Christmas, gives it to them
---
Must-read stories from the L.A. Times
Get the day's top news with our Today's Headlines newsletter, sent every weekday morning.
You may occasionally receive promotional content from the Los Angeles Times.