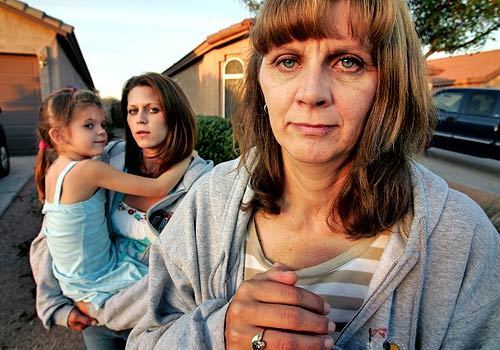 10 Images
Tales of breakdowns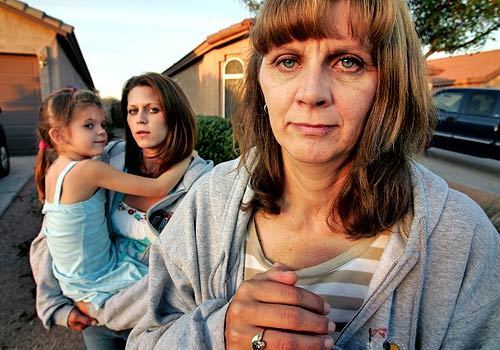 Cheryl Akers, her daughter Christina Alspaugh and Christina's daughter, Stefany, moved from Michigan to Arizona with a U-Haul truck in 2002. It suffered the equivalent of multiple organ failure, stranding them repeatedly in the Southwest during the summer.
(Al Seib / LAT)
Akers holds Stefany, then 16 months old, after their truck broke down again along the interstate outside Albuquerque. Akers' son-in-law finally drove from Mesa, Ariz., to rescue the toddler.
(Christina Alspaugh)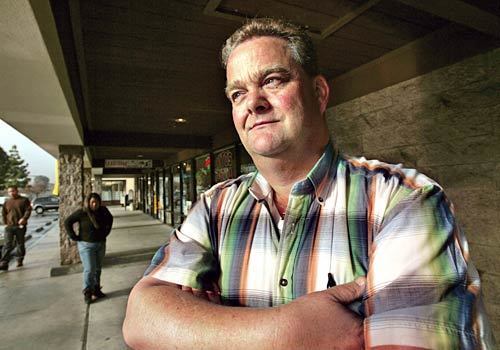 Former U-Haul employee Dave Adams, a long-time senior U-Haul manager in the Bay Area, who quit after a 2002 demotion, described the safety regimen as "Reams of paper, reams of forms and a heck of a good-looking program on paper." But equipment often missed required safety checks. "Sprinkle holy water on it' was the expression," he said. "It's truly a matter of people just not having the time and resources to get it done."
(Al Seib / LAT)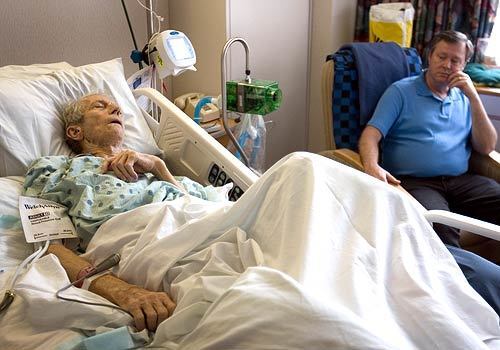 Talmadge Waldrip sleeps as son-in-law Dan Simington sits with him. The family has sued U-Haul, contending that the truck which rolled over Waldrip was "in a callous state of disrepair." U-Haul says it is not responsible for the accident.
(Dave Einsel)
David Driscoll learned that the wheel that flew off the U-Haul truck he was driving was missing a bolt, bearings and retainer pin.
(Al Seib / LAT)
Under U-Haul's rules, every truck or trailer is supposed to carry evidence of a recent safety certification: Trailers should undergo one every 30 days, and trucks at least every 60 days The inspection includes brakes, tires and other essential parts. U-Haul agents are supposed to affix a sticker to the equipment that records the month, week and year of the most recent check.
(Al Seib / LAT)
Major Brown puts decals on panels to be assembled into a new truck at Paramount Manufacturing, owned by U-Haul. U-Haul says it has bought about 38,000 new trucks over the past two years and has sold nearly as many older ones.
(Al Seib / LAT)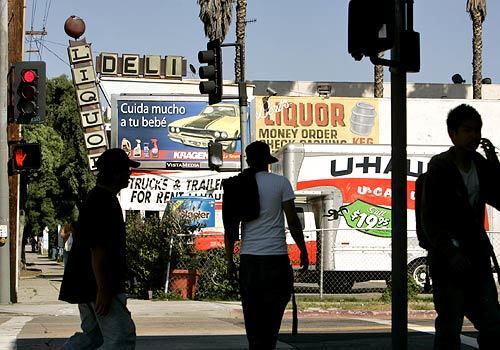 Bert's Liquor in Los Angeles is one of U-Haul's 14,500 dealers nationwide. Along with gas stations and auto repair shops, they include storage sites, minimalls, postal supply shops and laundromats.
(Al Seib / LAT)
At U-Haul's Paramount Manufacturing in Long Beach, Robert Ventress carries a tire to a trailer being refurbished. The company says it is investing heavily to modernize its fleet.
(Al Seib / LAT)
Welder Edwing Aceituno at Paramount Manufacturing repairs U-Haul equipment that will return to the rental fleet.
(Al Seib / LAT)