Manhunt on Canadian border after shots fired at U.S. agents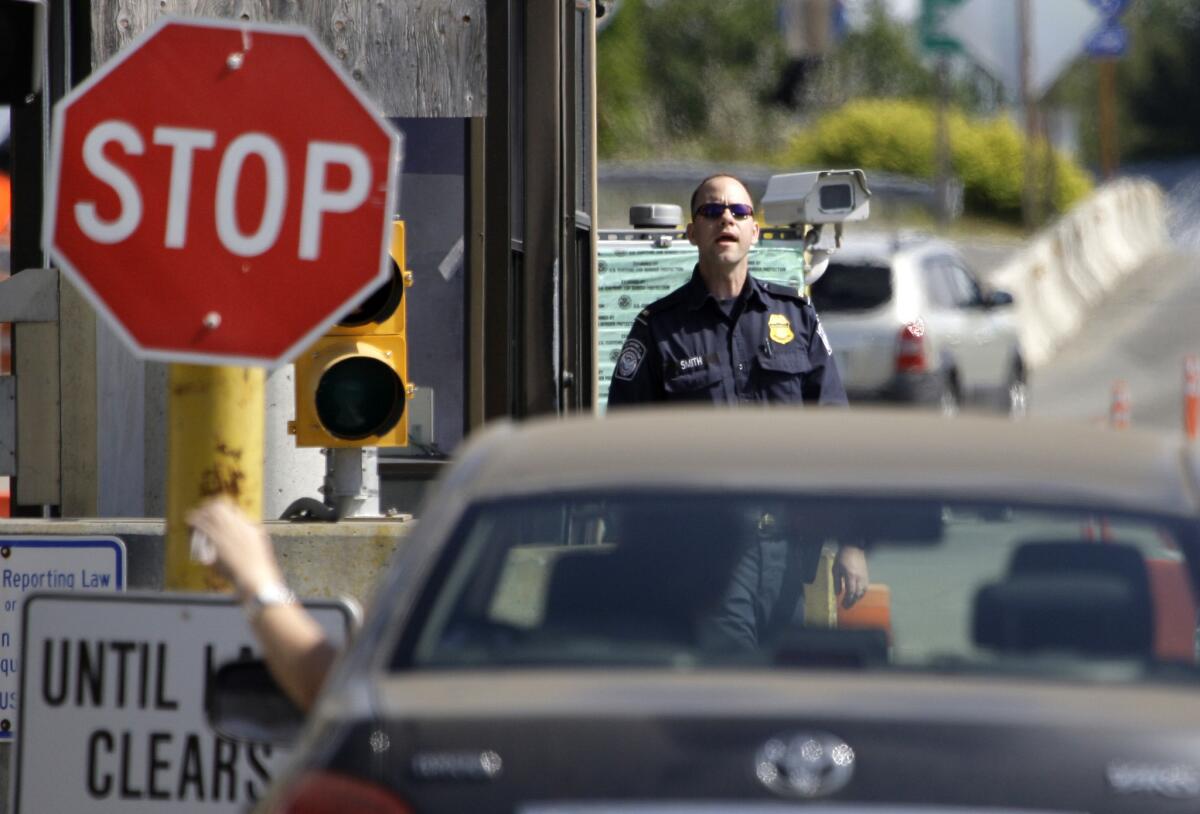 SEATTLE -- A massive manhunt along the U.S.-Canada border ended early Wednesday with the arrest of a suspected drug smuggler believed to have fired shots at U.S. border agents in a remote, mountainous valley widely used for illicit trafficking.
The arrest of a man with a history of drug charges ended a search that included roadblocks, helicopters, police dogs and house-to-house interviews. It began Tuesday morning when U.S. Customs and Border Protection agents encountered gunfire as they attempted to question two men in camouflage gear with backpacks in the remote Columbia Valley, seven miles east of Sumas, Wash.
U.S. agents were able to take one of the suspects quickly into custody. But the second one, now also in custody, fired shots from a handgun as he fled north into the woods toward Canada, Michael Milne, spokesman for the border agency in Washington, told the Los Angeles Times.
The incident was a rare outbreak of firepower along a border that is a widely used illegal transit point but which normally does not experience the kind of violence seen along the U.S.-Mexico border.
"It's a very rare occurrence, and it's taken very seriously. That's why we had such a great response, bi-nationally, from all law enforcement agencies," Milne said. "When someone is shooting at one of our agents, it's kind of all hands on deck to apprehend that individual."
In October, a Canadian border agent was shot in the neck and seriously wounded at the Peace Arch border crossing near Blaine, Wash., about 22 miles west of Sumas. The gunman in that case, a 32-year-old Seattle man, then fatally turned the weapon on himself.
The Columbia Valley area, a forested region at the base of the Cascades foothills, is without a fence and is often used by smugglers, Milne said.
"Over the last 10 or 20 years, that area has been associated with bidirectional smuggling, into and out of Canada," he said. "It runs the gamut: narcotics, currency, weapons, illegal entry for immigration purposes. So it's an area of interest to both U.S. and Canadian law enforcement agencies in the area."
Two backpacks containing 58.2 pounds of an amphetamine-based product were recovered at the scene, U.S. authorities said in a statement.
Constable Ian MacDonald of the Abbotsford Police Department in British Columbia said the suspected gunman involved in Tuesday's incident was located at an Abbotsford residence and arrested without incident at about 4:30 a.m.
But that was only after a full day and night of searching.
"We had helicopters in the air and deployments through the night," MacDonald said.
Early in the day, he said, police set up roadblocks all across the rural communities along the border, then began going house to house to inform residents about the fugitive.
He said the suspect, who is known to police and has a history of previous arrests, was taken into custody. Police now are attempting to determine whether he had other accomplices.
Names of both suspects will be released when they are charged, authorities said.
ALSO:
West Virginia sheriff shot and killed near courthouse
Georgia town passes measure requiring gun ownership
Man charged with making threats on tip line for Texas slayings
Sign up for Essential California for the L.A. Times biggest news, features and recommendations in your inbox six days a week.
You may occasionally receive promotional content from the Los Angeles Times.