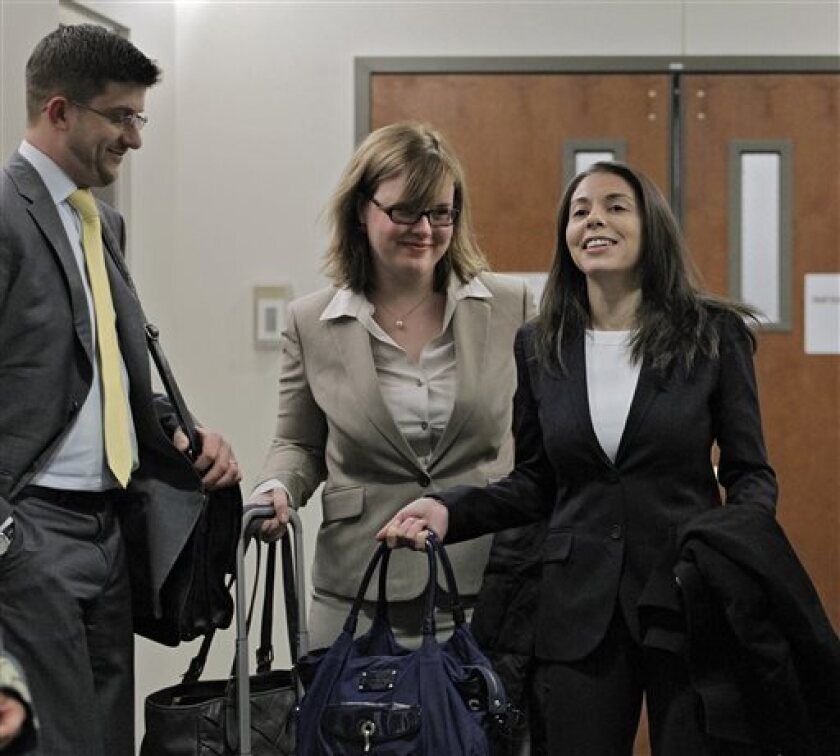 CENTENNIAL, Colo. — Defense attorneys for James. E Holmes tried to plant a seed of doubt about the trustworthiness of law enforcement officers in the Aurora movie massacre Wednesday, speculating that if they lied about leaking information to a reporter they might not be credible on other matters.
The new scenario emerged as Holmes' lawyers continued their quest to force Jana Winter, a FoxNews.com reporter, to reveal the identity of two unidentified law enforcement sources who gave her information about a notebook Holmes sent to his psychiatrist last summer.
Holmes, 25, who sat silently in court during the hearing, is accused of opening fire in a packed movie theater early July 20 during a premiere of "The Dark Knight Rises." Twelve people died and 70 were injured. The former neuroscience doctoral student at the University of Colorado-Denver faces the death penalty.
Winter wrote in a story that appeared July 25 — after a gag order in the case was in place — that a confiscated notebook belonging to Holmes was "full of details about how he was going to kill people." Citing the two law enforcement sources, she also wrote that the notebook contained "drawings and illustrations of the massacre."
Winter's story angered Holmes' defense team, which has sought for months to discover who leaked the information. At a December pretrial hearing, 14 officers involved in the early days of the investigation testified, and each denied divulging details to a reporter.
On Wednesday, defense attorney Rebekka Higgs suggested one or more of the officers was lying, which made it all the more crucial for Winter to divulge her source. In an impassioned argument, Higgs said not only had the sources ignored a court order not to discuss the investigation, but the "willingness of that person to lie" also called into question their credibility if called to testify on other matters.
This could become important since the officers involved in the handling of the notebook are considered key witnesses for the prosecution in other aspects of the crime.
It also keeps alive, at least for now, the brewing constitutional battle between the rights of a reporter to protect a confidential source and a defendant's right to a fair trial. Media experts have rallied behind Winter, decrying that she was even subpoenaed, much less threatened with jail if she did not disclose her sources.
Judge Carlos Samour Jr. said last week that Winter could face up to six months in jail if she is ordered to name her sources and refuses.
Samour, who inherited the case April 1, declined to rule on the matter Wednesday because it is still unknown whether the notebook will be introduced into evidence.
Dori Ann Hanswirth, a New York lawyer who represents Winter, has said forcing a reporter to testify would have a chilling effect on all reporters — both now and in the future. She also argued the defense did not do a good enough job in trying to find out who made the leak before calling the reporter to testify, speculating it could be not only someone who handled the notebook but also someone who might have overheard discussions about the contents.
Aurora Det. Alton Reed was called again by the defense Wednesday and was asked if he talked to anyone about what he saw when he "thumbed through" the notebook. Reed said he did not tell anyone other than his supervisor.
But when Hanswirth questioned him, the detective said someone from the bomb squad may have radioed information about the notebook to the crime scene command post. He also acknowledged he was not with the notebook every moment before it was sealed into evidence.
Higgs at turns discounted the importance of the notebook's information but then called it crucial as a symbol of respecting a court order.
Taking a swipe at Winter, Higgs said the reporter's information was not "noble" and did not warrant a protected source.
But later, when questioned by Samour about the "big picture" and whether the information revealed in a July news story will ultimately be prejudicial against Holmes, Higgs said every piece of evidence was important because it was a death penalty case. "The people want to execute Mr. Holmes. We will fight that on every level," she said.
She also asked what was the point of a gag order if it could be ignored.
Samour said Winter will have to return to Colorado in August for another hearing.
ALSO:
Danger, Will Robinson: Asteroids headed to Earth?
Washington state sues florist who said no to same-sex wedding
Georgia hostage-taker dead after SWAT team rescues firefighters
---