Texas explosion: Gov. Perry describes 'absolute devastation'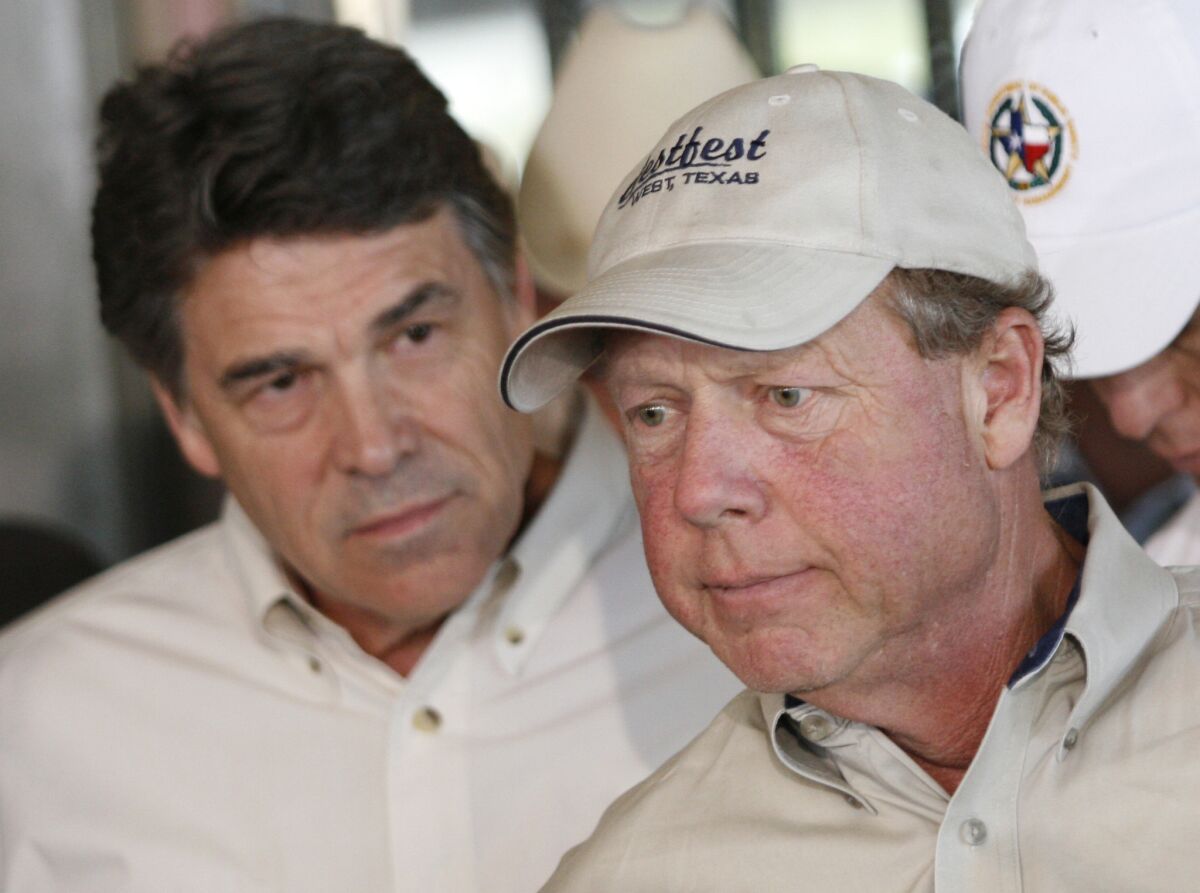 WEST, Texas -- Authorities here said Friday that the death toll from the fertilizer plant explosion Wednesday night stood at at least 14 people, but they were optimistic that the number of those unaccounted for -- placed at about 60 earlier in the day -- would fall as people were tracked down.
Gov. Rick Perry, who visited this small Texas community Friday, said the toll of the explosion was devastating, ravaging a large swath of the town.
"It's pretty stunning from up above," the governor, who had flown over the area the day before, said Friday at a news conference. "But until you get right on that railroad track and when you see the absolute devastation done. ... We're probably blessed, in a way, Mayor, that we didn't lose more people than we did."
Although dozens remain unaccounted for, authorities said the number appeared inflated because they had added to that list anyone who'd been out of touch with relatives or friends, or could not be reached.
"I would be surprised if it's more than a few people" who are actually missing or dead, said McLennan County Judge Scott Felton.
"There are people who do not have a home. They are living either in a hotel or are living with their momma down the road, or they're living with their brother, and their cousin from Dallas doesn't know that," West Mayor Tommy Muska said. "If they have a landline but do not have a cellphone, you're not going to know where those people are."
The mayor was among those who lost dwellings in the explosion. "I do not have a home," he said. "My home is destroyed. I'm living in a hotel. I could be on that list as well."
Authorities said that the search-and-rescue operation had mostly concluded, with most structures cleared by investigators. But they cautioned that this didn't mean those homes and buildings were structurally sound. "The structural hazards have not been mitigated," one official said.
Perry said officials will slowly reopen the outskirts of the evacuated areas, and "they will begin collapsing the area inward to allow the residents to go back in."
But decisions beyond that would be made by city officials, the governor said.
The explosion took an especially hard toll on the city's volunteer fire department. The mayor said West Hose Co. No. 1 has 29 members, five of whom were among the casualties Wednesday. Five others, he said, remained hospitalized.
Not only did the mayor lose his house, Muska was a volunteer firefighter himself. He was close to the scene Wednesday.
He said he was driving his pickup through the area when he saw the fire, and approached it to pitch in with crowd control. He was a little more than a block away when the blast hit, he said.
"My hat blew off," he said. "Split-second later, boom! Then, right after that, the concussion."
Days later, he's mourning the loss of his comrades.
"I've been a member of the fire department for 26 years," Muska said, adding that one of the dead had also served as city secretary. "Now, he's not here," he said. "It's devastating. It's all I can say about it."
ALSO:
Boy Scouts proposal would lift ban on gay youths
Texas explosion: Gov. Perry describes 'absolute devastation'
Nevada farmer sends piggies to market, but not his pal Humphrey
---
Must-read stories from the L.A. Times
Get the day's top news with our Today's Headlines newsletter, sent every weekday morning.
You may occasionally receive promotional content from the Los Angeles Times.