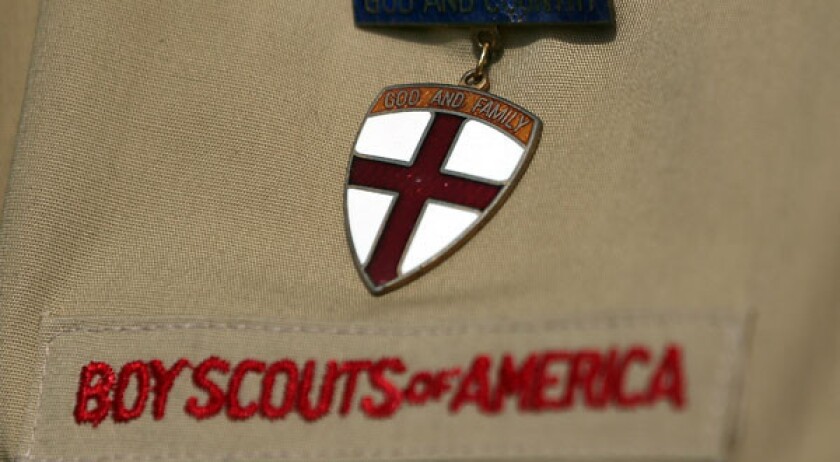 Lobbying efforts stepped up on Monday as the leadership of the Boy Scouts prepared to consider an end to the national ban on gay membership.
Members of the Scouts' board began their three-day meeting Monday in Irving, Texas, where those seeking to end the ban presented petitions they said had 1.4 million signatures. Save Our Scouts planned a prayer vigil in support of the ban for Wednesday, the day the board is expected to vote.
Jennifer Tyrrell, a lesbian mother from Ohio who was ousted as a Scout den leader, was among those delivering the signatures gathered online. Also attending the news conference was Eric Andresen, whose gay son was denied Scouting's highest achievement, becoming an Eagle Scout.
Andresen fought back tears as he talked about his 18-year-old son, Ryan, who completed the requirements to become an Eagle Scout but was denied because of his sexual orientation.
"It hurts so much to witness what Ryan has been through, because he does not deserve it," Andresen said, fighting back tears.
Will Oliver, now 20, who received his Eagle certification while hiding his sexual orientation from Scouting officials in Duxbury, Mass., told reporters: "It is time for this archaic policy to end." Tyrrell denounced what she also called the archaic policy of prohibiting gays from working in the organization, which has been a prominent training institution for more than century.
Last week, the Boy Scouts announced that it would consider revising its national ban on gays and allow local chapters to decide their own policies on sexual orientation. The overwhelming majority of Boy Scout troops are sponsored by local churches, some of which oppose homosexuality on religious grounds.
In 2000, the U.S. Supreme Court ruled in the Scouts' favor and upheld the organization's ban on gays. But the ban has come under increasing pressure from gay-rights groups, politicians and even some corporate sponsors, which fear threatened boycotts. Those forces, and a declining Scout enrollment, have led the national board to open up the sexual orientation question.
The Boy Scouts has also been criticized for its policy of hiding reports alleging decades of child sex abuse. The organization recently was forced by court action to release thousands of pages of files.
Over the weekend, President Obama weighed in on the dispute, telling CBS News anchor Scott Pelley that the Scouts should lift the ban.
"My attitude is ... that gays and lesbians should have access and opportunity the same way everybody else does, in every institution and walk of life," Obama said.
On Saturday, Texas Gov. Rick Perry, an Eagle Scout and onetime GOP presidential aspirant, told reporters on Saturday he did not see a reason for the Boy Scouts to change its long-standing policy, the Austin American-Statesman reported.
ALSO:
In Chris Kyle's shooting death, postwar worlds collide

Texas judge faces 'court of inquiry' into wrongful conviction
Alabama abduction: Sheriff thanks man for 'taking care of our child'
---