Jersey firefighters to build 26 playgrounds for Newtown victims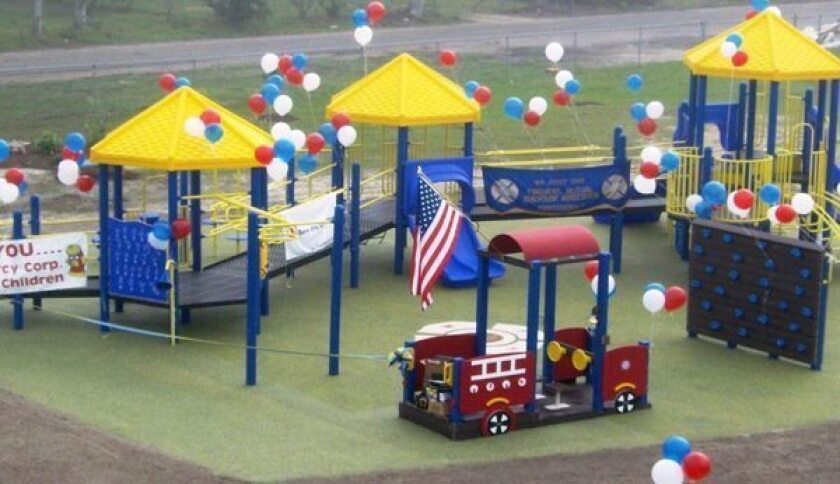 For the first time since Superstorm Sandy devastated New Jersey's shoreline and a gunman opened fire inside Sandy Hook Elementary School in Newtown, Conn., firefighter Bill Lavin feels OK.
For a while, the president of a 5,550-member New Jersey firefighters union said he felt "demoralized and crushed and depressed." But now he has new focus: building 26 playgrounds.
The effort led by the Firefighters' Mutual Benevolent Assn. is a response to both tragedies. The playgrounds, one for each of the 20 children and six school employees who died in Newtown in December, will be built in states hit hardest by the storm — New Jersey, New York and Connecticut.
They need to raise about $2 million, and even though Lavin knows it's a bit crazy, it feels right.
"Everyone I spoke to had a tear in their eye," Lavin said. "And the response from the families validated that I needed to do this." He reached out to the families of all 26 shooting victims. The 16 he's heard back from are on board.
Jenny Hubbard, mother of Catherine, a Sandy Hook first-grader who was killed, sent a note thanking him for thinking of the idea. It was so fitting, she said. Her red-haired daughter loved Sundays because she got to go to the playground.
"She would climb and jump and swing so high, she was convinced she was touching the clouds," Hubbard wrote. "I know that she is thrilled with the prospect of having a park in her honor."
Each playground will have its own flair, a representation of the victims and the things they loved.
For Jessica Rekos, horses and whales. For Grace McDonnell, lots of peace signs. For Dylan Hockley, the color blue.
Lavin's idea was born before the young victims.
It was a few days after Sept. 11, 2001, when a bundle of letters arrived at the Elizabeth Fire Department in Elizabeth, N.J., where he worked. Third-graders from North Bay Elementary School in Bay St. Louis, Miss., had scrawled messages of encouragement — "Hang in there," one said to the World Trade Center first responders.
It helped them through dark days, Lavin said. When Hurricane Katrina hit the Gulf Coast four years later, the firefighters had one question. Was the North Bay school damaged? The hurricane had all but destroyed the school, they learned.
The New Jersey firefighters reached out and agreed to build a new playground for the children. They raised the funds and made it happen. It was a powerful moment, a sweet — if increasingly distant — memory, Lavin said.
Then, a week after Superstorm Sandy devastated New Jersey in October, Lavin's phone rang. It was a man from Mississippi. People in the state remembered what the firefighters had done for them, and they wanted to pay it forward. They held a toy drive, and in mid-December a trailer full of wrapped Christmas presents arrived.
Now it's New Jersey's turn.
The firefighters have received nearly $300,000 in donations for the Sandy Ground project, Lavin said. They have set up a website at www.thesandygroundproject.org. A groundbreaking ceremony for the first playground in Sea Bright, N.J., is tentatively set for the first weekend in March and will honor special education teacher Anne Marie Murphy.
Sea Bright, a small Jersey Shore borough that lost its entire business district to Sandy, welcomed news of the project.
"People are still struggling to get backs on their feet," Mayor Dina Long said. "This is a symbol of hope; it's more than just a playground."
ALSO:
F-16 escorts Cessna away from Fla. airspace during Obama visit
Squirrel shoot fund-raiser in New York town goes on despite protests
New York Mayor Michael Bloomberg calls for Styrofoam container ban

---
The Latinx experience chronicled
Get the Latinx Files newsletter for stories that capture the multitudes within our communities.
You may occasionally receive promotional content from the Los Angeles Times.