New York mayoral hopeful Anthony Weiner apologizes for more sexting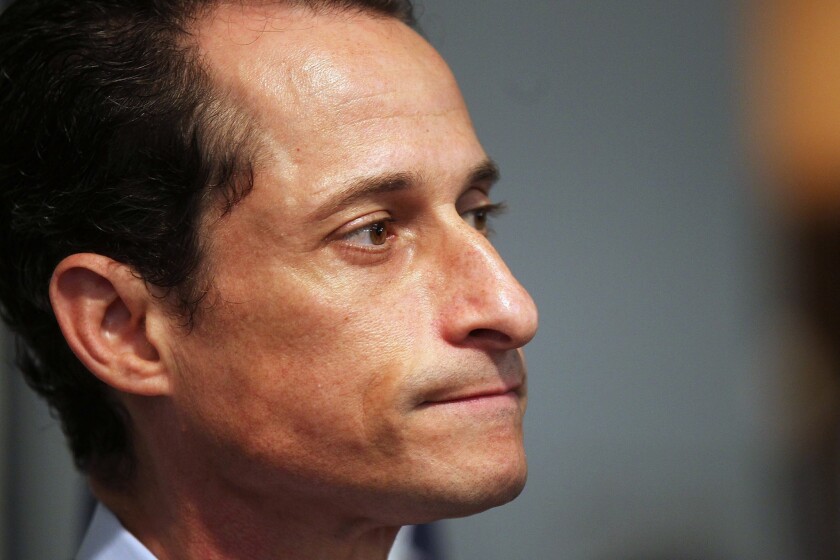 NEW YORK -- Anthony Weiner, who resigned from Congress after admitting to lewd online flings with women only to resurface this year as a leading mayoral hopeful, apologized Tuesday after admitting to at least one more such relationship.
Weiner, who in most polls has been at or near the front in the race to become New York City's next mayor, released a statement after online gossip site thedirty.com published what it said were messages and photographs Weiner had exchanged with a 22-year-old woman identified as "anonymous."
The story did not say when the relationship occurred other than describing it as "post-scandal," meaning it started after his resignation from his congressional seat in June 2011. Thedirty.com said the woman had been "lured" into an online relationship by Weiner using the alias "Carlos Danger" and that she believed he would provide her with an apartment in Chicago and a job, among other things.
In a brief statement, Weiner said that "some things that have been posted today are true, and some are not." He also suggested that the revelations should not have come as a huge surprise and noted that in interviews conducted after he launched his mayoral bid in May, he said more online eruptions could occur.
"I said that other texts and photos were likely to come out, and today they have," Weiner said in his latest statement.
"There's no question what I did was wrong," he said. But, repeating what he has said since he entered the mayoral race, Weiner added: "This behavior is behind me."
The 48-year-old Democrat, whose wife stood by him through the scandal and appeared on the video announcing his mayoral bid, said he had apologized to her. "I want to again say that I am very sorry to anyone who was on the receiving end of these messages and the disruption that this has caused. As my wife and I have said, we are focusing on moving forward," Weiner said.
Weiner's wife, Huma Abedin, who was a top aide to former Secretary of State Hillary Rodham Clinton, was pregnant with their first child when her husband's sexting scandal derailed his political career. Both she and Weiner have portrayed him as a candidate who would fight for New York City's middle class.
It was not immediately clear what effect the latest development could have on Weiner's political future and on the race to replace Mayor Michael Bloomberg when his third and last term expires. Polls have shown Weiner battling for the front spot with City Council speaker Christine Quinn going into the Sept. 10 Democratic primary.
ALSO:
Imported hot sauces contain high levels of lead, study says
Loose rules leave Six Flags to investigate itself for park death
Officer who leaked Boston bomber photos places on limited duty
tina.susman@latimes.com
On Twitter: @tinasusman
---
Must-read stories from the L.A. Times
Get all the day's most vital news with our Today's Headlines newsletter, sent every weekday morning.
You may occasionally receive promotional content from the Los Angeles Times.