Poll has N.Y. mayoral hopeful Weiner in 4th place among Democrats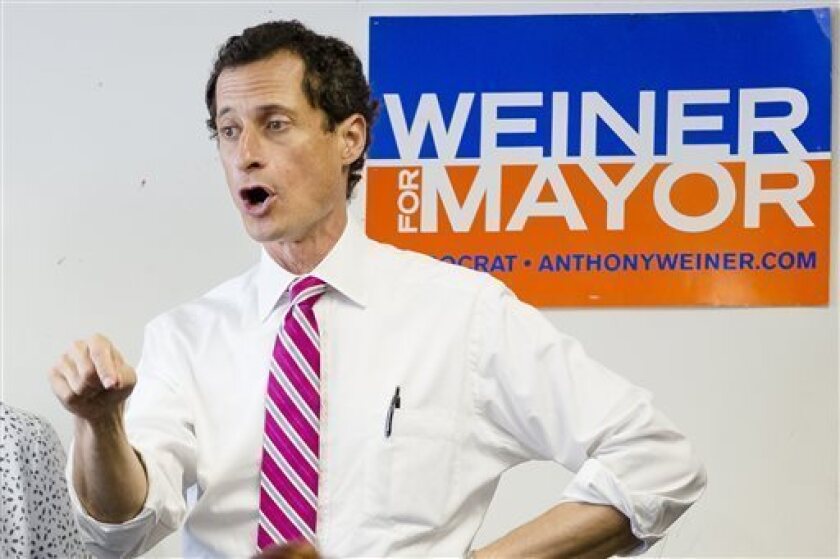 NEW YORK -- The latest poll of New York City voters shows mayoral candidate Anthony Weiner sinking even lower, to fourth place among Democratic hopefuls, as he struggles to tamp down the effects of his latest sexting scandal.
The Quinnipiac University poll released Monday gave Weiner 16% support from registered Democrats, behind front-runner Christine Quinn, the City Council speaker, who had 27%. Public Advocate Bill de Blasio had 21% and former city Comptroller William Thompson had 20%.
The numbers show a fast and sharp drop for Weiner, who in a July 24 Quinnipiac poll had 26% support from registered Democrats and led De Blasio and Thompson. Since announcing his candidacy in May, he had been at or near the front of the pack with Quinn.
But since a young woman named Sydney Leathers came forward last week with her story of an online affair with Weiner, including raunchy text messages and photographs that Weiner sent her of his penis, the former congressman's popularity with voters has waned.
"With six weeks to go, anything can happen, but it looks like former Congressman Anthony Weiner may have sexted himself right out of the race for New York City mayor," said Maurice Carroll, the director of the Quinnipiac University Polling Institute.
Weiner, 48, has attempted to quash the controversy by speaking up about it, but he only seems to be making things worse for himself. Last week, he appeared at a loss to say exactly how many women he has had on-line flings with since a series of lurid sexting scandals forced him to resign from Congress in June 2011.
At that time, Weiner said he was entering therapy to save his marriage and his reputation. He has since admitted to about three sexting-style relationships since then but insists the problem is a thing of the past.
In an email to supporters Monday, and during an appearance at a senior citizens center, he insisted he would not leave the race. "I don't really care if a lot of pundits or politicians are offended," he said. "I'm going to let voters decide."
In his email to supporters, Weiner said he would soon publish a "book of ideas for New York" to fulfill his pledge to make the city friendlier toward the middle class. Weiner also said he would continue giving policy speeches and appearing at mayoral forums, debates, street fairs, religious services "and just about everywhere that New Yorkers gather."
The Democratic primary is in six weeks.
Several opponents have urged Weiner to leave the race, and even those who haven't have indicated they don't welcome the sordid attention Weiner's candidacy is bringing to the campaign.
"This is summer political theater in New York," Gov. Andrew Cuomo, a Democrat, told reporters Monday. "We laugh, because if we didn't laugh we would cry."
ALSO:
Ariel Castro's son: Life in prison for my dad is best sentence
NPR's Scott Simon: A vigil for his mother, tweeted with love
Vandal splashes paint at National Cathedral; woman arrested
---
Must-read stories from the L.A. Times
Get all the day's most vital news with our Today's Headlines newsletter, sent every weekday morning.
You may occasionally receive promotional content from the Los Angeles Times.