Arizona to keep requiring citizenship proof on state voter forms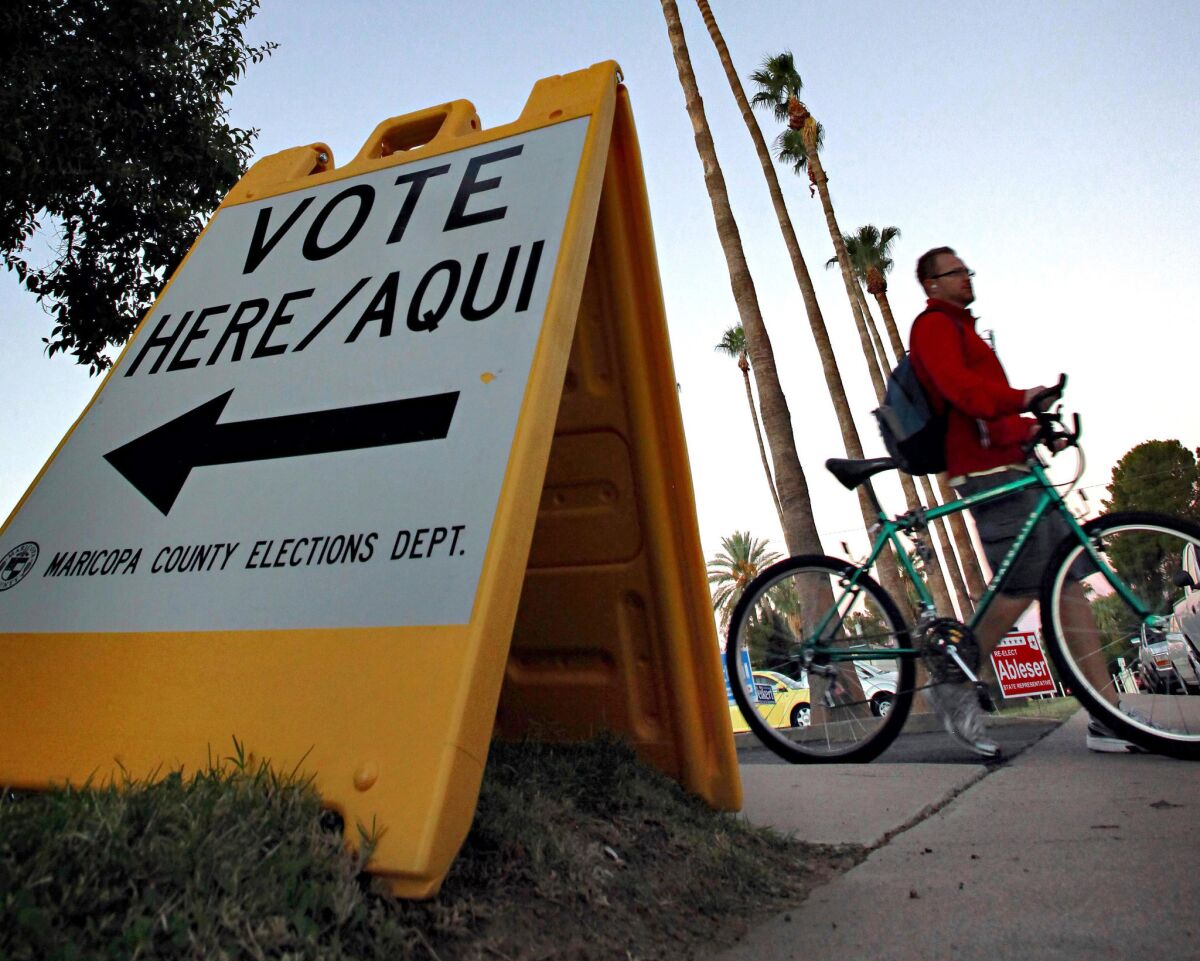 Arizona officials said they will continue to use state voter registration forms that require a prospective voter to prove citizenship, despite a Supreme Court ruling that struck down the requirement on federal forms.
Hours after voting rights advocates were hailing Monday's Supreme Court decision, officials indicated that Arizona will take advantage of a provision in the ruling allowing the state to seek to continue requiring the added documentation while it appeals to a federal agency. In effect, the Supreme Court's ruling, which was viewed as a step forward in national voter registration law, could have a less of an immediate impact within the state.
"The next step is going to the EAC," Arizona Atty. Gen. Tom Horne said of the federal Elections Assistance Commission, the agency that developed the federal form. After that agency, the state can go back to the courts where the state believes it can win and get to keep the requirement of added documentation on citizenship, Horne said in a telephone interview with the Los Angeles Times.
"The state form will not change, only the federal form," Matthew Roberts, director of communications for Arizona Secretary of State Ken Bennett, said in a telephone interview. Roberts said officials will continue distributing the Arizona form, which is used for about 95% of all voter registration. Only about 5% of the registrations come via the federal form, he said.
The decision by state officials was expected since Arizona has been fighting for the tougher requirements for years. Local advocates, however, had earlier said they hoped to work with the state to revise the Arizona registration form in light of the Supreme Court ruling.
"We certainly hope our election officials would not continue to fight this," said Sam Wercinski, executive director of the Arizona Advocacy network, one of the groups involved in seeking to overturn the Arizona citizenship requirements. "This is a very clear decision," he said in a conference call by several groups involved in the case.
Earlier Monday, the Supreme Court announced that it had had thrown out Arizona's requirement that a prospective voter show proof of citizenship. It ruled against Arizona, 7-2, in Arizona vs. Inter Tribal Council of Arizona Inc. The court said that the state policy, approved by voters as Proposition 200 in 2004, was at odds with the 1993 National Voter Registration Act, also known as the "motor voter" law.
The federal law was designed to increase participation, particularly among minorities, by making it more convenient for people to sign up to vote by filling out a form when getting a driver's license, for example. On the federal form, the applicant has to swear that he is a citizen under penalty of perjury. But Arizona went one step further, requiring proof of citizenship such as a passport or birth certificate.
Advocates sued, arguing that the federal form didn't require such documentation and should be the standard. The 9th U.S. Circuit Court of Appeals agreed that National Voter Registration Act is the controlling law rather than Proposition 200. The case eventually went to the Supreme Court.
Federal law "precludes Arizona from requiring a federal form applicant to submit information beyond that required by the form itself," Justice Antonia Scalia wrote for the court's majority. In his ruling, however, Scalia said the state could continue to make a case before the federal agency and depending on that ruling, again appeal to the courts.
"I think the court has given us a clear path to victory," Atty. Gen. Horne said. He argued that the court affirmed the right of states to set their own standards for voting.
Opponents of the Arizona law said they see it as an effort to limit participation by minorities and immigrants. In the conference call, they said more than 31,000 potential voters were blocked from registering. Voter registration through community-based drives dropped by 44% in Arizona's largest county, Maricopa, according to Maldef, the Latino civil rights group.
"We don't think it will be successful," Nina Perales, Maldef's vice president for litigation, said of Arizona's continuing effort to fight for its law. She argued that the state had a chance to provide documentation that the added requirements were needed, but had failed to do so.
"Proposition 200 was a new starting point in the war on voters in Arizona," Wercinski said.
"Individuals want to register and vote," he said during the conference call. "Opponents have tried to increase barriers over and over again.... When people register they will vote."
For groups opposed to the Arizona law, including the ACLU and the Lawyers' Committee for Civil Rights Under Law, Monday's ruling was major step forward.
"Today's decision is a significant victory for U.S. citizens and their ability to register to vote without burdensome requirements," said Wade Henderson, president and CEO of the Leadership Conference on Civil and Human Rights. "In our democracy, if you don't vote, you don't count, and the Arizona law was a blatant effort to keep some citizens from making their voice heard in our elections."
ALSO:
NYU denies it is evicting Chen Guangcheng
Worst is over in Colorado fires, officials say
Whitey Bulger trial resumes with an ex-hit man due on stand
michael.muskal@latimes.com
Must-read stories from the L.A. Times
Get the day's top news with our Today's Headlines newsletter, sent every weekday morning.
You may occasionally receive promotional content from the Los Angeles Times.