Montana judge faces judicial complaint for 31-day rape sentence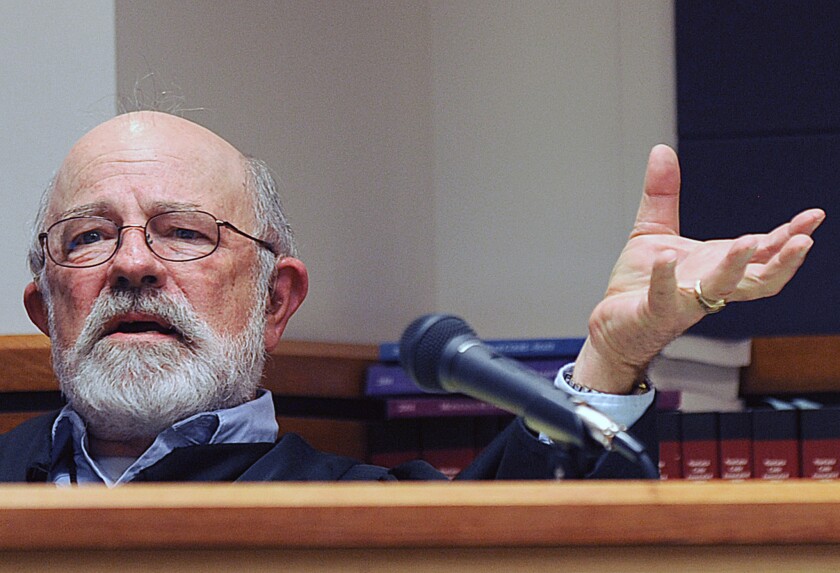 Remember the Montana judge who said a 14-year-old rape victim was "older than her chronological age" and "as much in control of the situation" as her rapist when he sentenced the offender to 31 days in prison?
His comments, which sparked national outrage, have prompted a formal judicial complaint against him. A prosecutor for the state's judicial oversight board has accused Judge G. Todd Baugh of imposing an "overly lenient and unlawful sentence" that "eroded public confidence in the judiciary."
The Montana Judicial Standard Commission's formal charge against Baugh of Yellowstone County was announced Tuesday after the panel received hundreds of complaints about him, including eight that were formally filed.
Baugh generated outrage in August after sentencing high school teacher Stacey Dean Rambold to 15 years in prison with all but one month suspended. Rambold had pleaded guilty to one count of sexual intercourse without consent and had been kicked out of a sexual offender treatment program for breaking rules.
During the hearing, Baugh blamed Rambold's 14-year-old victim, who committed suicide before the case went to trial. He also told reporters that the rape was "horrible enough as it is just given her age, but it wasn't this forcible beat-up rape."
The sentence was illegal because Montana law requires a mandatory minimum of two years in prison for such a crime, prosecutor Malin Stearns Johnson said in the complaint. Baugh later tried to correct the oversight, but the Montana Supreme Court blocked that move because he had no authority to change his own sentence.
In addition, Montana law involving sex with children under the age of 16 requires evaluation of victims based on age alone, Johnson said. Subjective views about physical maturity and situational control cannot be taken into account.
"Through his overly lenient and unlawful sentence, inappropriate rationale and subsequent public comments, Judge Baugh has eroded public confidence in the judiciary and created an appearance of impropriety, therefore violating the Montana Code of Judicial Conduct," Johnson states in the complaint.
Baugh may respond to the charge within 15 days, said the commission's executive secretary, Shelly Nash. The commission, which includes two district judges, a private attorney and two citizens, could hear the case as early as mid-March and could impose discipline ranging from a private admonition to removal from office. The state's Supreme Court has final say over any major punishment.
Last month, Baugh, 72, announced that he would retire at the end of 2014. He cited his age for his retirement and said it had nothing to do with the Rambold case. Baugh apologized three days after the sentencing, saying he deserved the criticism. But hundreds of people still protested and more than 140,000 people signed a petition that was delivered to the standards commission.
Prosecutors appealed Rambold's sentence. The case is pending.
ALSO:
Gay marriage battle unfolds in Virginia, Utah courts
National Guard recruiting bonus scandal probed by Senate panel
Super Bowl prostitution sweep rescues 16 teens; 45 suspects arrested
---
Must-read stories from the L.A. Times
Get all the day's most vital news with our Today's Headlines newsletter, sent every weekday morning.
You may occasionally receive promotional content from the Los Angeles Times.