Pentagon makes costly foray into biodefense drug business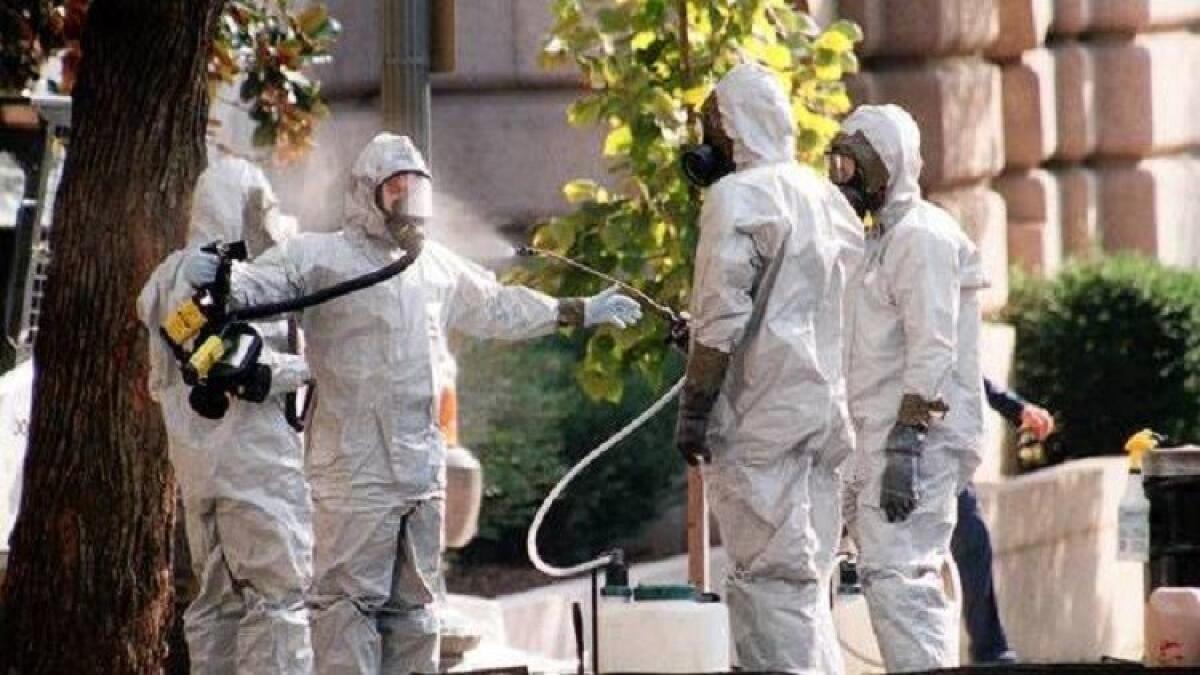 WASHINGTON — Despite intense pressure to hold down federal spending, the Defense Department is launching a high-priced effort to create its own production pipeline for vaccines and biodefense drugs — an initiative that defies the advice of government-hired experts and duplicates what another agency is doing.
Construction began in late October on a plant in north Florida that will produce flu vaccine and specialized medicines for the Pentagon to protect military personnel against germ warfare agents.
To begin paying for the initiative, the Obama administration has quietly shifted millions of dollars that had been budgeted for better masks, boots, early-warning sensors and other equipment for troops at risk of exposure to chemical or biological weapons, according to government documents and defense specialists.
The Department of Health and Human Services, meanwhile, is on track to spend billions of dollars to produce the same types of medicines in collaboration with private drug companies and university researchers.
The overlapping efforts are precisely what some policymakers have warned against. The Defense Department program also flies in the face of an analysis, commissioned by the White House, that examined ways the government could bolster production of vaccines and biodefense drugs.
The 2009 analysis recommended against establishing a government-controlled facility, akin to what the Pentagon is doing, saying that contracting with private manufacturers would produce new drugs more quickly and at a lower cost.
The 112-page report has not been shared with Congress or previously publicized. A copy of the document was obtained by the Los Angeles Times.
The Pentagon initiative has been championed by Assistant Secretary of Defense Andrew C. Weber, a presidential appointee. The Times' request for comment from Weber was referred to a top aide, James B. Petro.
In an interview, Petro said the Florida facility was needed to make medicines that the military could not rely on Health and Human Services or others to provide. The goal, he said, was to do "a more efficient and effective job" of acquiring the products.
"It's about making sure that our men and women in uniform have the protection that they need against these threats," said Petro, adding that Weber was aware of the 2009 analysis and that it had informed his staff's "strategic thinking."
Shifting funds from protective gear to help pay for the manufacturing effort was a "portfolio management decision" intended to "achieve balance in yielding both medical and physical defense equipment," Petro said.
***
For decades, the government has contracted with outside companies for nearly all the medicines intended to protect the public and military personnel against infectious diseases. But the Defense Department has long sought to create its own medical manufacturing arm.
After the 1991 Persian Gulf War, the Pentagon spent hundreds of millions of dollars trying to develop vaccines against more than a dozen exotic pathogens, such as plague and the Ebola virus. The efforts ultimately fell short or were abandoned because of the costs and steep scientific challenges.
"This is a really, really hard thing to do," said David L. Danley, a biologist and retired Army colonel who supervised the Pentagon's vaccine-acquisition program. "The numbers — the costs — just didn't make sense."
The Defense Department has protected its battlefield personnel against the highest-profile biological threats — anthrax and smallpox — by securing access to Health and Human Services' stockpile of vaccines purchased from private pharmaceutical companies.
After the Sept. 11 terrorist attacks and the mailings of anthrax-laced letters that fall, the idea that the military needed defenses against a broader range of threats gained renewed momentum.
The Pentagon contracted with DynPort Vaccine Co. to develop biodefense vaccines, and by 2006 had paid the firm about $700 million. The work has not resulted in a product approved for use by the U.S. Food and Drug Administration.
In 2008, a report by researchers at the University of Pittsburgh Medical Center recommended that the Pentagon oversee the construction and operation of at least two plants for making biodefense medicines, saying that existing arrangements with private vaccine makers had yielded "limited success."
Army Maj. Gen. Stephen V. Reeves, then in charge of the military's defenses against biological and chemical warfare, publicly disagreed.
Appearing before the House Appropriations Subcommittee on Defense on April 24, 2008, Reeves noted that by purchasing the anthrax and smallpox vaccines from the Health and Human Services stockpile — instead of buying from manufacturers or trying to produce the products in-house — the Pentagon paid much less per dose.
In looking to develop new biodefense drugs, Reeves said that the Defense and Health departments were "closely coordinating our research and development programs.... The focus is on eliminating unnecessary duplication of effort."
Before deciding whether to establish its own medical manufacturing capacity, he said, the Pentagon should conduct "an analysis of alternatives" to identify the most cost-effective approach.
The White House, under President George W. Bush, asked the Defense and Health departments to pay for the analysis, which was conducted by the Tufts Center for the Study of Drug Development in Boston and its research affiliate, Quantic Group Ltd.
The analysis focused on three ways to provide greater protection against infectious agents for both civilians and military personnel.
One alternative, called "Buy All," would continue the government's contracting for biodefense medicines. The second, "Enhanced Buy All," called for hiring more contractors. The third option, "Make All," was to build a government-controlled facility to make virtually all of the military's medicines.
The analysis, completed in June 2009, recommended the "Enhanced Buy All" approach, saying that "contract manufacturing is less costly and timelier than constructing and operating a dedicated facility."
It ranked the "Make All" option "the least viable."
Defense and Health officials shelved the document after summarizing it for their superiors, those with knowledge of the matter said.
Worries about the nation's biodefenses burst into the open again in January 2010, when a bipartisan commission gave the Obama administration and Congress an F grade for failing to enhance "the nation's capabilities for rapid response to prevent biological attacks from inflicting mass casualties."
"Especially troubling is the lack of priority given to the development of medical countermeasures — the vaccines and medicines that would be required to mitigate the consequences of an attack," the commission said.
In his State of the Union address the next evening, President Obama announced "a new initiative that will give us the capacity to respond faster and more effectively to bioterrorism or an infectious disease."
He provided no details — which left it to rival bureaucracies, Health and Human Services and the Defense Department, to translate his words into action.
Throughout much of 2010, senior officials from the two departments met at the White House to discuss how to secure speedier and more reliable manufacturing of vaccines and other medicines.
Health officials envisioned three manufacturing facilities, to be operated under contract by nongovernmental entities.
"We started off talking about doing this together," said one of the Health and Human Services participants, who like other officials spoke on condition of anonymity because of the sensitivity of the matter.
But by late 2010 it was apparent to participants that Weber wanted the Defense Department to go its own way. According to senior officials who were involved, Weber was frustrated by the pace at which his Health and Human Services counterparts were moving, and did not want his department's control of medical manufacturing to be subordinate to that of Health and Human Services' Biomedical Advanced Research and Development Authority.
The Defense Department "wanted to be in charge of their own fate," said another health official.
A Defense official gave a similar account: Health and Human Services "was going to build all three facilities. Weber said, 'I want one of my own.'"
On Dec. 29, 2010, Weber won crucial backing from the White House when John Brennan, then Obama's top counter-terrorism advisor, signed a memorandum saying the Defense Department should "establish agile and flexible advanced development and manufacturing capabilities."
In March 2011, health officials solicited proposals to operate the three plants that would make both flu vaccine and biodefense medicines. The federal government would pay 75% of the cost to upgrade or expand existing facilities — and the operators could use as much as half of the plants' capacity to make other products.
The same month, as the Defense Department advanced Weber's plan for an independent supply line, the Government Accountability Office warned about the costs of duplicative programs. The department, the GAO said, could save $280 million to $460 million within its medical command alone.
In September 2011, the Senate Appropriations Committee, citing "duplication with other government programs," proposed stripping the entire $151.6 million requested by Obama and the House to start the Defense Department's manufacturing initiative.
But three months later, a Senate-House conference committee compromised on $101.7 million. The conferees nevertheless said they remained concerned that "the government is creating slightly distinct yet largely redundant capabilities."
***
The Defense Department is funding its initiative in part with money originally committed to better protecting service personnel against a chemical or biological attack, according to internal Pentagon documents and interviews with military specialists.
Some of the money had been intended to buy or upgrade early-warning sensors for the battlefield, along with suits, boots, gloves and decontamination equipment.
The improved, laser-based sensors that had been under development were expected to be able to warn of a chemical attack from as far as 5 kilometers away in all directions — compared with the existing technology's limits of 2.5 kilometers, with a greatly reduced "field of view."
The Defense Department is also slowing its planned acquisition of lighter, more protective masks.
The original M40 models — bought in 1990 for the Persian Gulf War — remain in stock despite a 17-year shelf life. Their older plastic and rubber components are at risk of deteriorating, and some may have leaks due to improper storage.
A confidential document circulated Sept. 17 by the Pentagon's Joint Program Executive Office cited these and more than 20 other "capability needs" that had been stalled or killed to help pay for the medical-manufacturing initiative.
All of the canceled acquisitions had been validated as necessary by a Pentagon council representing each of the armed services, according to internal documents and Defense specialists.
Petro, the Pentagon aide, said the equipment available for use performs adequately.
***
In June 2012, Health and Human Services awarded three contracts providing startup funding for medical manufacturing.
A $60-million contract went to Novartis to expand the Swiss company's flu vaccine plant in Holly Springs, N.C. Another, for $163 million, was awarded to Emergent BioSolutions Inc., a Maryland company that makes the FDA-approved anthrax vaccine. Emergent is being paid to retrofit its facility in Baltimore to make flu vaccine and other products.
The third contract, for $176 million, went to Texas A&M University, where Dr. Brett Giroir, a former Pentagon official, has raised an additional $109 million from the state and commercial drug makers to launch a research, development and manufacturing complex.
On March 20 of this year, the Defense Department awarded its initial manufacturing-facility contract, worth as much as $358.9 million, to Nanotherapeutics Inc. of Alachua, Fla., about 20 miles north of Gainesville.
Though the 165,000-square-foot plant is to be built and owned by Nanotherapeutics, it will be used exclusively for Pentagon-directed manufacturing.
Petro, the Defense official, said the department expected to spend $40 million in each of the next five years on plant operations, which might last 25 years or longer. Additional spending would be required to buy any product made there, he said.
The overlapping efforts of the Defense and Health departments were illuminated at a House Armed Services subcommittee hearing Oct. 11.
Giroir testified that his Health and Human Services-funded facility would be "fully capable of performing the advanced development and manufacturing" for medicines sought by both Health officials and the military.
Asked about the separate initiatives, Dr. Philip K. Russell, a retired major general who once headed the Army's Medical Research and Development Command, cited "an enormous amount of wasted effort."
"In our government, everybody is in favor of coordination — but nobody wants to be coordinated," he said.
Sign up for Essential California for the L.A. Times biggest news, features and recommendations in your inbox six days a week.
You may occasionally receive promotional content from the Los Angeles Times.