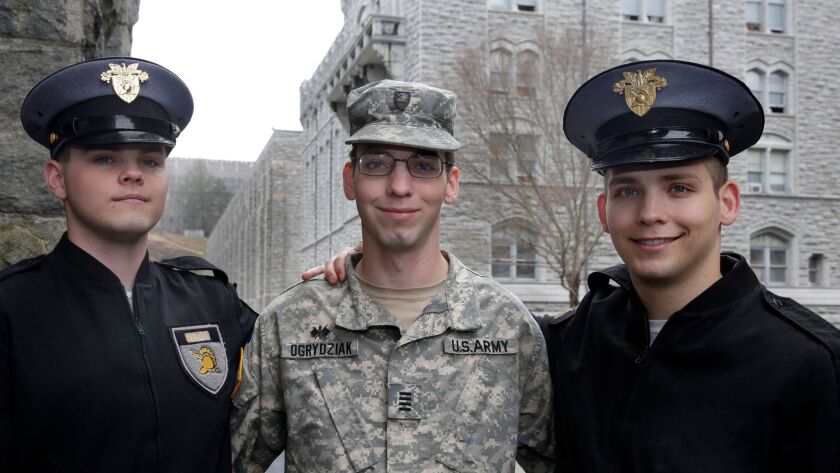 Reporting from WEST POINT, N.Y. —
Brothers Noah, Sumner and Cole Ogrydziak entered West Point's grueling world of 6:30 a.m. reveille, 60-pound packs and rigorous course loads on the same day four years ago.
Now the three cadets are preparing to fling their caps together at graduation this month, marking a rare fraternal trifecta at this storied academy.
The band of brothers from Nederland, Texas, are set to graduate with the U.S. Military Academy's Class of 2017 on May 27. The first duty stations for the future Army officers are still being worked out, but it's clear to the brothers that their years of being just a short march from one another are numbered.
"It's kind of surreal to think that, 'Hey, all three of us actually made it here and we're kind of living our dreams, doing what we want to do,'" Sumner said. "And soon enough ... we'll be going off to our own separate duty stations."
Cole and Sumner are 21-year-old twins. They are not identical but share the steady posture, close-cropped hair and old-school courtesy common among cadets. Noah, who just turned 23, spent a year at West Point's prep school before entering the academy with the twins on July 1, 2013.
Cole compares their West Point experience to having "automatic friends." They got used to snowy northeastern winters together, learned how to stand in formation and maneuver in the field. They share the nickname "O.G.," which is easier for fellow cadets to say than Ogrydziak (pronounced oh-GREE-zee-ak).
But the Ogrydziaks are in different regiments and take different classes. They are three in a sea of 4,400 gray-clad cadets walking briskly among the imposing stone buildings here. Brotherly connections come when Cole asks Noah for help with a computer course or they share a pizza on the weekend.
"Every so often I'll see them during the day. But we'll try to eat dinner at nights together, and especially on weekends we'll get together and watch a movie. That's always pretty fun," Noah said.
The last time three siblings graduated West Point together was in 1985, when twins Rose and Anne Forrester became officers at the same time as their older brother, John. It's not clear how many other times three siblings have graduated together since the academy was established in 1802.
Sumner's assigned Army branch is engineers, and he's headed to South Korea. Cole is headed to a medical school to become a doctor and Noah will be in Signal Corps, but they don't know their destinations yet. But it's likely they will be scattered around the globe for at least the next several years.
"I can't speak for my brothers, but if we stay in seven to 10 years, I think there's a good chance that we might end up picking the same duty station," Sumner said. "Maybe because we both want to go there or live together, or at least close by."
West Point has lost about 100 graduates in the war on terrorism since Sept. 11, 2001. Some of those deaths have been announced in the cadet mess hall since the Ogrydziaks became cadets. The brothers, who are from a military family, shrug off questions about potential dangers ahead.
Their mother, Kristine, served in the Coast Guard for 10 years, and their father, Randal, is a Coast Guard captain who is retiring next month after 38 years of service. The oldest Ogrydziak brother, 26-year-old Vaughn, is a chemical engineer in the private sector.
Randal plans to retire in June, but not before performing one more heartfelt duty.
After graduation, the family intends to gather somewhere on West Point for the traditional "pinning ceremony." Randal will exercise his privilege as a commissioned officer to personally give his sons their oaths. The parents will place second lieutenant bars on each of their boys' shoulders.
"He'll be our first salute, too," Sumner said. "And I couldn't be more happy."
---