Woman accused of making up rape allegations in Connecticut will go on trial this week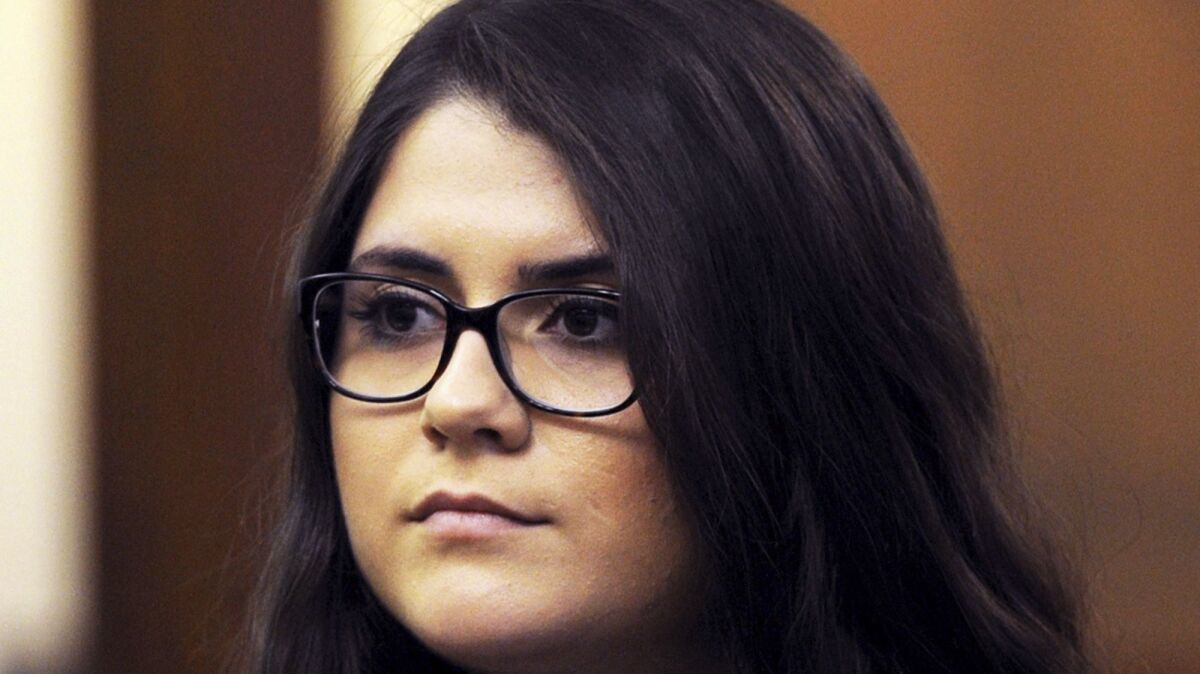 Reporting from Hartford, Conn. —
A young woman accused of making up rape allegations against two college football players to gain the sympathy of another student she wanted to date is going on trial this week, and claims that she was pressured into confessing are expected to play a key role.
Jury selection in the case of Nikki Yovino, 19, of South Setauket, N.Y., is to begin Tuesday in Bridgeport Superior Court in Connecticut, and testimony is expected to start June 18. Prosecutors and defense lawyers will be in court Monday to argue over whether some evidence and testimony should be excluded from the trial.
Yovino was a student at Sacred Heart University in Fairfield when, police say, she reported being raped by two Sacred Heart football players at an off-campus party in Bridgeport in October 2016.
Authorities say she later admitted that she had consensual sex with the players and told police her motive. She was charged with evidence tampering, a felony, and falsely reporting an incident, a misdemeanor. The evidence tampering charge carries up to five years in prison.
Yovino's lawyers, however, say police pressured her into making a false confession. Prosecutors declined to comment, citing policy involving pending cases.
Ryan O'Neill, the woman's attorney, said that Yovino told police the football players had sex with her against her will but that she never used the terms rape or sexual assault. O'Neill said a police detective, during a second interview, pressured her into confessing that she had made up rape allegations.
Yovino answered only yes or no during the recorded interview as Det. Walberto Cotto asked her if she had lied, and she never actually said what police reported, O'Neill said.
"You see her admitting to things that didn't happen," O'Neill said, referring to the recording. "Det. Cotto lied to her, put words in her mouth. Det. Cotto invents evidence that doesn't exist and continues to advance a narrative that's not true. She said what he wanted to hear. The bottom line is we know it didn't happen."
Cotto defended the confession during testimony in May.
Yovino withdrew from Sacred Heart. The football players were never criminally charged, but both withdrew from the school as they faced possible disciplinary action. One player lost a football scholarship, his lawyer said.
The football players' names have not been released by police but are expected to be disclosed when they testify at the trial, their lawyer said.
"Her actions have seriously affected them," attorney Frank Riccio II said. "They're no longer in school. The loss of their education and the college experience has certainly affected them greatly. And this is all because of a very serious lie."
The players will decide whether to sue Yovino after her criminal trial, Riccio said.
Must-read stories from the L.A. Times
Get the day's top news with our Today's Headlines newsletter, sent every weekday morning.
You may occasionally receive promotional content from the Los Angeles Times.