Nikolas Cruz's brother arrested, accused of trespassing at Stoneman Douglas High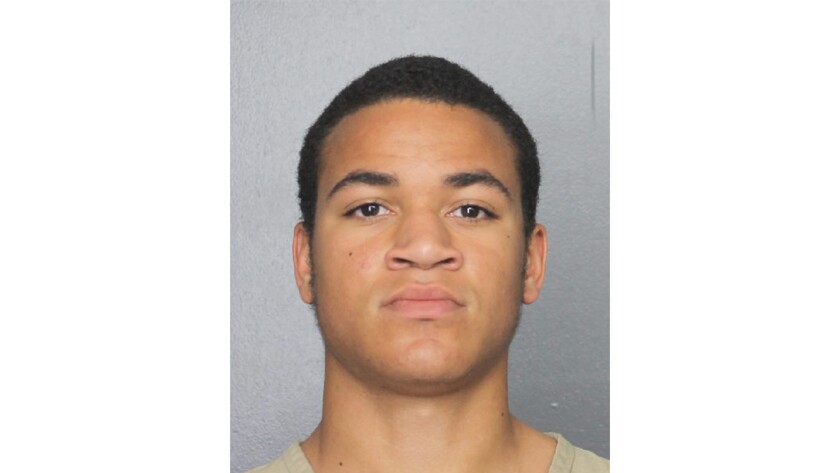 Reporting from FORT LAUDERDALE, Fla. —
Zachary Cruz, the brother of the man who killed 17 students and staff members at Marjory Stoneman Douglas High School, was arrested Monday, accused of trespassing at the Parkland, Fla., school, officials said.
The Broward Sheriff's Office said Zachary, 18, rode his skateboard at 4:30 p.m. across the campus where his older brother, Nikolas Cruz, went on a shooting spree with an AR-15 rifle.
Zachary Cruz told deputies he visited the school "to reflect on the school shooting and to soak it in," according to the arrest report. He had been warned by school officials to keep away from the school.
"Cruz surpassed all locked doors and gates" to get onto the campus, the arrest report said. It was after school hours. The school day ends at 2:40 p.m.
Nikolas Cruz, 19, has confessed to the Feb. 14 shooting and faces the death penalty for the murder of 17 and the attempted murder of 17 others.
Broward Schools Supt. Robert Runcie said the school's gates are opened after hours so students can go in and out for after-school activities. During school hours the gates are locked, Runcie said.
"It wasn't some breach of security," Runcie said. "He came through whatever gate was open at the time. Somebody spotted him and reported him to BSO. They responded quickly.
"It's kind of odd, and I understand it does creep people out," Runcie said.
Zachary Cruz has been living with a family friend, Roxanne Deschamps, in Lantana, Fla., since the death of his mother in November.
"I don't want to be alive. I don't want to deal with this stuff," Zachary Cruz told Deschamps on the night of the shooting, according to a report from the Palm Beach County Sheriff's Office.
Two days after the shooting, Zachary Cruz told a deputy that he felt "somewhat responsible and guilty about the incident and that he could have possibly prevented [it]," that report said. He also told the deputy that he "doesn't understand why his brother would have done this."
Zachary Cruz currently has no ties to Broward County, the arrest report said.
---
Must-read stories from the L.A. Times
Get all the day's most vital news with our Today's Headlines newsletter, sent every weekday morning.
You may occasionally receive promotional content from the Los Angeles Times.