Man arrested in St. Louis in connection with threats against Jewish community centers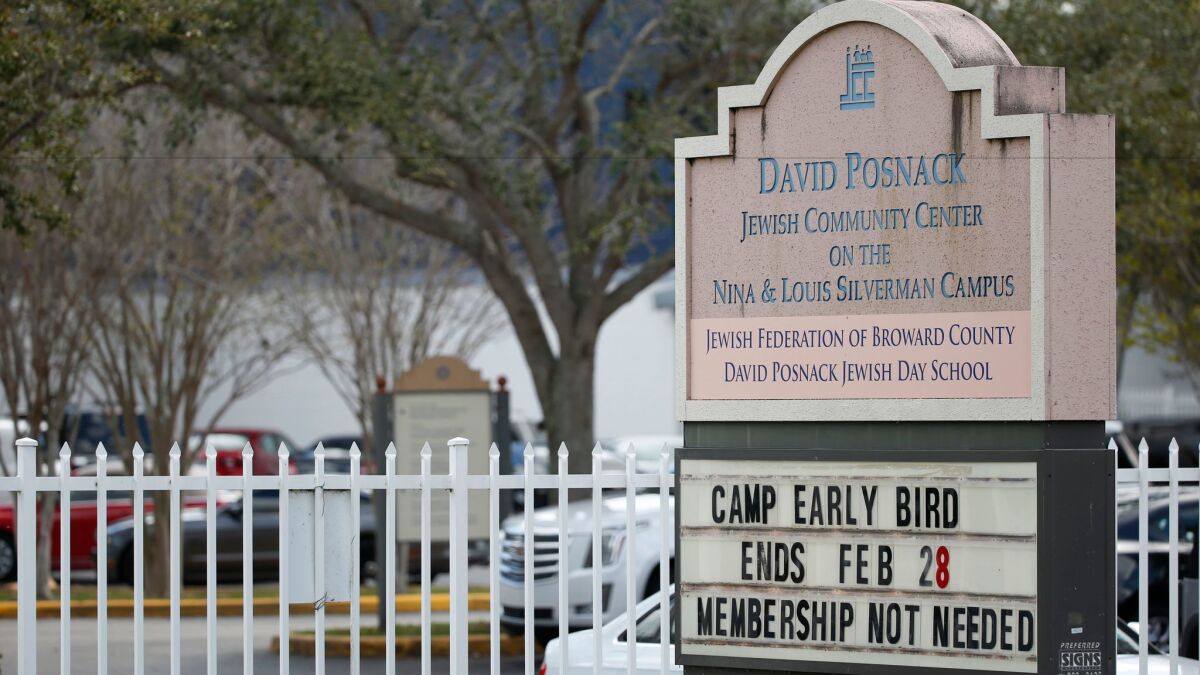 A 31-year-old man was arrested Friday on suspicion of what federal law enforcement officials described as a "sustained campaign" of harassment against a former lover that included making bomb threats to eight Jewish institutions in her name.
Juan Thompson, who was taken into custody in St. Louis, is suspected of making bomb threats to seven Jewish community centers in the U.S. and threatening the Anti-Defamation League's New York headquarters.
Thompson also faces charges of cyberstalking his ex-girlfriend and making some of the threats, which were emailed and made via phone, using his own name, according to the FBI and the U.S. attorney's office in the southern district of New York.
Thompson appeared in court Friday in Missouri.
The arrest comes amid a tense two months at Jewish institutions across the country. More than 100 bomb threats have come in to community centers, schools, ADL offices and other Jewish centers in more than 30 states since Jan. 4.
At least three Jewish cemeteries, including one outside St. Louis, also have been vandalized in recent weeks with headstones toppled. The other two cemeteries are in Philadelphia and Rochester, N.Y. In addition, a synagogue in Evansville, Ind., was struck with a bullet this week. Nobody was injured.
Thompson does not face charges for threats or attacks beyond the seven threats to Jewish centers and the ADL headquarters, and federal officials said they were still investigating the other incidents.
Jewish and civil rights organizations hailed the arrest.
"We are relieved and gratified that the FBI has made an arrest in these cases. We applaud law enforcement's unwavering effort to resolve this matter" said Jonathan A. Greenblatt, chief executive of the Anti-Defamation League. "We look forward to the quick resolution of the remaining open cases."
Officials said Thompson apparently made the threats to smear his ex-girlfriend. In addition to bomb threats, his "sustained campaign to harass and intimidate" her included sending defamatory faxes and emails to her employer and false reports that she had committed crimes, according to a federal complaint filed Friday in Manhattan.
Authorities said Thompson began the campaign against the woman, who was not identified by authorities, shortly after their relationship ended, and the FBI has cited incidents dating to late July. They included falsely reporting via email in October that she possessed child pornography and posting on social media as recently as February that she was anti-Semitic.
When questioned by law enforcement in November about his email account, Thompson told authorities he had been hacked, officials said.
Thompson's threats against the Jewish centers came in January and February, prosecutors said in a complaint filed in federal court, and included an emailed threat against the national ADL headquarters last week.
That threat, sent Feb. 27, said the ex-girlfriend was "behind the bomb threats against jews. She lives in nyc and is making more bomb threats tomorrow." The ADL received a call the next day saying there was a bomb at its Manhattan headquarters.
Federal officials said Thompson, in an earlier email, tried to make it look like his former girlfriend was framing him.
"Juan Thompson … put two bombs in the office of the Jewish center today. He wants to create Jewish newtown tomorrow," read a Feb. 7 email that was sent to a Manhattan Jewish community center from an anonymous account that authorities have connected to Thompson. "Newtown" apparently refers to the deadly December 2012 shooting at Sandy Hook Elementary School in Newtown, Conn.
The complaint against Thompson quotes his Twitter account from Feb. 24 as saying, "Know any good lawyers? Need to stop this nasty/racist #whitegirl I dated who sent a bomb threat in my name & wants me to be raped in jail."
That tweet and another that's quoted in court documents match those on the Twitter account @JuanMThompson, which belongs to a former journalist of the same name who worked for the Intercept news website from November 2014 until he was fired in January 2016 for allegedly fabricating quotes and sources. Thompson also formerly wrote for the news website Raw Story.
"We were horrified to learn this morning that Juan Thompson, a former employee of the Intercept, has been arrested in connection with bomb threats against the ADL and multiple Jewish Community Centers in addition to cyberstalking," read a statement from the site. "These actions are heinous and should be fully investigated and prosecuted. We have no information about the charges against Thompson other than what is included in the criminal complaint."
The @JuanMThompson Twitter account has a lengthy log of tweets, including those that describe capitalists as "blood suckers" and say President Trump is a "coward" and "predator." The account has described "white media" as "repulsive" and called Hillary Clinton a phony "white woman liberal."
There are also tweets about the threats against the centers. "Another week, another round of threats against Jewish ppl. In the middle of the day, you know who's at a JCC? Kids. KIDS," @JuanMThompson tweeted on Feb. 27.
According to the ADL, Thompson has a history of incendiary statements and had been tracked by the organization long before the bomb threats for his social media postings and other writings.
"The arrested individual was on the radar of ADL's Center on Extremism, which had followed his past activities, including his deceptive and at times false reports for a news website about Dylann Roof, the perpetrator of the church shooting in Charleston, S.C. Most recently, Thompson allegedly announced in November 2016 that he was running for mayor of St. Louis, to 'fight back against Trumpian fascism and socio-economic terrorism,'" the ADL said in a statement.
The reporting on Roof was in reference to Thompson's work at the Intercept.
"Thompson also claimed that he wanted to dismantle the system of 'racial supremacy and greedy capitalism that is stacked against us.' He created a Gofundme page to raise $5,000 for his ostensible election bid. He got $25. He has tweeted various rants against white people, calling them 'trash' and saying they 'have no shame,'" the statement said.
The JCC Assn. of North America, whose centers make up the bulk of those targeted by bomb threats, said it was "gratified" with Thompson's arrest.
"We trust that the perpetrators behind all of the threats will be swiftly identified and brought to justice," President and Chief Executive Doron Krakow said in a statement.
Jaweed Kaleem is The Times' national race and justice correspondent. Follow him on Twitter, Facebook and Instagram.
ALSO
Jewish centers in Irvine, Los Angeles among latest targets in new round of bomb threats
Anne Frank center criticizes Trump's remarks on Jewish attacks
L.A.-area Jewish leaders form coalition in response to Trump's executive actions on immigration and refugees
---
UPDATES:
12:30 p.m.: This article was updated with more information from federal authorities and reaction from community representatives.
8:30 a.m.: This article was updated with Times staff reporting.
This article was originally published at 8:10 a.m.
---
Must-read stories from the L.A. Times
Get the day's top news with our Today's Headlines newsletter, sent every weekday morning.
You may occasionally receive promotional content from the Los Angeles Times.