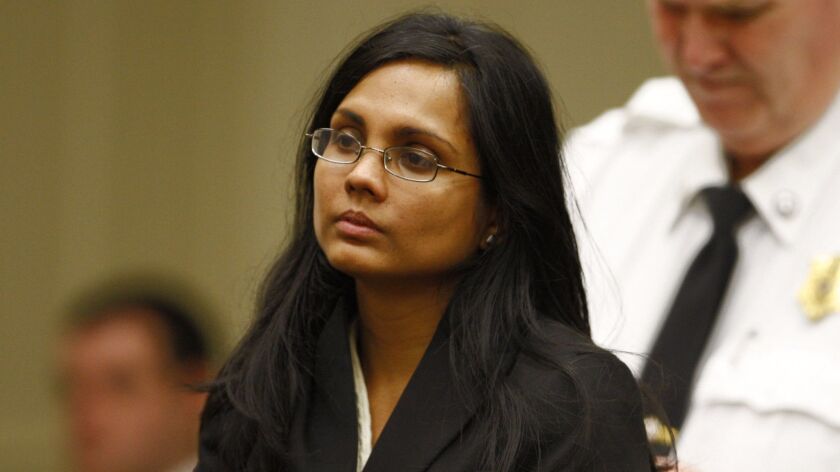 The highest court in Massachusetts has formally approved the dismissal of more than 21,000 drug convictions that were tainted by the misconduct of a former state drug lab chemist.
The American Civil Liberties Union of Massachusetts says the final order from the Supreme Judicial Court on Thursday marks the single largest dismissal of convictions in U.S. history.
The action by the court was expected after seven district attorneys in eastern Massachusetts submitted lists on Tuesday totaling 21,587 cases they would be unwilling or unable to prosecute if new trials were ordered.
The cases were called into question when chemist Annie Dookhan was charged with tampering with evidence and falsifying drug tests.
Dookhan pleaded guilty in 2013 to obstruction of justice, perjury and tampering with evidence after being accused of falsifying her work as far back as 2004. She was sentenced to three years in prison and was paroled last year.
Many of the drug case defendants have already completed their sentences, though some probably remain in prison because of other charges not contaminated by the lab scandal. About 2,000 cases had been resolved before Tuesday.
While it's unknown how many cases Dookhan falsified, her conduct cast a cloud over the many thousands she worked on. As a result, in January, Massachusetts' Supreme Judicial Court said prosecutors would have to show that they could retry these cases without relying on evidence handled by Dookhan.
Prosecutors said Dookhan admitted to testing only a fraction of a batch of samples, and then listed them all as positive for illegal drugs. Her motive, they said, was to boost her productivity and burnish her reputation.
For those who have completed their sentences, wiping away their convictions will help them in other ways, such as employment, housing or immigration status, said Daniel Marx, an attorney who argued for the dismissals.
"Now, a majority of these wrongfully convicted individuals will have the opportunity to clear their records and move on with their lives," he said.
Anthony Benedetti, chief counsel of the Committee for Public Counsel Services, said some of the defendants lost their jobs or homes and some have been deported.
"In many respects, the damage has been done," Benedetti said. "Justice delayed is justice denied."
ALSO:
Supreme Court urged to give church schools an equal right to state funds
The Cleveland killer wasn't the first to post a gruesome crime. Welcome to the dark side of sharing
Neo-Nazi website unleashed Internet trolls against a Jewish woman, lawsuit says
---