New York Times media columnist David Carr dead at 58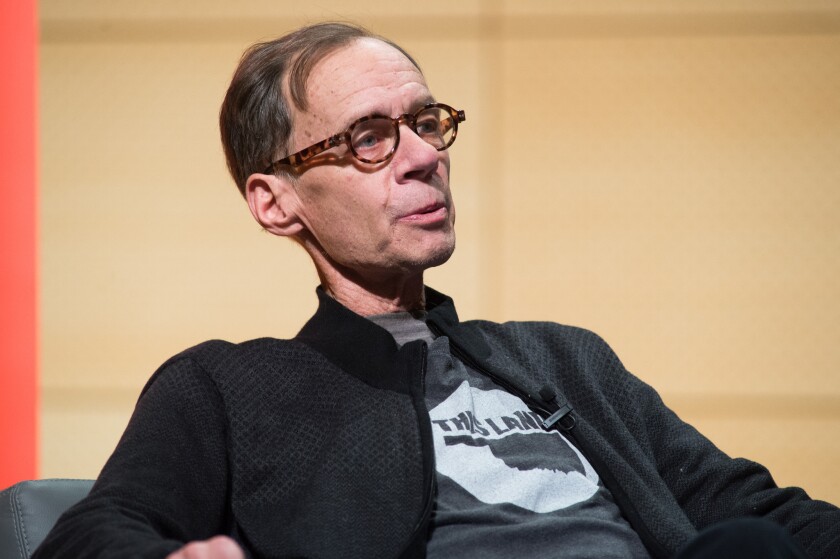 David Carr, a New York Times reporter and columnist, died Thursday, the newspaper reported. He was 58.
According to the newspaper, Carr was found collapsed in the Times newsroom and was taken to a Manhattan hospital, where he was pronounced dead.
In a memo to the staff, Executive Editor Dean Baquet called him "the finest media reporter of his generation," and a "remarkable and funny man who was one of the leaders of our newsroom."
"He was our biggest champion, and his unending passion for journalism and for truth will be missed by his family at The Times, by his readers around the world, and by people who love journalism," Baquet wrote.
Arthur Sulzberger Jr., publisher of the Times, called Carr "one of the most gifted journalists" who has ever worked at the newspaper. "He combined formidable talent as a reporter with acute judgment to become an indispensable guide to modern media," Sulzberger wrote in a statement. Reporters at the Times would remember him as "a unique human being – full of life and energy, funny, loyal and lovable," Sulzberger said.
Carr led a conversation with filmmaker Laura Poitras, journalist Glenn Greenwald and former NSA contractor Edward Snowden (via live video) at the New School in New York City the night he died. During the hourlong event, Carr talked about Poitras' recent film about Snowden, "Citizenfour," and congratulated Greenwald on winning a Pulitzer Prize.
If he were ever to win one, Carr said, it "would never get stale."
Carr was born Sept. 8, 1956, in Minneapolis and attended the University of Minnesota, where he earned a bachelor's degree in 1981. He began his journalism career at the Twin Cities Reader, an alternative newspaper, and became editor of the Washington City Paper.
He joined the New York Times in 2002, where he covered the magazine publishing industry for the business pages, according to the newspaper.
He covered the media for the last two decades, including writing the Times' Media Equation column.
Carr was a prominent figure in the 2011 documentary "Page One: Inside the New York Times." The documentary focused on the newspaper's media desk, with Carr as one of the major characters. Throughout the film, viewers learn about Carr's past: He arrived at the New York Times late in his career after working in alternative journalism, and he was, at one time, addicted to crack cocaine.
In a review of "Page One," Los Angeles Times film critic Kenneth Turan named Carr as the film's closest thing to a "winning and charismatic central figure."
"An irascible iconoclast who takes no grief from anyone, Carr can be counted on to be funny and to the point when those around him are not," Turan said in the review.
His slashing wit was on display in a recent column on the hacking of computer systems at Sony Pictures Enterprises, blamed on North Korea. He called the episode "a remarkable and disorienting turn of events: a tiny, failing state that lacks the wherewithal to feed its own people was deciding which movies we can and cannot see, while the industry it had attacked watched silently from the sidelines."
Carr's stunning rise as one of the industry's preeminent media observers was all the more astonishing for the challenges he overcame.
He bared the ugly details of his drug addiction in his 2008 memoir, "The Night of the Gun." Among its gruesome details: dunking his arm in a tub of detergent to clean off track-mark scabs, and hitting the crack pipe as his twin daughters entered the world.
"I think the person who was the least ready was me," he told the Los Angeles Times in 2008. Even though he knew the story intimately, he recalled, "I had no idea what I'd done…. I had no idea how dark this book was. I think of myself as a daddy who sobered up and got custody of his kids. So [as I was writing] I concentrated on all of the good parts. So I wasn't really ready for the fact that I had cast myself as a thug."
In a 2014 commencement address to the UC Berkeley Graduate School of Journalism, Carr called being a journalist "a grand, grand caper."
"You get to leave, go talk to strangers, ask them anything, come back, type up their stories, edit the tape," he told the graduates. "That's not gonna retire your loans as quickly as it should, and it's not going to turn you into a person who's worried about what kind of car they should buy, but that's kind of as it should be. I mean, it beats working."
Carr is survived by his wife, Jill Rooney Carr, and his daughters, Maddie, Erin and Meagan, according to the New York Times.
Times staff writers Samantha Masunaga, Ryan Parker and Elaine Woo contributed to this report.
For more breaking news, follow me @cmaiduc.
---
Must-read stories from the L.A. Times
Get all the day's most vital news with our Today's Headlines newsletter, sent every weekday morning.
You may occasionally receive promotional content from the Los Angeles Times.