Key questions about Dennis Hastert's scandalous indictment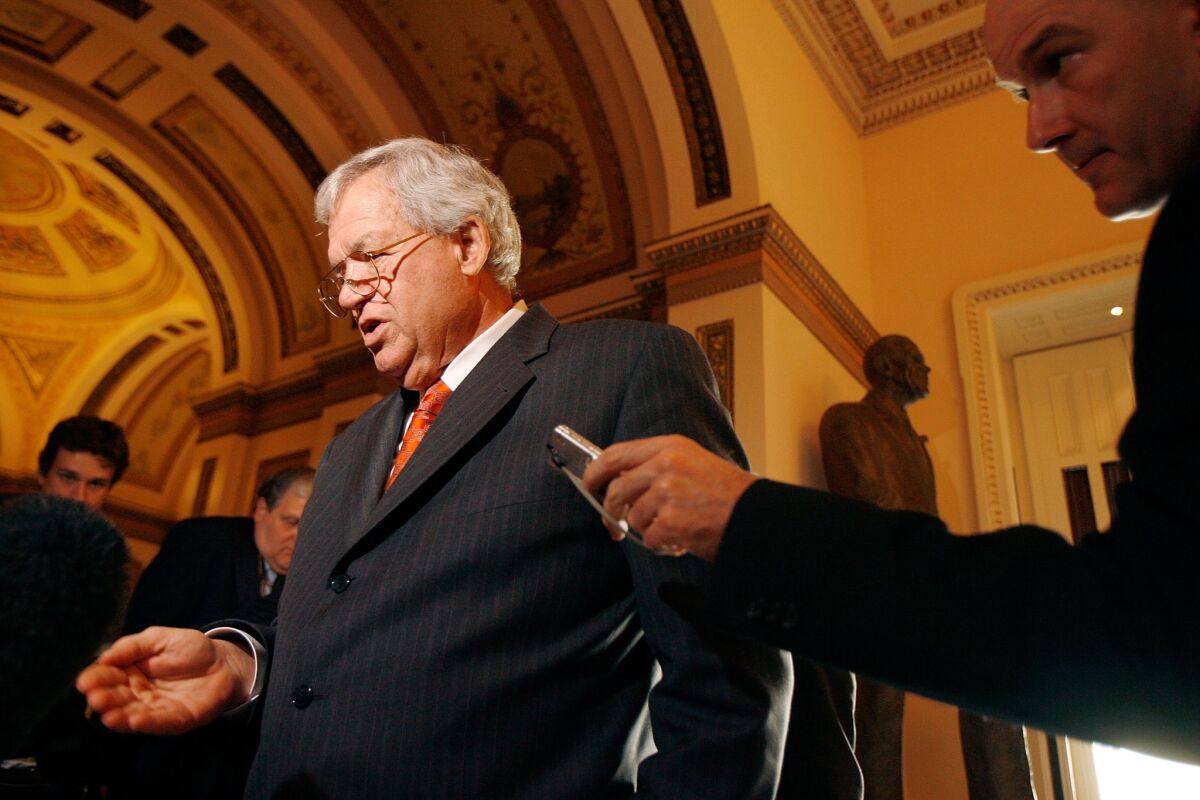 The indictment of former House Speaker Dennis Hastert on charges of lying to the FBI and trying to evade banking regulations as he paid hush money to conceal alleged past misdeeds stunned the political world Thursday, but raised many more questions than it answered. Hastert, a Republican, reportedly paid millions of dollars to a person to hide information from his past. Here are the major mysteries in the indictment:
------------
FOR THE RECORD
2:33 p.m.: An earlier version of this post said Hastert was indicted on a charge of paying hush money. He was indicted on a charge of trying to evade banking regulations.
------------
Full coverage: Ex-Speaker Hastert charged with lying to FBI about hush money withdrawals | Read the full indictment
---
Who is 'Individual A'?
The person Hastert is said to have paid hasn't been identified, and is referred to in the indictment only as "Individual A." According to the indictment, the person has known Hastert for "most of Individual A's life," and lives in Yorkville, Ill., where Hastert was a high school teacher and wrestling coach for 16 years.
Two federal law enforcement sources told The Times "Individual A" was a man.
According to the indictment, Individual A met with Hastert in 2010 and brought up Hastert's "past misconduct" from "years earlier." Afterward, Hastert agreed to pay the person $3.5 million in cash installments, the indictment says.

---
What kind of 'past misconduct' is worth $3.5 million?
The indictment does not detail what kind of misconduct Hastert committed, but sources told The Times that the former speaker was paying the individual to conceal sexual misconduct. According to the sources, "Individual A" is a man, and the alleged misconduct dates to Hastert's time as a high school wrestling coach and teacher and is unrelated to his time in office.
"It was sex," one official said. Another official confirmed to The Times that the misconduct involved sexual abuse.
Hastert has not responded to requests for comment.
Between 2010 and 2014, prosecutors say, Hastert paid Individual A $1.7 million, about half of the $3.5 million he'd agreed to provide to keep his secret buried, the indictment says.
Former federal prosecutor Jeffrey Cramer told the Chicago Tribune that the fact that the charges describe Hastert's role as a teacher and coach in Yorkville indicates his early career was material to the charges. "The feds don't put superfluous facts in an indictment," Cramer, now head of the Chicago division of private security company Kroll, told the Chicago Tribune.
The size of the payments, Cramer says, suggests the alleged misconduct Hastert was trying to hide could be devastating.

---
How did the FBI learn of the payments?
Between June 2010 and April 2012, the indictment says, Hastert made regular cash withdrawals of $50,000 from three banks and provided the money to Individual A every six weeks. According to the indictment, banks are required to report cash transactions of $10,000 or more to the U.S. Treasury.
Bank officials questioned Hastert about his cash withdrawals in April 2012, according to the indictment. After that, prosecutors say, he began withdrawing cash in amounts smaller than $10,000, still delivering the $50,000 payments to Individual A at "pre-arranged meeting places and times."
Suspecting that Hastert was purposefully structuring his cash withdrawals to evade reporting requirements, IRS and FBI investigators began looking into Hastert's latest cash withdrawals in 2013, the indictment says. Hastert continued to make smaller withdrawals, and later agreed to pay Individual A $100,000 every three months, according to the indictment.
Investigators questioned Hastert on Dec. 8, 2014, according to the indictment. Hastert is accused of lying to authorities about his withdrawals, saying, "Yeah...I kept the cash. That's what I'm doing."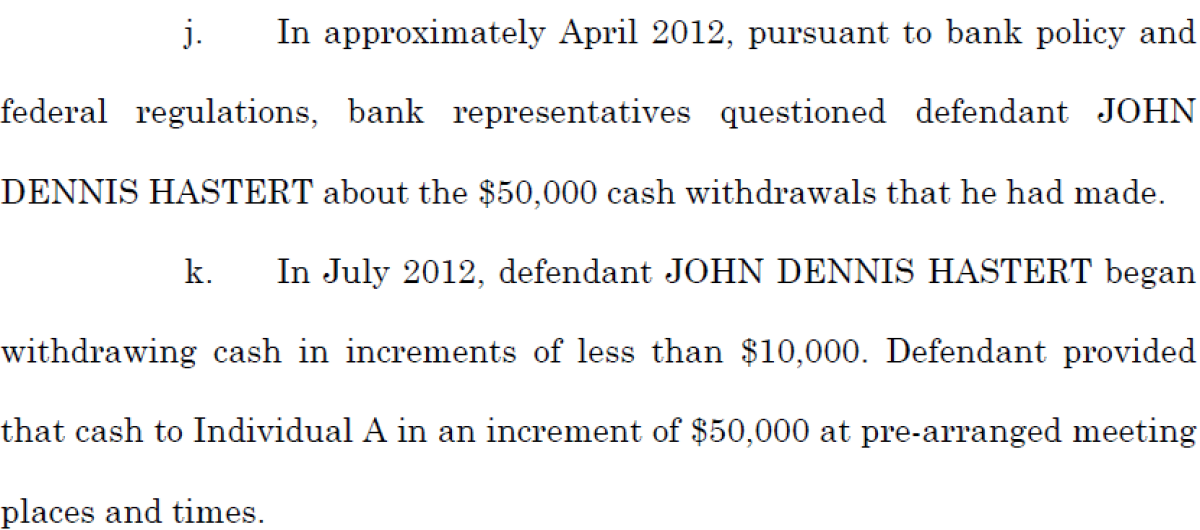 ---
Did 'Individual A' break the law, and if so, what is that person's fate?
There is no indication of what might happen to Hastert's money recipient.
According to the indictment, one of the reasons the FBI began investigating was to determine whether Hastert was the "victim of a criminal extortion."
It's unclear whether the person will be allowed to keep the money, or if it has been confiscated by authorities, and whether that person will face criminal charges.
---
Chicago Tribune reporter Jason Meisner contributed to this report.
For more breaking news, follow me @cmaiduc
---
UPDATES
11:55 a.m.: This article was updated with information from sources who say Hastert was paying an individual from his past to conceal sexual misconduct.
This article was originally published at 10:21 a.m.
---
Must-read stories from the L.A. Times
Get the day's top news with our Today's Headlines newsletter, sent every weekday morning.
You may occasionally receive promotional content from the Los Angeles Times.