Extreme-right groups declining, but 'leaner and meaner,' watchdog says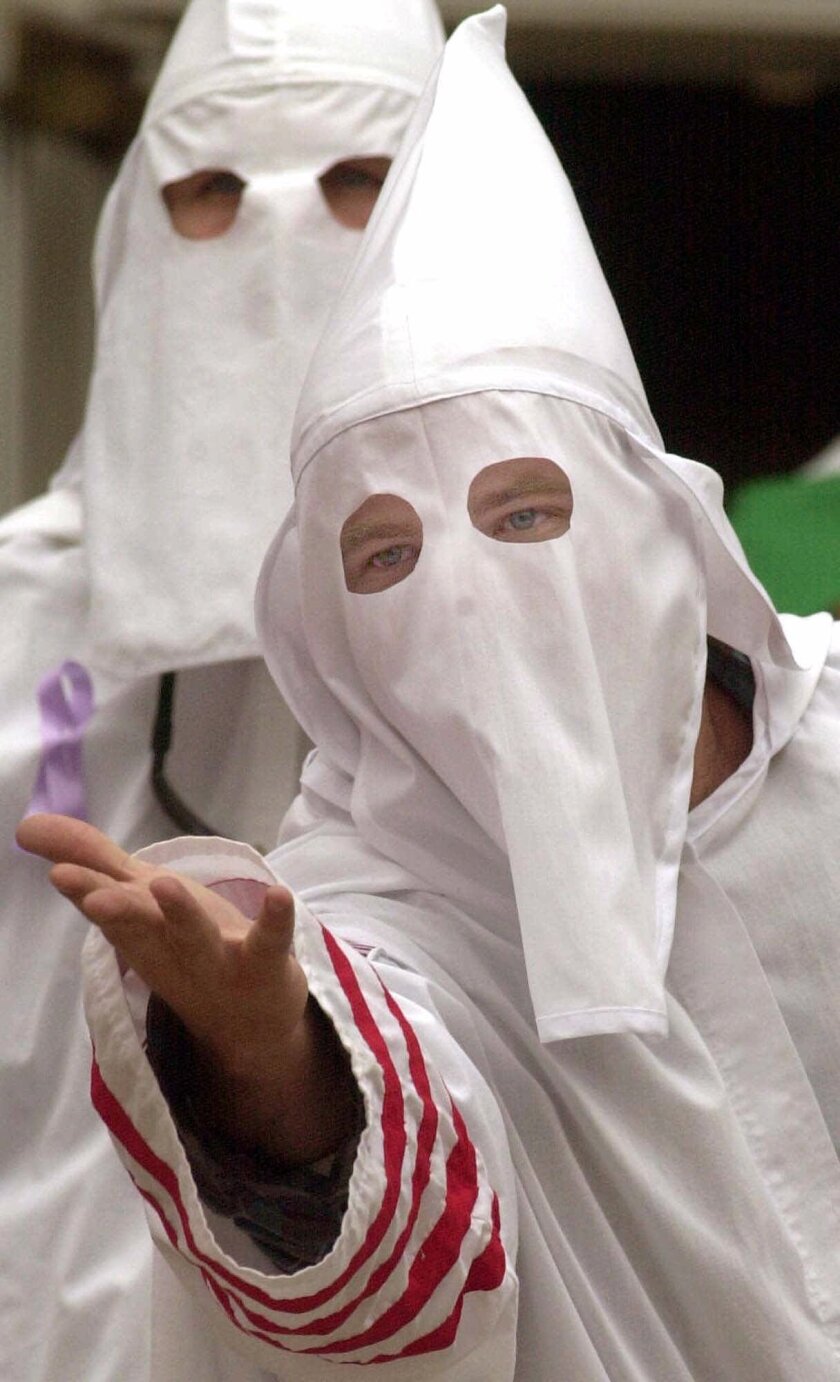 The number of far-right militias, extremist patriot groups and hate organizations in the U.S. dropped last year for the first time since 1999, but the organizations are becoming "leaner and meaner," the Southern Poverty Law Center reported Tuesday.
The center attributed the drop to, among other factors, an improving economy and a gridlocked Congress that made little progress on flash point issues like gun control and immigration.
The absorption of some radical-right ideas into mainstream legislative proposals also helped cut down on the number of far-right groups operating in the U.S. to about 2,035 in 2013, the civil-rights advocacy group said. That's down 14% from 2,367 in 2012.
Though the drop appears "to have taken some of the wind out of the sails of the radical right," the center warned in its latest report that violence and terrorism had not "dampened" among extremist groups.
"The radical right is growing leaner and meaner," Mark Potok, senior fellow at the center, said in a statement. "The numbers are down somewhat, but the potential for violence remains high."
Potok noted in the report that groups on the far right were "demoralized" by President Obama's reelection. Their inability to stop growing support for controversial issues such as gay marriage and marijuana legalization has also been frustrating. And last year's congressional inaction on gun control and immigration reform removed two issues that would have given the groups something to fight. In fact, the center said, several anti-LGBT groups shifted their focus to fighting gay rights abroad.
The groups have also seen several of their ideas adopted by Republican lawmakers. For example, laws meant to prevent Islamic sharia law from being taken into account by courts have passed in at least seven states. State lawmakers have also considered legislation that calls for federal laws, such as those about guns and immigration, to be ignored by local authorities.

White nationalist groups, neo-Nazis and Ku Klux Klan groups were among the categories that had setbacks. The center found that one KKK council in Texas had retrenched, moving off the Internet to foster secrecy and regain its footing.
Potok and his colleagues also examined how far-right groups use the Internet to fund themselves. They found at least 69 groups used PayPal to raise funds, potentially violating the company's terms of service which bans "payment for goods or services that promote hate, violence or racial intolerance." In addition, several organizations sell items through Amazon.com, which told the center that it would investigate for potential abuse and "take appropriate action."
The number of so-called hate groups surged during the 2000s because of animosity about growing minority groups, which they believe reached an apex with Obama's election. The movement's previous peak came in the 1990s, when militias were inflamed by the 1993 Brady Bill to control guns and the 1994 assault rifle ban, the center said last year.
Their decreasing numbers could cause the groups to act out violently, the center warned.
Founded in 1971, the Southern Poverty Law Center has been the leading watchdog of the extreme right, monitoring groups such as neo-Nazis, white nationalists, black separatists, Holocaust deniers and the patriot and militia movement.
In general, patriot and militia enthusiasts believe that the U.S. government is seeking to disarm them as a first step to destroying personal liberty and then turning the country over to foreigners seeking world domination.
ALSO:
Mississippi River reopens to traffic after weekend oil spill
Supreme Court sides with LAPD in warrantless house search
Ohio governor honors Amanda Berry, Gina DeJesus, Michelle Knight
Follow LATimes National on Facebook
---
Must-read stories from the L.A. Times
Get all the day's most vital news with our Today's Headlines newsletter, sent every weekday morning.
You may occasionally receive promotional content from the Los Angeles Times.