Half of eligible immigrants sign up for deferred deportation program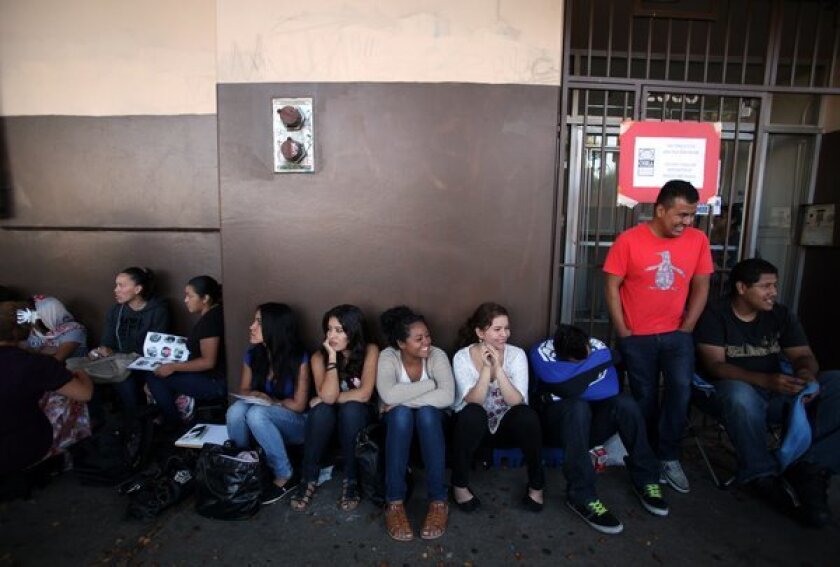 TUCSON -- Stifled by a variety of obstacles — from fees to fear — fewer than half of those eligible for immigration relief have taken advantage of an Obama administration program launched a year ago, according to a new study.
About 49% of those eligible have applied for a work permit and a two-year reprieve from possible deportation, according to the Migration Policy Institute, a think tank in Washington D.C. that studies the worldwide movement of people.
This week marks the one-year anniversary of the implementation of the Deferred Action for Childhood Arrivals program, which is intended to protect a group of people who came to the United States as children and stayed illegally.
Currently, 1.09 million people in the nation qualify for the program, which halts the deportation of those who are under 31-years-old and meet certain requirements, the institute reported. An estimated 538,000 have applied for the program, according to the institute, which used U.S. Citizenship and Immigration Services data paired with Census Bureau statistics for its findings.
The study's results didn't surprise Carmen Cornejo, an adviser with The Arizona Dream Act Coalition.
Cornejo said that one of the biggest impediments for those who are in the country illegally and qualify for the program can be linked to the $465 fee. It can be financially out of reach for many low-income families, she said. Sometimes the expense can spike with complicated cases that require an attorney.
"Some of the families practically don't have money," Cornejo said. "They are still saving for the fees for their sons and daughters."
Also, some would-be applicants are misinformed and scared that immigration officials may use their information to track down family members who are currently in the country illegally and who cannot qualify for the program, she added.
In Cornejo's state of Arizona, 58% of the 33,000 who are currently eligible to apply in the state have done so, according to the institute. In other southwestern states, the application rates are lower.
California stands at 49%, while Texas comes in at 54%, according to the institute, which looked at 10 states with the largest number of potential beneficiaries of the program.
In addition, it appears that application rates of people born in Mexico and Central America were especially high, compared to other countries, according to the report. For instance, 64% of Mexicans eligible for the program put in an application while only about 14% from the Dominican Republic had done the same.
Currently, immigration officials have denied 1% — a little more than 5,000 — of all applications. Nearly 75% have been approved. The rest await a decision, the report said.
ALSO:
FBI releases serial killer Israel Keyes' interrogation tapes
North Carolina faces ACLU, NAACP lawsuits over voter ID lawWerner Herzog, as a public service, targets texting and driving
Twitter: @thecindycarcamo
---
Must-read stories from the L.A. Times
Get the day's top news with our Today's Headlines newsletter, sent every weekday morning.
You may occasionally receive promotional content from the Los Angeles Times.