Vandals put noose on Ole Miss statue of James Meredith; he speaks out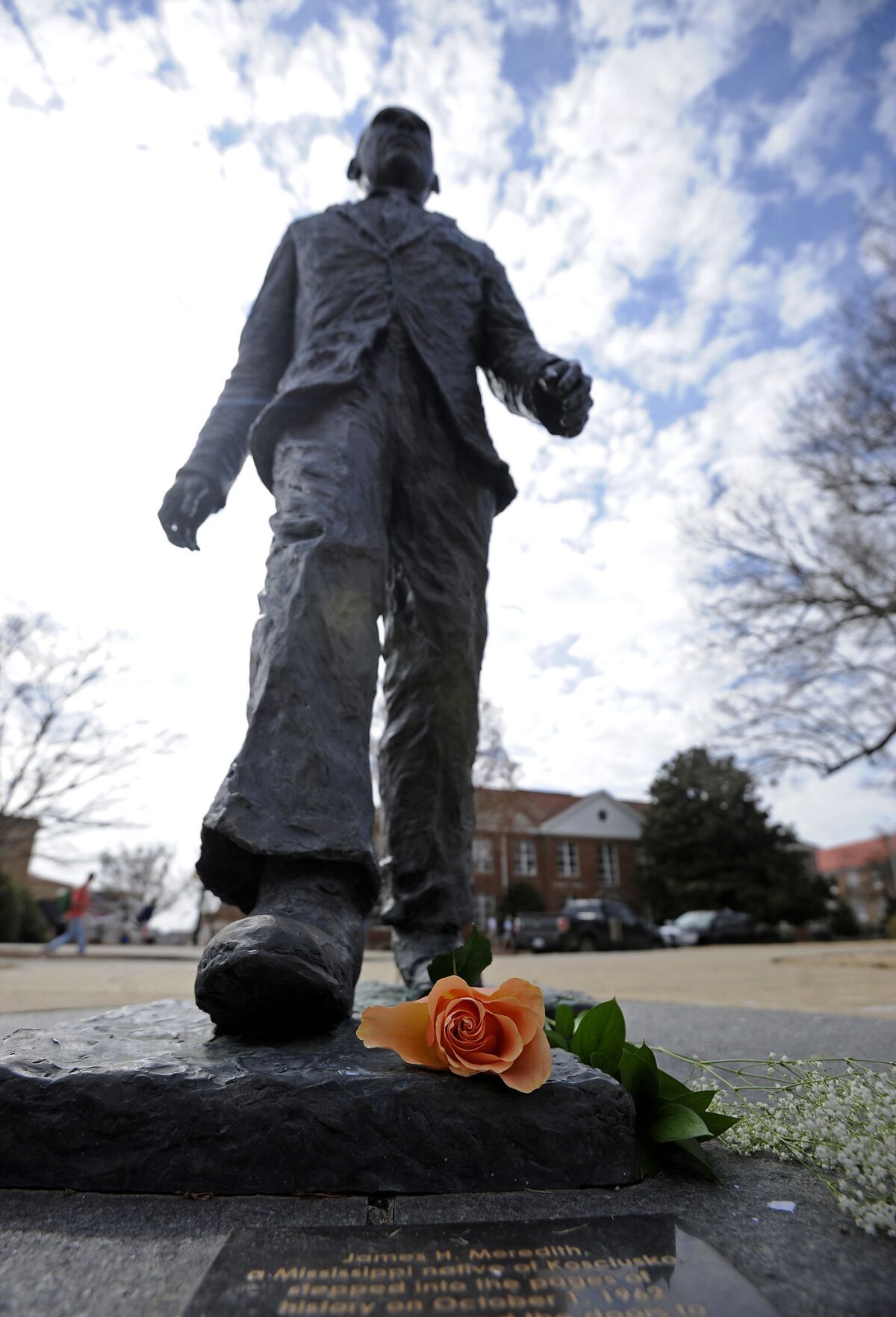 James Meredith, a civil rights icon whose enrollment at the University of Mississippi broke a racial barrier in 1962, has one thing to say to the vandals who desecrated his campus statue by putting a noose around its neck and draping it with a controversial flag.
"That just clearly shows that we're not training our children like the Bible says," Meredith, 80, told the Los Angeles Times from his Mississippi home Tuesday. "They don't know right and wrong, good and bad and how to apply it to life."
Meredith was honored with the bronze statue in the center of the University of Mississippi campus in 2006, and university officials said it had never before been vandalized.
In one of the enduring episodes of the civil rights movement, Meredith enrolled at Ole Miss after a U.S. Supreme Court ruling cleared the way. Campus riots followed; two people were killed and dozens injured. Mississippi officials initially tried to keep Meredith from enrolling, but President Kennedy ordered hundreds of federal authorities to escort him onto campus.
"No mob however unruly or boisterous is entitled to defy a court of law," Kennedy said in a televised speech, or "no citizen would be safe from his neighbors."
Meredith, who recently has been advocating for better pre-kindergarten education, said the nation's ills would be solved if every 5-year-old simply knew the golden rule, the Ten Commandments and the Lord's Prayer.
"I've been knowing a long time that we aren't teaching our kids right and wrong," he said. Meredith put an emphasis on weaknesses within his own community, saying it was important to take care of one's own family before trying to fix another's.
"The black race, more than any other, knew how to teach character, but somehow it has come to the point where people think they don't have to do the old-fashioned learning," he said, echoing what he has discussed at Black History Month events in recent years.
"People came to believe they will get something for nothing," Meredith said. "The future of the black race depends on what the elders of the black race do or do not do. I think Mississippi is ready to do the right thing."
The Ole Miss Alumni Assn. is offering a $25,000 reward for information leading to an arrest in the statue incident. University police have asked the FBI to assist with the investigation.
"These actions may constitute a federal offense if they were intended to threaten someone because of their race and in connection with their use of an educational facility," Daniel McMullen, special agent in charge of the FBI in Mississippi, said in a statement Tuesday.
"Federal threat-of-force cases are very fact specific, and we do not have sufficient information at this time to determine if a federal crime has occurred," McMullen said.
A construction contractor on campus early Sunday heard two young men screaming racial slurs. He eventually saw the noose and a former Georgia flag, which had been the state's official one until 2003. The flag was redesigned that year to remove the image of a small Confederate battle flag.
The statue shows Meredith, dressed in a suit and sporting a light mustache, striding forward.
He became involved in politics after graduating and released a memoir in 2012 titled, "A Mission From God."
Authorities have no suspects but are making progress, campus Police Chief Calvin Sellers told The Times. He guessed that the vandals were college students.
"That statue admits our past but emphasizes our future, our now, you might say," Sellers said. "I don't see why anyone would see that statue as a threat."
A surveillance camera that kept an eye on the statue was removed sometime before 2008, leaving police without video of the suspects.
University officials said they were appalled by the vandalism.
"These individuals chose our university's most visible symbol of unity and educational accessibility to express their disagreement with our values," Chancellor Dan Jones said in a statement. "Our response will be an even greater commitment to promoting the values that are engraved on the statue – courage, knowledge, opportunity and perseverance."
One of the university's more recent and famous alums also commented.
"Can't believe they are still doing stuff like that at Ole Miss ... really a shame!!," NFL offensive lineman Michael Oher, featured in the highly acclaimed 2009 film "The Blind Side," said on Twitter.
The university has had no violent hate crimes on campus in the last three years, according to its federally mandated crime statistics report.
In 2012, the state of Mississippi had five hate-crime reports of all kinds, including one at Ole Miss, the last year for which the FBI has released nationwide data. In the 2012 incident, demonstrators chanted racial obscenities after President Obama's reelection.
Meredith said Mississippi remained "the center of the universe" for the politics of race and income inequality.
"Rich-poor and black-white, Mississippi is the apex of both," Meredith said.
ALSO:
United flight turbulence tosses passengers around cabin; 5 injured
'Boys will be boys' no excuse; feds target Montana handling of rapes
'Distasteful' Instagram shots get Wisconsin guardswoman suspended
Must-read stories from the L.A. Times
Get the day's top news with our Today's Headlines newsletter, sent every weekday morning.
You may occasionally receive promotional content from the Los Angeles Times.