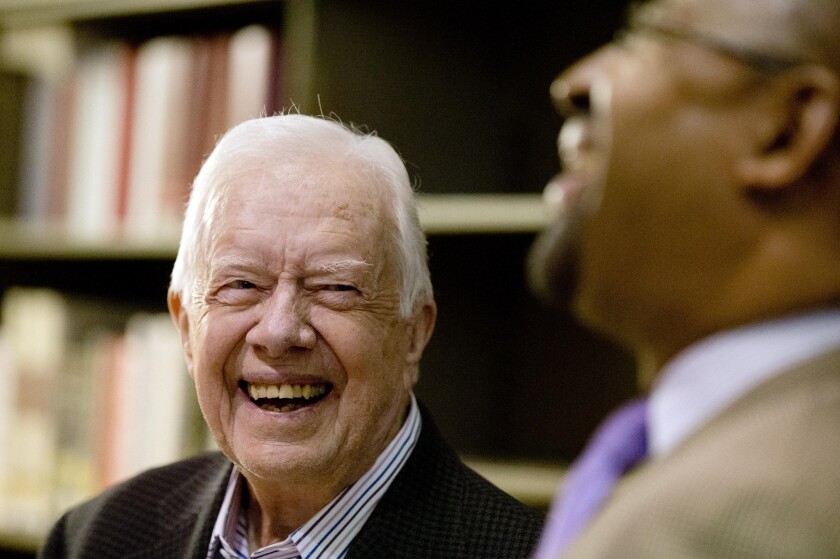 Former President Jimmy Carter underwent an operation Monday "to remove a small mass in his liver," the Carter Center announced.
The elective procedure took place at Emory University Hospital in Atlanta "without issues, and the prognosis is excellent for a full recovery," the center said in a statement. It provided no other details.
Carter, 90, is the second-oldest living U.S. president. George H.W. Bush, who spent a few nights in a Maine hospital last month with a broken neck vertebra, is about four months older.
The 39th president's liver operation comes just weeks after the publication of his book "A Full Life: Reflections at 90," which The Times' Carolyn Kellogg described as "a warm and detailed memoir of his youth followed by a clear-eyed assessment of the issues he tackled as president and afterward."
Carter has largely remained in good health and still travels extensively. His international trips this year have included visits to the Middle East and South America. In May, he cut short a trip to Guyana, where he was planning to observe the country's general election, because he was not feeling well.
For more news, follow @raablauren on Twitter.
ALSO:
James Holmes moves closer to death penalty as jurors reject leniency
Texas Atty. Gen. Paxton surrenders after indictment in securities fraud
New York attorney general to investigate woman's death in jail
---