57,000 migrant children picked up at U.S. border since Oct. 1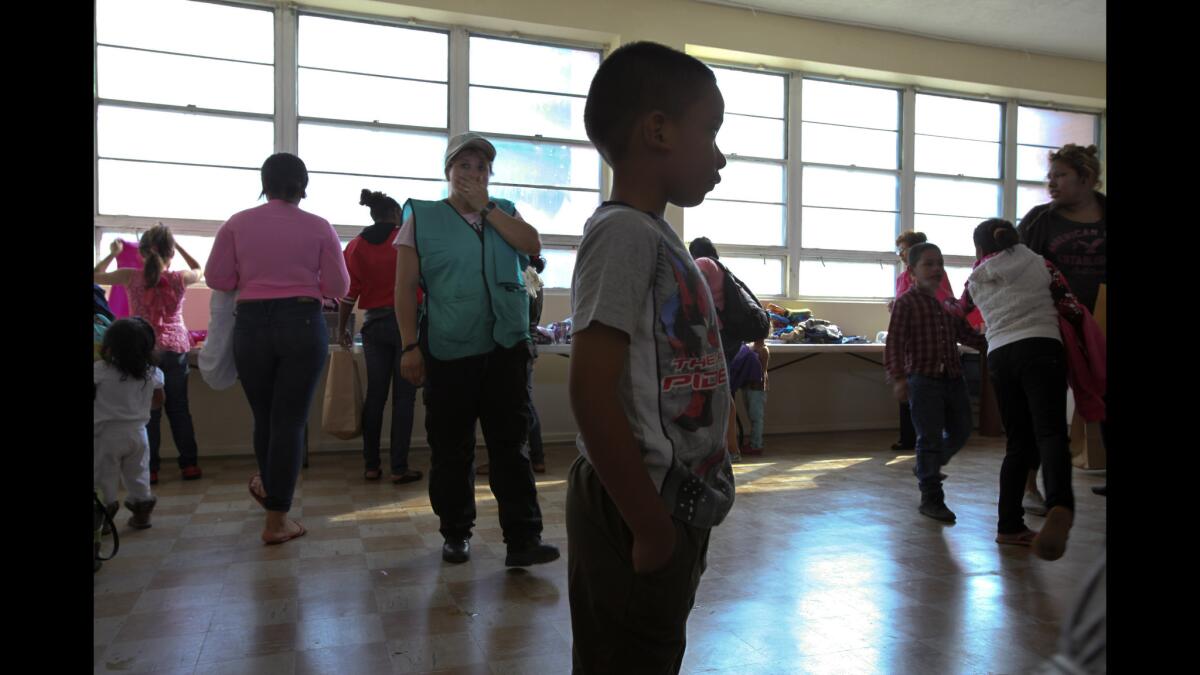 Reporting from Washington —
Senior Obama administration officials told Congress on Wednesday that they were struggling to keep up with the growing influx of young migrants from Central America who are illegally crossing the Southwestern border.
The number of unaccompanied children picked up at the border since Oct. 1 is now 57,000, according to R. Gil Kerlikowske, head of Customs and Border Protection.
The figure is 5,000 more than in mid-June and more than double the number last year at this time. Most of the juveniles are from Honduras, El Salvador and Guatemala.
The situation, Kerlikowske said, "is difficult and distressing on a lot of levels."
Members of the Senate Homeland Security and Governmental Affairs Committee grilled Kerlikowske, along with the chief of the Federal Emergency Management Agency and officials from the Health and Human Services, Justice and State departments, on their plans to resolve what President Obama has called "an urgent humanitarian situation."
The "children continue to come across the border," Craig Fugate, FEMA administrator, told the committee. "It's a very fluid situation."
The hearing was held a day after Obama asked Congress to appropriate $3.7 billion in emergency funding to help deal with the unexpected influx. The sudden migration has overwhelmed local resources and sparked protests in some communities.
Pressed to explain how the money would be spent, the officials said the priority was to add more Border Patrol agents, immigration judges and detention facilities.
"The president's supplemental request is very specific in ensuring we have the capacity … to ensure these children are properly cared for when they are in custody," Fugate said.
Sen. John McCain (R-Ariz.) criticized the administration's record on deporting minors back to Central America.
Almost 21,000 unaccompanied children from Honduras, El Salvador and Guatemala were apprehended between October 2012 and September 2013, McCain said. Only 1,169 were sent back home, he added, creating an incentive for others to come to the U.S.
"Wouldn't you think your odds are pretty good?" McCain asked the panel.
Thomas Winkowski, principal deputy assistant secretary for Immigration and Customs Enforcement, countered that getting to a "point of removal" can be a lengthy legal process.
"That process takes time to make its way through the system, and that's part of the challenge we have," Winkowski said.
Juan Osuna, director of the Executive Office for Immigration Review, said the backlog of cases in immigration courts surpasses 360,000, the highest caseload to date.
He said the Justice department was changing its deportation priorities and would put unaccompanied minors at the head of the line in an effort to respond to the crisis.
About 46% of juveniles don't show up for their hearings, Osuna said. He denied reports that the no-show rate was far higher.
"I should note, however, that not showing up for an immigration hearing carries considerable consequences," Osuna said, adding that a judge may issue a deportation order.
Sign up for Essential California for the L.A. Times biggest news, features and recommendations in your inbox six days a week.
You may occasionally receive promotional content from the Los Angeles Times.