Steubenville rape case: Indicted school officials placed on paid leave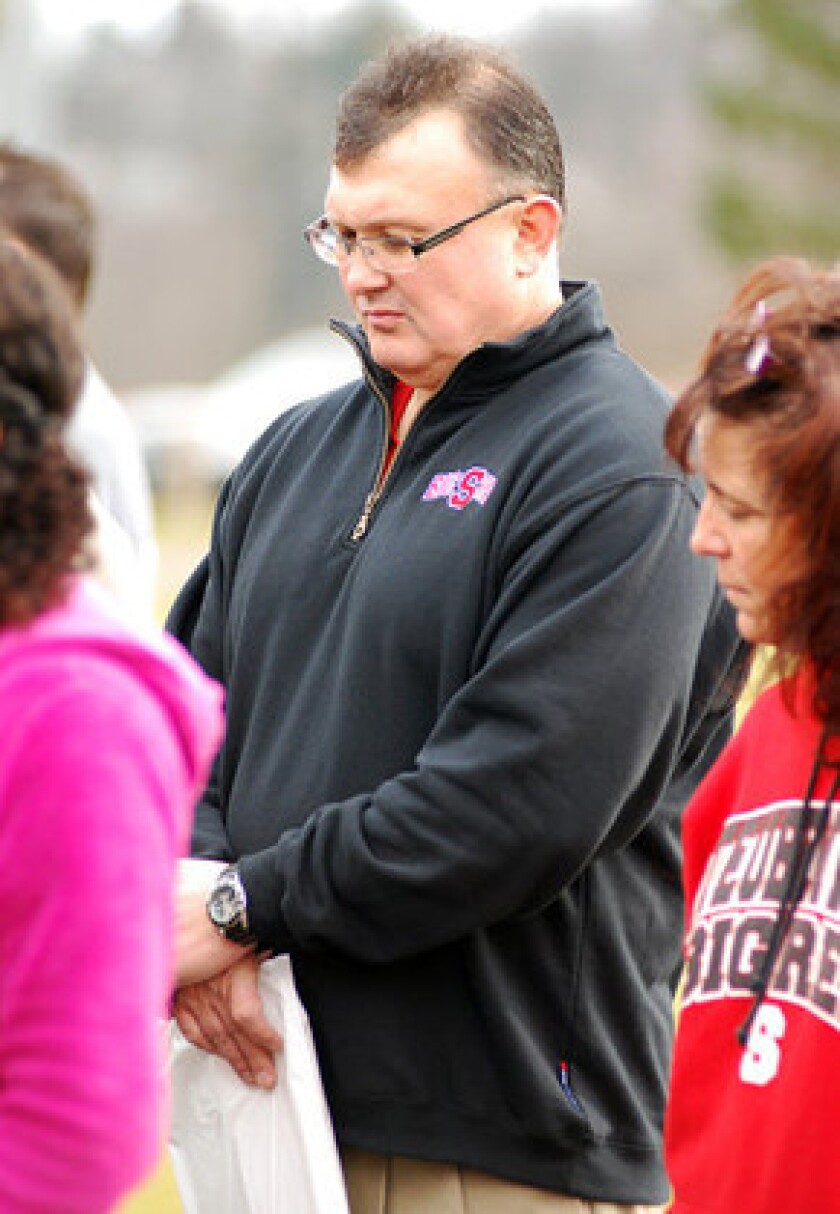 The superintendent of the Steubenville, Ohio, schools, along with two other educators, have been placed on paid administrative leave after they were indicted on charges prompted by allegations of rape involving members of a high school football team.
Michael McVey, 50, will be temporarily replaced by Richard Ranallo, who retired as school superintendent in 2008 after 37 years in the city school system, the school board announced in an email sent to reporters Tuesday. McVey, who faces felony charges, including obstructing justice and tampering with evidence, joined the school system in August 1997 as an assistant high school principal and became superintendent in 2008.
The school board met in emergency session on Monday after Ohio Atty. Gen. Mike DeWine announced the indictments against McVey; Lynnett Gorman, principal of the Pugliese West Elementary School; and Seth Fluharty, a special education teacher and assistant wrestling coach. The board would not comment on the charges, but said it had placed the employees on paid leave.
"Our primary focus is on making sure the school district is able to conduct the business of educating our students," the board said in the statement.
Also charged in the indictment was Matthew Belardine, identified as a former assistant volunteer coach. The school said it took no action involving him since he was not an employee.
The grand jury that brought the charges was investigating whether adults had acted improperly in dealing with the aftermath of the August 2012 rape of a 16-year-old girl by two high school football players.
Some of the new charges against some of the school officials are related to another case, an alleged rape in April 2012, DeWine said at a televised news conference. No details about this incident were available and no one was prosecuted.
On March 17, a judge convicted Ma'Lik Richmond and Trent Mays for their roles in the attack on the West Virginia girl after an alcohol-fueled party that followed a football team practice in August 2012. Richmond, 17, was convicted of rape and sentenced to a year in the juvenile prison system. Mays, also 17, was convicted of rape and of using his phone to take a picture of the girl naked and was sentenced to two years in juvenile detention.
The grand jury was impaneled that same day to look at the actions of adults and school employees.
In addition to the felony counts, McVey also faces a misdemeanor charge alleging he made a false statement in April 2012.
Fluharty was charged with failing to report possible child abuse in August 2012. Gorman is charged with failing to report possible child abuse in April 2012. Belardine, whose house authorities said was the scene of the underage drinking party that preceded the rape in August 2012, faces several misdemeanor charges, including making a false statement and contributing to underage alcohol drinking.
Lawyers representing the defendants told the Associated Press that their clients were not guilty.
The grand jury earlier charged the Steubenville schools' information technology director with tampering with evidence, obstructing justice, obstructing official business and perjury. The panel also indicted that man's daughter on theft and receiving stolen property charges unrelated to the rape case. Both pleaded not guilty.
ALSO:
Nor'easter threatens Thanksgiving travel, Macy's parade
Philadelphia contractor charged with murder in building collapse
Sandy Hook report: Lanza responsible for rampage, motive remains mystery

---
Must-read stories from the L.A. Times
Get all the day's most vital news with our Today's Headlines newsletter, sent every weekday morning.
You may occasionally receive promotional content from the Los Angeles Times.