Ohio man returned from Syria planning to kill Americans, indictment says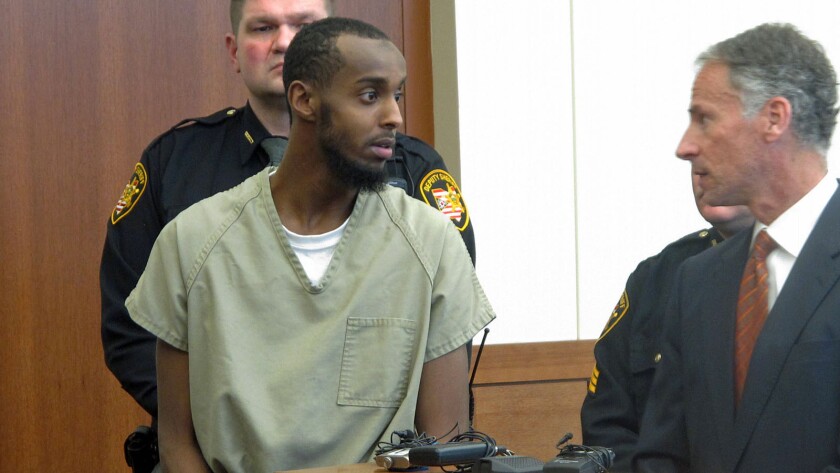 An Ohio man trained with the Al Nusra Front terrorist group in Syria, then returned to the United States with instructions to carry out an act of terrorism, according to an indictment filed Thursday.
Abdirahman Sheik Mohamud, 23, of Columbus wanted to kill Americans, particularly members of the military, police officers "or any uniformed individuals," the indictment says.
Mohamud became a naturalized U.S. citizen in February 2014 and traveled to Syria that April to join his brother, who was fighting alongside terrorists there, the indictment says. In early June, it says, his brother apparently was killed while fighting.
Mohamud returned to the U.S. in June and said he'd received training in "shooting weapons, breaking into houses, explosives and hand-to-hand combat," the indictment says.
According to the indictment, after Mohamud returned to the United States, he "talked about doing something big in the United States. He wanted to go to a military base in Texas and kill three or four American soldiers execution style." It said he was happy about his brother's death and planned to die as well.
In February, he falsely told an FBI agent that during his trip abroad last year, he'd stayed exclusively in Turkey, the indictment says.
Mohamud has been charged with one count of attempting to provide and providing material support to terrorists, one count of attempting to provide and providing material support to a designated foreign terrorist organization and one count of making false statements to the FBI.
If convicted, he could receive up to 15 years in prison for each of the first two charges and up to eight years in prison for the third, according to the U.S. Justice Department.
Mohamud was arrested Feb. 21 on state charges and will now be transferred into federal custody, the Justice Department said.
A Justice Department spokeswoman said she could not comment on Mohamud's country of origin or details regarding his arrival in the U.S.
For more news, follow @raablauren on Twitter.
---
The Latinx experience chronicled
Get the Latinx Files newsletter for stories that capture the multitudes within our communities.
You may occasionally receive promotional content from the Los Angeles Times.