Heart Attack Grill's unofficial spokesman dies of heart attack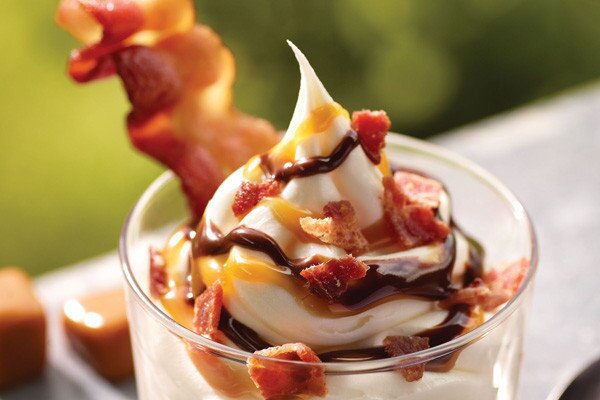 Yes, that's bacon on that ice cream. Burger King, the world's second-biggest burger chain, introduced the bacon sundae as part of its summer menu.
More on Burger King's effort to win over your taste buds:
Get that with a side of sweet potato fries
.
(Noel Barnhurst / Burger King / Associated Press)
The Heart Attack Grill has made headlines with its fatty foods -- meals that regularly weigh in at nearly 10,000 calories. It's a lifestyle that carries risk -- even the owner says so. The grills' record-setting Quadruple Bypass burger weighs in over three pounds and has nearly 200 calories per ounce. That works out to more than 9,500 calories.
More:
Customer at Heart Attack Grill suffers heart attack
Owner calls customers risk-takers
(Samson Loo / Flickr)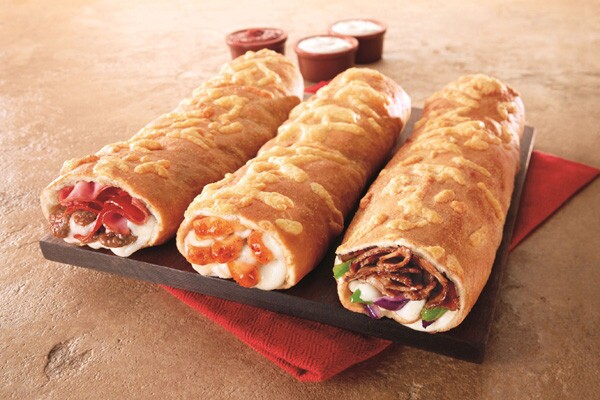 Pizza Hut's new product comes in Meat Trio, Italian Steak and Buffalo Chicken and looks like a cross between a sub, a roll and a Costco-style chicken bake.
Read more on Pizza Hut's
grab for Subway's market share
.
(Pizza Hut)
From Jack in the Box comes the bacon milkshake. But the concoction, which is heavy on the calories, uses flavored syrup, not real meat, to simulate the porky taste.
Like milkshakes? Check out
what competitors are doing
.
(Kjetil Ree / Flickr)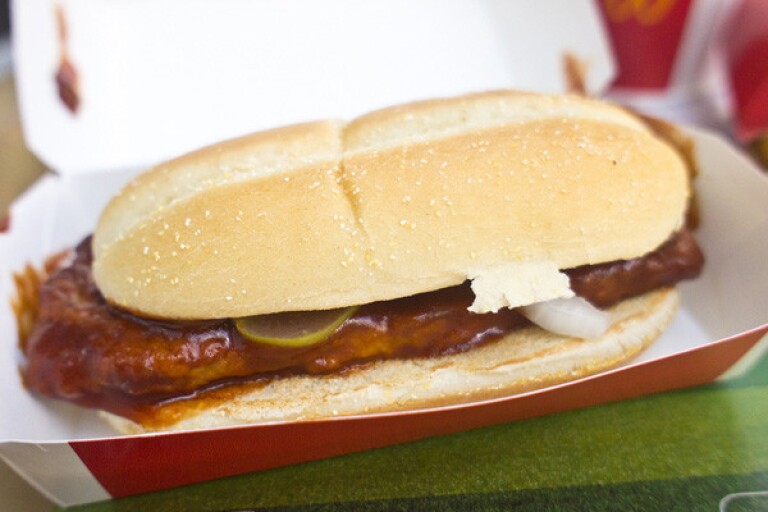 It seems the barbecue-sauce-smeared boneless pork patty molded into the shape of ribs just can't stay away -- remember the 2005 "McRib Farewell Tour"? McDonald's says the McRib is 500 calories (for a 7.3-ounce serving).
More:
Got rib?
(Ruocaled / Flickr)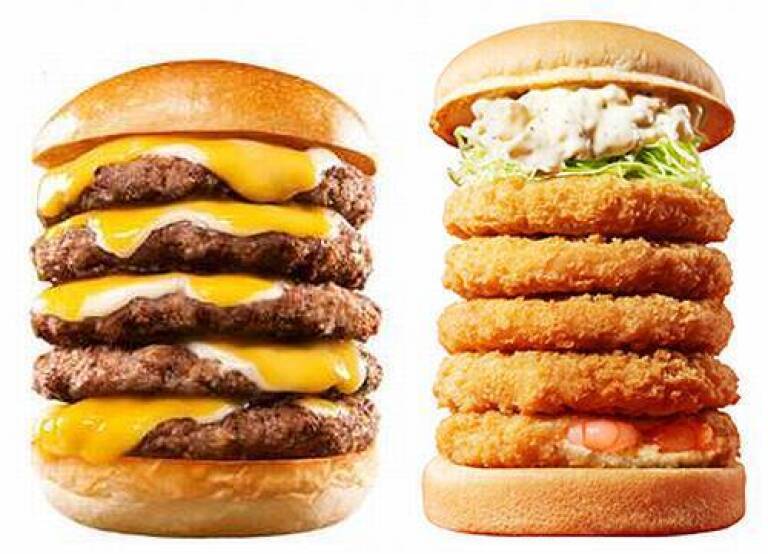 For its 40th anniversary, Japanese burger chain Lotteria sold two burger towers - one a minaret made of cheeseburger and the other a high-rise fried shrimp burger.
(Lotteria)
Burger King Japan is making a name for itself with fanciful creations. First came the Kuro Burger, a sandwich with black buns darkened by stirring bamboo charcoal into the dough. The chain also sells the seasonal Pumpkin Burger, which pops slices of kabocha in with the standard burger trappings.
(Burger King Japan)
Pizza Hut Singapore launched a Double Sensation Pizza in late 2012. One crust is stuffed with cheesy chicken sausage, the other is crammed with three kinds of cheese. Toppings include chicken, turkey and ham on top of pepper alfredo and salsa.
(Pizza Hut)
Irony is the main entrée in the news this week: An unofficial spokesman for the Heart Attack Grill in Las Vegas died of a heart attack Monday. John Alleman, 52, who scoffed at healthy heart warnings by waving in customers outside the downtown eatery while dressed as a hospital patient, is the second unpaid mascot to die in two years.
Alleman was taken off life support after suffering an attack last week while waiting at a bus stop in front of the diner. Though never on the payroll, Alleman came to the restaurant daily and encouraged passing tourists to try calorie-heavy offerings such as extra-fat milkshakes, Flatliner Fries cooked in lard and a Quadruple Bypass Burger that contains 9,982 calories.
The diner flaunts tongue-in-cheek health warnings and casts customers as patients. Eaters are given surgical gowns as they choose from a calorically extravagant menu.
The restaurant also uses the tagline: "Taste worth dying for."
Nobody is shaking their head over the death more than Jason Belland, the executive director of the Las Vegas division of the American Heart Assn.
"It's a dark, cautionary tale," Belland told the Los Angeles Times. "Heart disease is still the No. 1 cause of death in the U.S. Nutrition and what we put into our bodies plays significant role in the heart health of an individual.
"It's difficult to see heart disease strike anyone, even those encouraging bad eating habits."
But maybe, Belland said, Americans can see in Alleman's death a wakeup call to recognize some startling statistics regarding heart disease.
For one, someone dies of a heart attack every 34 seconds in the U.S. Heart disease kills nearly 1 million people a year. Still, many Americans are in denial about their heart health, he said.
"The American Heart Assn. recently defined the ideal cardiovascular health and found that less than 1% of Americans fell into that category," he told The Times. "Still, in surveys, more than 40% believe they are heart healthy. These are people who say 'I know I'm overweight and I smoke, but continue to do it. They think 'I'm OK,' but they're not OK."
Belland, who is a vegetarian, says he has never been inside the Heart Attack Grill, even out of curiosity. One reason: the American Heart Assn. recently assisted in a documentary that reported some of the more outrageous menu items in the burger joint.
"People eat free there if they're over 350 pounds," Belland told The Times. "They sell unfiltered cigarettes. They sell milkshakes containing an entire stick of butter."
Alleman and other regular customers chose not to heed the warnings, he said.
Owner Jon Basso told the Las Vegas Sun that Alleman "never missed a day, even on Christmas." He eventually became an unofficial mascot for the restaurant, which features waitresses in nurse garb. His caricature as "patient John" became part of the restaurant's marketing campaign.
Alleman wasn't the first spokesman to pass away while promoting the grill. In 2011, 575-pound Blair River died at age 29, but friends say pneumonia may have been the cause of death.
In 2012, a man in his 40s was hospitalized after he began sweating and shaking while eating a 6,000-calorie Triple Bypass burger at the downtown Las Vegas restaurant, the Sun reported. Other diners thought the incident was a stunt and began taking pictures.
Basso said Alleman weighed about 180 pounds and his death showed that heart attacks can happen to anyone. He told the Sun that he would continue serving his high-calorie menu as long as the public has an appetite for the food.
Jennifer Merback, a spokeswoman for the Nevada and Utah chapters of the American Heart Assn., told The Times that she hopes Americans take heed of Alleman's death.
"Our hearts go out to his family," she said, "but the bottom line is that a heart-healthy lifestyle is a day-to-day thing."
ALSO:
Westminster's Best in Show: Banana Joe
Josh Powell's brother, Michael, dead in apparent suicide
---
Must-read stories from the L.A. Times
Get the day's top news with our Today's Headlines newsletter, sent every weekday morning.
You may occasionally receive promotional content from the Los Angeles Times.