As NYPD mourns Wenjian Liu, some officers again turn backs on mayor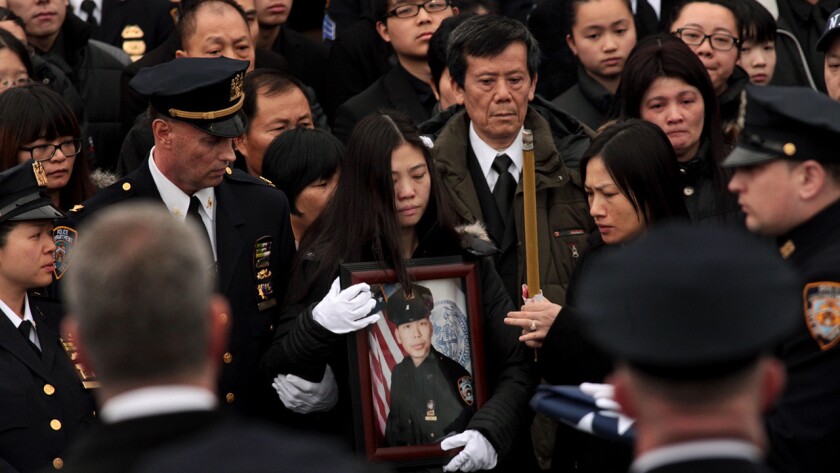 Reporting from New York —
For years, Wenjian Liu called his father each day to assure him he was safe and had survived another day as a New York City police officer.
The calls stopped on Dec. 20, when Liu and his partner, Rafael Ramos, were killed as they sat in their patrol car. On Sunday, a week after Ramos was buried, thousands of police officers gathered again, this time for Liu's funeral, standing for hours on a gray, chilly day to remember the officer his colleagues called "Joe."
Despite appeals from Police Commissioner William J. Bratton to keep politics out of the service, the bitter feud between police union chiefs and Mayor Bill de Blasio once again showed through when some officers turned their backs during the mayor's eulogy.
The silent protest, which also occurred during Ramos' funeral, was a reminder of the gap that remains between the mayor and police, who accuse De Blasio of creating a hostile environment that set the stage for the officers' slayings. But it did not have the participation of most of the thousands of police on hand, and it did nothing to detract from the funeral's main message: that the city had lost a devoted son, a newlywed husband and a dedicated policeman.
"He was, after all, a good man. A humane man," Bratton said. "He was a New York City cop."
Liu's life story was told through the words of Bratton, De Blasio and family members. They recalled a 12-year-old boy coming to the United States in 1994 with his parents from China and toying with the idea of becoming an accountant. Somewhere along the way, Liu decided to go into law enforcement, and his path was clarified after the Sept. 11, 2001, attacks.
He graduated from the police academy in 2007. Like Ramos, Liu was posthumously promoted to the rank of detective after his slaying.
"Det. Liu's dream was clear — and it was a noble one — to don the blue uniform, to pin on the badge, and to dedicate himself to protecting and serving the city he loved," De Blasio said.
De Blasio alluded to the tensions involving police, himself and protesters who began holding almost daily demonstrations in July after the death of Eric Garner, an unarmed black man, during a scuffle with police. The gunman who killed Liu and Ramos, Ismaaiyl Brinsley, invoked Garner's name in one of the anti-police rants he posted online before shooting the officers. Brinsley committed suicide shortly after the killings.
"As we start a new year," De Blasio said, "let us rededicate ourselves to those great New York traditions of mutual understanding and living in harmony."
Then, Liu's relatives spoke, starting with a younger cousin who remembered Liu giving him a prized souvenir — a sticker of the Statue of Liberty — in 1994, shortly after their arrival from China. Liu's father, Wei Tang Liu, 63, broke down in tears as he remembered his only child calling him at the end of each work day "to tell me, 'Dad, I'm coming home today. You can stop worrying now.'
"Today is the saddest day of my life. My only son has left me," he said.
Wenjian Liu's wife of two months, Pei Xia Chen, called him "my best friend."
"Even though he left us early, I believe he is still with us," she said, weeping. "Wenjian is my hero."
Later, Chen sobbed outside as she held on to the NYPD flag that had covered Liu's casket and which was removed and carefully folded for her as the casket was put into a hearse. Taps played and helicopters thumped overhead as the hearse prepared to pull away for the drive to a nearby cemetery. A motorcade of more than 100 police on motorcycles, their lights flashing red, white and blue, led the procession as it left the funeral home and slowly passed the thousands of police standing at attention.
People living in the working-class, tightly packed homes lining the route leaned out of their windows taking pictures of the huge, silent crowd. Many spent the afternoon sitting glumly on their porches, watching as more and more police filled the street.
It was not possible to determine how many officers at the funeral took part in the protest. In some sections, rows of officers turned away from De Blasio when the large screens erected in the street for the spillover crowd showed the mayor. In other sections, including directly outside the funeral home, all of the police kept their eyes ahead and showed no signs of protesting.
A retired NYPD officer, John Mangan, who attended Ramos' funeral with a sign reading, "God bless the NYPD, Dump De Blasio," was outside the service for Liu as well.
In a memo to officers Friday, Bratton had urged them to keep politics out of Liu's funeral.
"I understand that emotions are high," Bratton wrote. "I issue no mandates and I make no threats of discipline. But I remind you that when you don the uniform of this department, you are bound by the tradition, honor and decency that go with it."
Twitter: @TinaSusman
---
Must-read stories from the L.A. Times
Get all the day's most vital news with our Today's Headlines newsletter, sent every weekday morning.
You may occasionally receive promotional content from the Los Angeles Times.