The Marine Corps is the only military boot camp that separates sexes. That could soon change in Southern California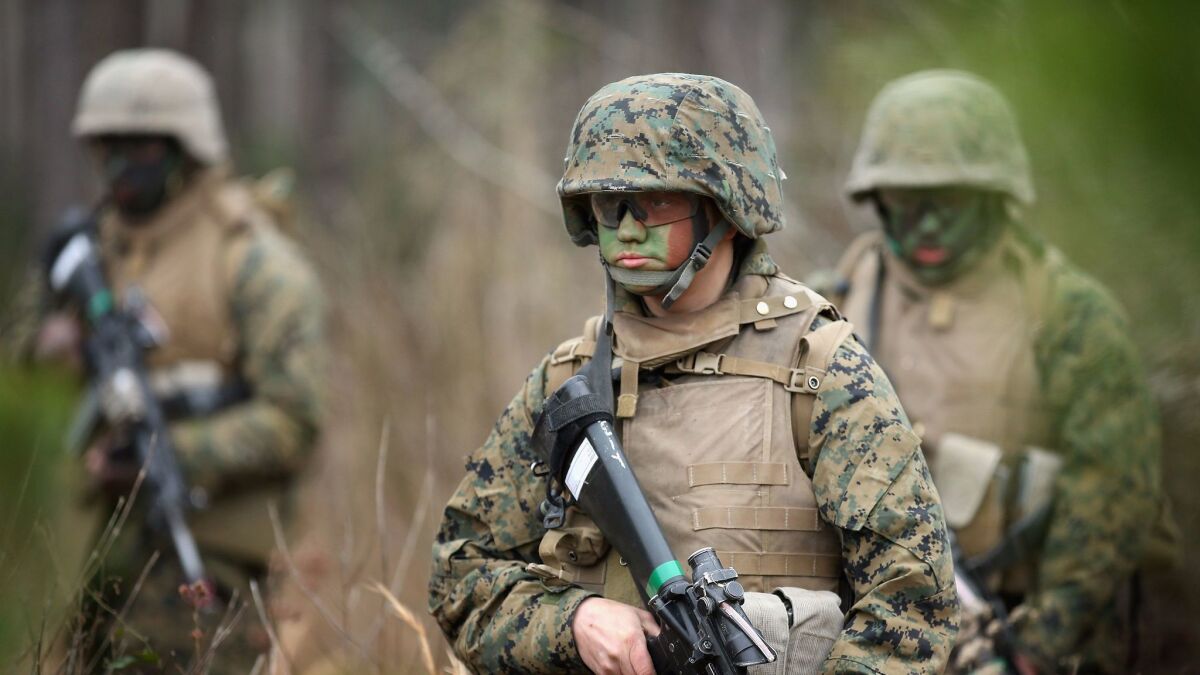 The U.S. Marine Corps for the first time is considering a plan to let women attend what has been male-only combat training in Southern California, as officials work to quash recurring problems with sexism and other bad behavior among Marines, according to Marine Corps officials.
If approved by senior Marine leaders, the change could happen as soon as next spring. And it could be the first step in a broader campaign to give male Marines who do their initial training on the West Coast the opportunity to work with female colleagues early in their career.
Marine leaders are also considering allowing women to attend boot camp at San Diego, the officials said. Currently all women recruits go through boot camp at Parris Island, S.C., while male recruits go either there or to San Diego. The combat training comes after troops have finished boot camp, and is done both in South Carolina and at Camp Pendleton outside San Diego, but women are trained only on the East Coast.
The officials were not authorized to publicly and spoke on condition of anonymity because final decisions have not been made. The boot camp decision is still under discussion.
Marine leaders have come under persistent criticism from members of Congress because the Corps is the only military service to separate men and women for portions of their boot camp. And only the Marine Corps allows half of its recruits to go through initial training without any female colleagues.
Because there are only a small number of female Marines, they all go through boot camp at Parris Island, where they are separated from the men for portions of the training. Members of Congress have been highly critical of that policy and demanded changes, and the Corps has been reviewing the issue.
The Marines have argued that the separation from the men is needed so the women can become more physically competitive before joining their male counterparts. They also have argued that it gives the female Marines the support they need during their early weeks of boot camp. Women make up 8.4% of the Marine Corps, and that is the smallest percentage of all the armed services.
But Marine Corps officials are now suggesting that training half of their recruits on the West Coast with no females in their units could be contributing to some of the disciplinary problems they've had. Giving the male Marines greater exposure to females during training could foster better relations and greater respect over time, some have suggested.
Over the last several years, Marine leaders have battled persistent accusations that the Corps is hostile to women. The Marines were the only service to formally request an exception when the Pentagon moved to allow women to serve in all combat jobs. That request was denied in late 2015 by then-Defense Secretary Ash Carter.
More recently, the service was rocked by a scandal in which Marines shared sexually explicit photos of female colleagues on various social media and other websites and included crude, derogatory and even violent comments about the women. The Naval Criminal Investigative Service is looking into the matter and several Marines have been disciplined.
A Marine task force has been reviewing a range of options and changes for several months to try to reduce the problems.
Months ago, Gen. Robert Neller, the Marine Corps commandant, told Congress that the service has been looking at the recruit training issue. But to date, no major changes have been made.
The nude photo-sharing investigation represents a broader military problem. In a report issued earlier this year, the Pentagon said that nearly 6,200 military members said that sexually explicit photos of them were taken or shared against their will by someone from work, and it made them "uncomfortable, angry or upset." But, across the services, female Marines made up the largest percentage of women who complained.
Among all U.S. service members, more than 22,000 said they were upset or angry when someone at work showed or sent them pornography. And, again, female Marines represented the highest percentage of complaints from women.
ALSO
Pfc. Ruben Velasco of West Covina was among the three Marines lost in air crash in Australia
Google CEO slams memo on gender as employee reportedly fired
Transgender veterans outraged by Trump's sudden ban on military service
---
Must-read stories from the L.A. Times
Get the day's top news with our Today's Headlines newsletter, sent every weekday morning.
You may occasionally receive promotional content from the Los Angeles Times.