Yale says police 'followed procedures' after white student reported presence of black student on campus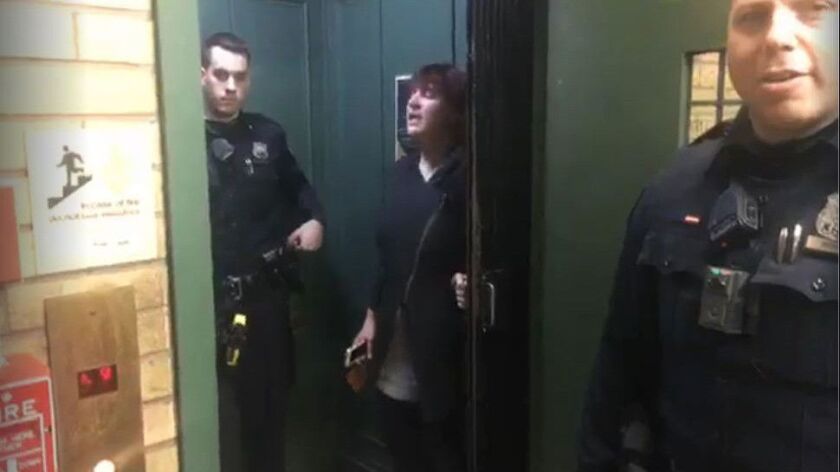 Reporting from HARTFORD, Conn. —
Yale University said campus officers "followed procedures" this week when a white student called police after she discovered a black student sleeping in a residence hall common area.
In an email to students Wednesday evening, Kimberly Goff-Crews, vice president of student life at Yale, said police also spoke with the student who called the police, and "admonished the complaining student that the other student had every right to be present."
During an encounter early Tuesday morning, police took nearly 20 minutes to determine that Lolade Siyonbola, the young woman who was sleeping on a couch, was in fact a Yale student. Siyonbola live-streamed two videos of the incident on Facebook, one of which has been viewed more than 1 million times.
Karen Peart, a Yale spokeswoman, said university police took proper steps to "verify that the person about whom they received the call was a student and a resident who had every right to be in the common room."
Peart said Yale would nevertheless review the call and the responding officers' conduct, "as we do with every incident."
The incident at Yale's Hall of Graduate Studies is the most recent in a string of police encounters prompted by calls from white bystanders about black people later found to have committed no crime. In one case, two black men were arrested at a Philadelphia Starbucks while they waited for a friend.
Asked whether she believed Yale police acted appropriately, Siyonbola said in an email, "absolutely not."
"I know with absolute certainty that if I was white 1) the police would not have been called," she said, "and that 2) if they were, I would not have been detained for nearly 20 (minutes) for absolutely no reason."
When a pair of Yale police officers first arrived at her dormitory Monday night, Siyonbola's video shows they told her, "Once we verify you're a resident here, we'll be on our way."
Although Siyonbola showed them her student ID about two minutes after they arrived, it took police more than 15 minutes to verify she was a student and allowed to be in the building. Peart said the encounter was drawn out because of a spelling mix-up, explaining, "The reason it took longer than usual for the student's identification card to be verified was because the name on her card was her preferred name (which we allow students to use) and did not exactly match her name in the university records."
As minutes ticked by, Siyonbola grew frustrated at the officers' skepticism. At one point, she told police, "I'm not going to justify my existence here."
"We determine who's allowed to be here or who's not allowed to be here," said an officer who identified himself as a supervisor, "regardless of whether you feel you're allowed to be here or not. That's just the bottom line."
Throughout the encounter, Siyonbola said she was being harassed.
"Anytime there's an interaction with police, that doesn't mean it's harassment," an officer told her. "We don't know what happened. We're trying to get to the bottom of it, all right?"
Sun Queen, co-founder of New Haven's Black Lives Matter chapter, said the incident showed some white people still fear black neighbors, co-workers and passersby, and are quick to call police to assuage that fear.
"You need to learn how to deal with that fear without calling the police," she said. "Why is [the] first reaction to call the police? Why is that the thought process?"
Queen said she felt less surprised than weary after seeing the videos.
"It's repetitive — I can't even say it's unbelievable," she said. "It's more like, 'Here we go again.'"
In an email to students, Kimberly Goff-Crews, vice president of student life at Yale, said police also spoke with the student who called, and "admonished the complaining student that the other student had every right to be present."
In the video, Siyonbola described the student as a fellow dormitory resident who had called police a few months earlier on Siyonbola's friend, "because he was in the stairwell and because he's black."
Ormseth reports for the Hartford Courant.
---
UPDATES:
4 p.m.: This article was updated with statements from officials at Yale and background.
This article was originally published at 9:30 a.m.
---
Must-read stories from the L.A. Times
Get all the day's most vital news with our Today's Headlines newsletter, sent every weekday morning.
You may occasionally receive promotional content from the Los Angeles Times.