Senate GOP makes late-hour mention of possible other attackers of Ford, angering Democrats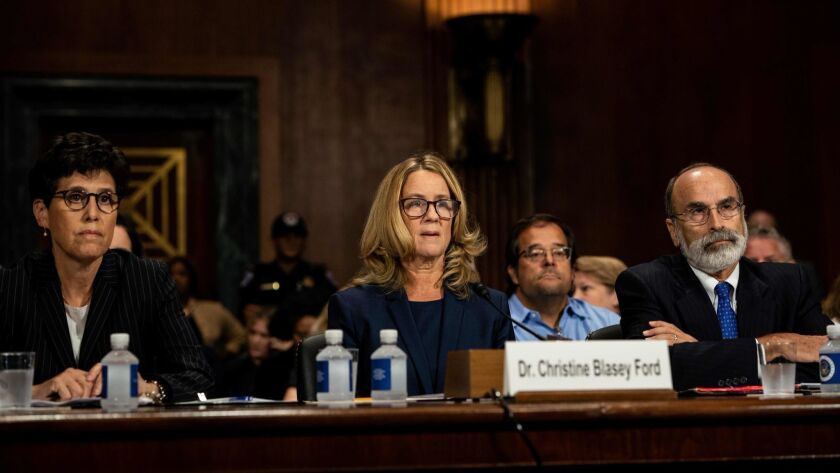 Washington Post
On the eve of a high-stakes hearing for Judge Brett M. Kavanaugh, Republicans on the Senate Judiciary Committee disclosed late Wednesday that they had questioned two men who say they, not Kavanaugh, had the encounter with Christine Blasey Ford that led to her sexual assault allegations, but offered no evidence to back up either claim.
The late-night release of the committee's investigative material about 12 hours before the scheduled hearing further inflamed tensions between Republicans and Democrats, who said they felt ambushed.
"If the Republicans believe these two men, they should call both of them to testify and refer their names to the Montgomery County district attorney," Sen. Charles E. Schumer (D-N.Y.) said in a tweet Thursday morning, referring to the jurisdiction in Maryland where the alleged assault occurred. "If they don't, we'll know it's just an attempt to undermine Dr. Ford and 'plow right through' with the nomination."
The disclosure of potentially exculpatory material was included in a larger timeline of the committee staff's investigative work released by Judiciary Chairman Charles E. Grassley (R-Iowa).
Neither man claiming responsibility is identified by name, and there is no indication that either intends to come forward publicly.
Live updates from the hearing »
The committee declined to comment further than what was outlined in the news release when asked why Grassley's staff interviewed the two men who separately say they might have had the alleged encounter with Ford, how they found the men and whether the committee found them credible.
Ford has alleged that Kavanaugh drunkenly pinned her to a bed on her back, groped her and put his hand over her mouth at a house party in 1982. While she has acknowledged not remembering some details, she has said she has no doubt that Kavanaugh was the individual who assaulted her.
One of the two men claiming responsibility for the encounter was interviewed twice by committee staff, according to the timeline. He also submitted two written statements, one on Monday and a second, "more in-depth" statement Wednesday.
The document says committee staff spoke to a second man by phone on Wednesday who "believes he, not Judge Kavanaugh, had the encounter with Dr. Ford in 1982 that is the basis of her allegation."
The prospect of Ford being mistaken about the identify of her accuser was floated last week by conservative legal commentator Ed Whelan, who on Twitter included a photo of a classmate of Kavanaugh who he suggested could be the real assailant. Whelan's assertion set off immediate controversy, and he subsequently deleted the tweets and apologized.
In response, Ford said that she was certain her attacker was Kavanaugh.
Other investigative material that Democrats say was previously unknown includes a conversation with a friend of Washington resident Julie Swetnick who claimed that Kavanaugh's latest accuser has never mentioned either Kavanaugh or this alleged incident; and a phone call with a former Kavanaugh high school classmate who explained some "innocuous but sometimes insensitive inside jokes" in the school's yearbook.
In her written opening statement, Ford, a research psychologist in California, maintains that it was Kavanaugh who, at a party when he was 17 and she was 15, assaulted her while a friend of his watched.
She explains how she came to interact with Kavanaugh when they were both students at elite, single-sex schools in the Washington suburbs:
"In my freshman and sophomore school years, when I was 14 and 15 years old, my group of friends intersected with Brett and his friends for a short period of time. I had been friendly with a classmate of Brett's for a short time during my freshman year, and it was through that connection that I attended a number of parties that Brett also attended. We did not know each other well, but I knew him and he knew me."
In his written opening statement, Kavanaugh categorically denies an attack, saying: "I have never sexually assaulted anyone -- not in high school, not in college, not ever." He has denied being at the party in question.
Related: Things to watch for when Kavanaugh and Ford testify »
---
The Latinx experience chronicled
Get the Latinx Files newsletter for stories that capture the multitudes within our communities.
You may occasionally receive promotional content from the Los Angeles Times.