Trump 2020 campaign working with former Cambridge Analytica staffers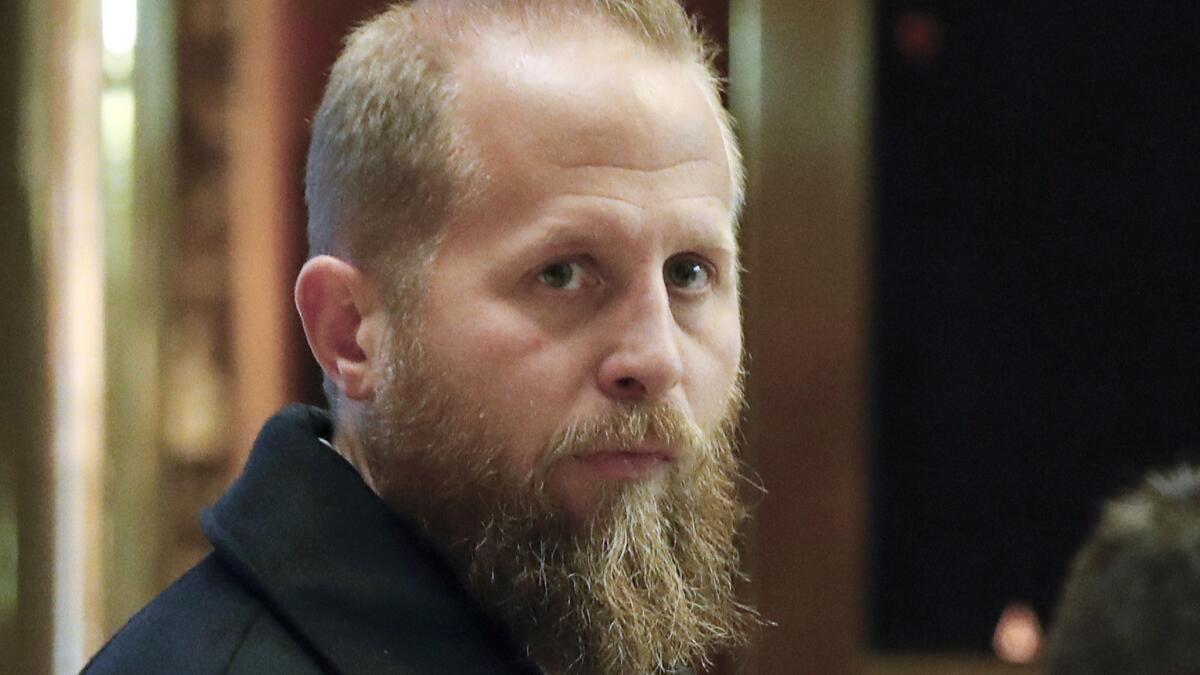 Reporting from Washington —
A company run by former officials at Cambridge Analytica, the political consulting firm brought down by a scandal over how it obtained Facebook users' private data, has quietly been working for President Donald Trump's 2020 reelection effort, the Associated Press has learned.
The AP confirmed that at least four former Cambridge Analytica employees are affiliated with Data Propria, a new company specializing in voter and consumer targeting work similar to Cambridge Analytica's efforts before its collapse. The company's former head of product, Matt Oczkowski, leads the new firm, which also includes Cambridge Analytica's former chief data scientist.
Oczkowski denied a link to the Trump campaign, but acknowledged that his new firm has agreed to do 2018 campaign work for the Republican National Committee. Oczkowski led the Cambridge Analytica data team that worked on Trump's successful 2016 campaign.
The AP learned of Data Propria's role in Trump's reelection effort as a result of conversations held with political contacts and prospective clients in recent weeks by Oczkowski. In one such conversation, which took place in a public place and was overheard by two AP reporters, Oczkowski said he and Trump's 2020 campaign manager, Brad Parscale, were "doing the president's work for 2020."
In addition, a person familiar with Data Propria's Washington efforts, who spoke on condition of anonymity to protect business relationships, confirmed to the AP that Trump-related 2020 work already had begun at the firm along the lines of Cambridge Analytica's 2016 work.
Both Oczkowski and Parscale told the AP that no Trump reelection work by Data Propria was even planned, but confirmed that Parscale had helped Data Propria line up a successful bid on 2018 midterm polling-related work for the RNC, awarded earlier this week. Oczkowski called the contract modest.
Oczkowski had previously told the AP the firm had no intention of seeking political clients. After being informed that the AP had overheard him directly discussing campaign work, he said his young company had changed course and that whatever he'd said about the 2020 campaign would have been speculative.
"I'm obviously open to any work that would become available," Oczkowski said, noting that he and Parscale had worked together closely during Trump's 2016 campaign.
Parscale told the AP that he has not begun awarding contracts for the 2020 campaign, which he was appointed to manage in March.
"I am laser-focused on the 2018 midterms and holding the House and increasing our seats in the Senate," he said. "Once we do those things, I'll start working on reelecting President Trump."
London-based Cambridge Analytica was accused of playing a key role in the 2014 breach of 87 million Facebook users' personal data. The company said it did not use the information for Trump's 2016 campaign, but some former employees have disputed that. Facebook Chief Executive Mark Zuckerberg has said that it was "entirely possible" the social media giant's data ended up being used in Russian propaganda efforts.
In May, Cambridge Analytica filed for bankruptcy and said it was "ceasing all operations." A British investigation of Cambridge Analytica and its parent company will continue despite the shutdown, the U.K.s Information Commissioner's office said last month.
The description of Data Propria's efforts overheard by the AP reporters tracks closely with the services Cambridge Analytica provided to both commercial clients and Trump's 2016 campaign, including profiling voters based on data about them in a process known as "psychography." The technique classifies people according to their attitudes, aspirations and other psychological criteria to tailor advertisements or marketing strategies.
Oczkowski told the AP that three of the people on Data Propria's 10-person team are Cambridge Analytica alumni, but said they were focused on campaign operations and data analysis — not behavioral psychology.
Data Propria is "not going down the psychometrics side of things," he said.
Sign up for Essential California for news, features and recommendations from the L.A. Times and beyond in your inbox six days a week.
You may occasionally receive promotional content from the Los Angeles Times.