Clay Aiken, 'American Idol' runner-up, wins Democratic primary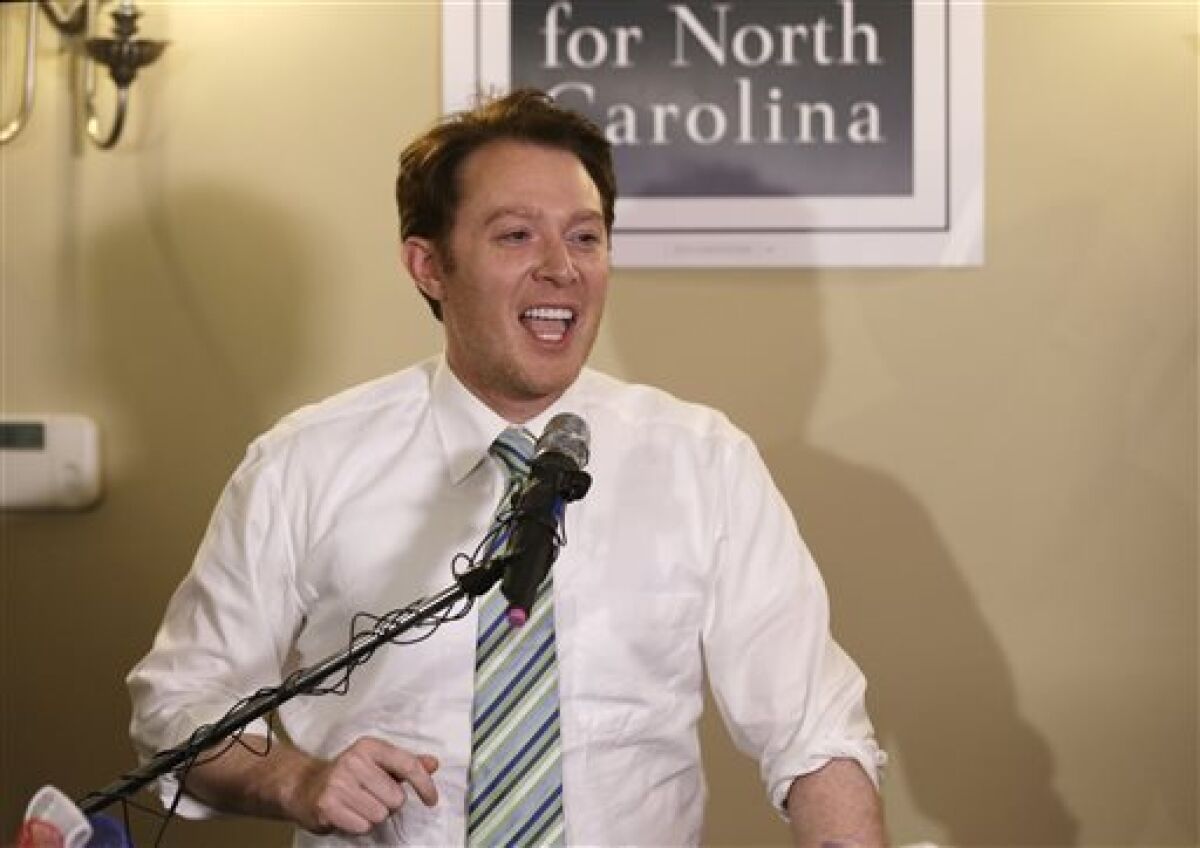 Reporting from Durham, N.C. —
Less than 24 hours after his opponent's sudden death, former "American Idol" runner-up Clay Aiken eked out a Democratic congressional primary victory in North Carolina on Tuesday.
His 390-vote margin was large enough to avoid a runoff, which became moot Monday when former state Commerce Secretary Keith Crisco died in a fall at his home in Asheboro, N.C. Crisco, 71, had planned to concede to Aiken on Tuesday, according to his longtime friend and Democratic political consultant, Brad Crone of Raleigh.
Aiken, 35, a singer, actor and former special education teacher, faces an uphill battle against an entrenched Republican incumbent, U.S. Rep. Renee Ellmers, in the 2nd Congressional District, which lies primarily south and west of Raleigh. The district was redrawn by the state Legislature's Republican majority as a GOP stronghold.
After election day, absentee and provisional ballots were counted, the state Board of Elections declared Aiken the primary winner Tuesday. He received 11,678 votes, or 40.86%, to Crisco's 11,288 votes, or 39.49%. A third candidate, Toni Morris, received the remaining 19.65%.
Aiken needed 40% to avoid a runoff. A win by Crisco would have created an unprecedented situation in which the district Democratic Party executive committee would have appointed a candidate to run against Ellmers, according to N.C. Board of Elections spokesman Josh Lawson.
"No one here in recent memory can recall a candidate passing away in that narrow time period" after a close primary election but before all votes were counted, Lawson said.
The results must be certified by the elections board on May 22, Lawson said. The general election is Nov. 4, with early voting to begin Oct. 23.
Campaign representatives for Aiken did not immediately respond to requests for comment on his victory. Aiken's campaign website was draped in black and bore a single message, posted Monday, in which Aiken called Crisco "a man of honor, character and integrity."
The message said Aiken was suspending all campaign activities "as we pray for [Crisco's] family and friends."
---
Must-read stories from the L.A. Times
Get the day's top news with our Today's Headlines newsletter, sent every weekday morning.
You may occasionally receive promotional content from the Los Angeles Times.