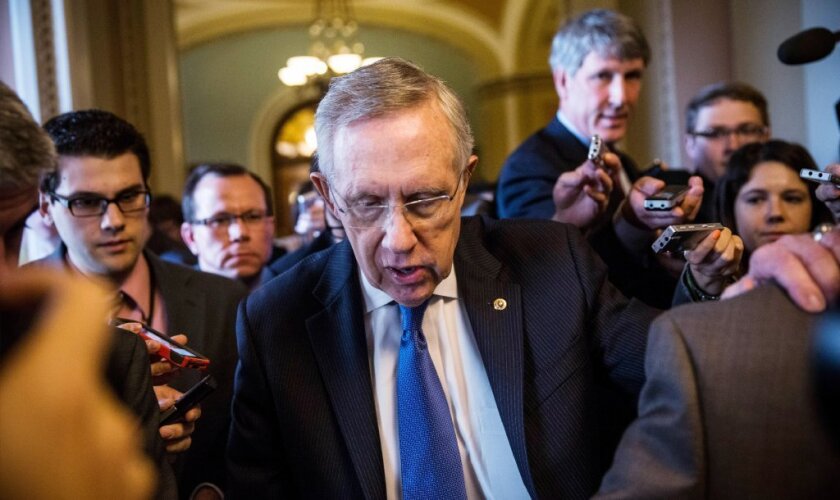 Negotiations over a Senate plan to end the government shutdown and extend the debt limit have been placed on hold while the House tries to cobble together its second plan of the day.
After Democrats and conservative House Republicans critiqued a deal floated by House GOP leadership, Speaker John A. Boehner returned to the drawing board, prompting the Senate to temporarily place its own plan -- which has been received warmly by the House Democrats and President Obama -- on the back burner.
LIVE BLOG: Latest updates on debt crisis, shutdown below
House Republicans have adjusted their plan throughout the day. It includes an end to subsidies for congressional staff health plans, prevents the Treasury Department's "extraordinary measures" to continue financing debt after breaching the debt ceiling and more.
House Democrats met with Obama on Tuesday afternoon and left the talks with another round of criticism of the GOP's course of action.
House Minority Speaker Nancy Pelosi said she was "disappointed that the House Republicans decided to sabotage, or at least delay, what was happening" in the Senate and warned that Boehner would need every Republican vote to pass the latest iteration of his plan.
Despite the increasingly pessimistic outlook in Washington, as the rhetoric between Democrats and Republicans intensifies, Pelosi said she was "optimistic" that the U.S. would avoid defaulting if only because the results would be "catastrophic."
Follow our live blog below for up-to-date news from Washington as lawmakers try to work through the latest round of negotiations.
---