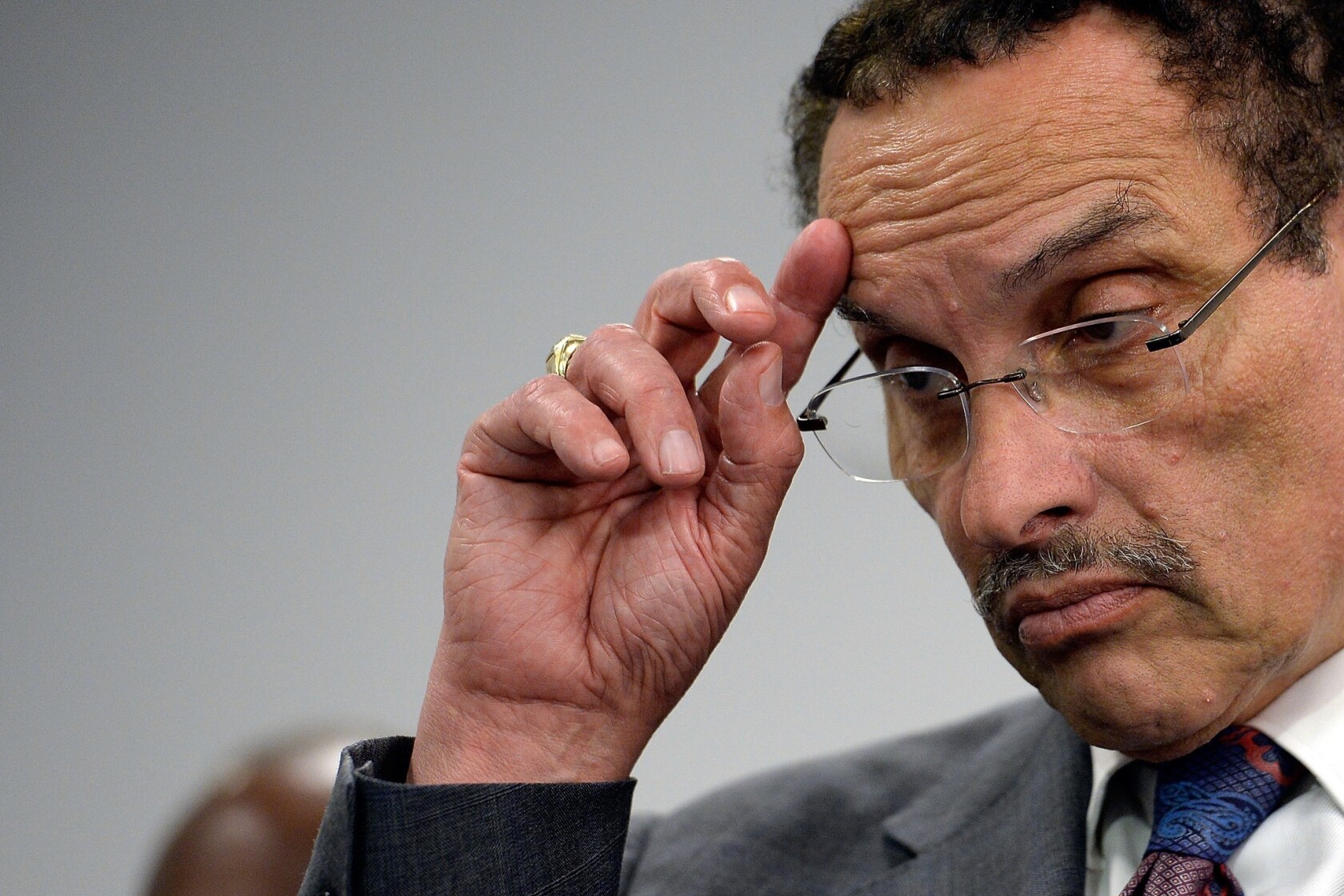 Though Washington, D.C., has refused to cut services to the degree seen in previous shutdowns, Mayor Vincent Gray issued a letter Tuesday warning that "time is running out -- and, soon, I will have exhausted every resource available to me to protect our residents, our workers, and our visitors."
(Patrick McDermott / Getty Images)
It took a salmonella outbreak to prompt the Centers for Disease Control and Prevention to bring back nearly all of its furloughed food monitors Tuesday, after 278 cases were reported across 18 states, including California. The Food and Drug Administration's food-safety programs have also been curtailed, with the agency furloughing about half of its employees.
(Jordan Kartholl / Associated Press)
The National Highway Traffic Safety Administration, which receives its funding through the U.S. Department of Transportation, has significantly cut its safety programs, including issuing recalls, testing safety ratings and reviewing complaints.
(Joe Raedle / Getty Images)
Though food stamps continue to be distributed during the shutdown, the Special Supplemental Nutrition Program for Women, Infants and Children has been defunded. The program, which aids in providing food and healthcare to low-income mothers and their children, is estimated by the USDA to have sufficient funding for about a week before running out entirely.
(Chip Somodevilla / Getty Images)
The Confederate White Knights of the Ku Klux Klan were planning on holding a demonstration in Gettysburg National Military Park on Saturday, the site of one of the Civil War's bloodiest battles. But the park has been closed by the shutdown, and the KKK's permit put on hold.
(Caity Fares)
The early education program Head Start has stated that up to 19,000 children are left without its services during the shutdown, since the grant money required to maintain 23 programs in 11 states has been cut off.
(Chip Somodevilla / Getty Images)
About 200 patients will be turned away from clinical trials each week the government is shut down, National Institutes of Health Director Francis Collins confirmed. Thirty of those patients are children, many of whom are suffering from cancer. Above, Lakers Forward Matt Barnes chatting with Allie Newman, 16 during visits with young patients at the Mattel's Children Hospital.
(Lawrence K. Ho / Los Angeles Times)
The Miramar Marine Corps Air Show, planned for this weekend, is among the most heavily attended air shows in the country with about 500,000 attendees taking part over the last several years. But not even a huge audience could save the show from the government shutdown, with Marine officials confirming Thursday that the event has been canceled.
(Don Bartletti / Los Angeles Times)
The National Zoo's much-watched Panda Cam, set up to monitor Tian Tian, Mei Xiang and the yet unnamed new cub,
went dark Monday night.
Now all that panda devotees can spot is an error message, though the pandas will still be cared for by essential Smithsonian staff.
(Smithsonian National Zoo / Associated Press)
NASA's various social media outreach initiatives have gained a huge number of followers, and many of them are being shut down alongside the government. The popular Asteroid Watch Twitter account freaked out followers with a message that it would no longer be updated, though it later clarified that doesn't mean the agency is turning a blind eye to the skies. And some, like the agency's Voyager 2 space probe,
were a bit more snarky in their closure announcement.
NASA's Instagram account and NASA.gov are also shut down.
(NASA / Getty Images)
Park police began fencing off D.C.'s various memorials and landmarks after the government officially set its shutdown into motion, placing barriers around sites such as the World War II Memorial. But veterans, refusing to be shut out of their own memorial,
stormed the fencing Tuesday morning.
(Olivier Douliery / MCT)
Hopefully you aren't working on a research paper depending on federal statistics during the shutdown, since many sites, including Census.gov, Data.gov, THOMAS (a database of legislative information) and the Federal Trade Commission, are either limited or shut down entirely until Congress agrees to a compromise.
(Library of Congress / Los Angeles Times)
Want to stop by the Capitol for a tour as Congress tries to hash out a deal? Pop by the National Zoo while on furlough? Camp out in Yosemite to celebrate its 123rd birthday? Try again later, since all but a few of the nation's federal tourist attractions, including Smithsonian museums and the State of Liberty are shuttered.
(Emmanuel Dundand / AFP/Getty Images)
District of Columbia Mayor Vincent Gray may have vowed to avoid a District shutdown like that seen in 1995, ruling that the majority of the city's services are essential. But D.C. couples looking for a marriage license may have to wait a while longer, with significant cutbacks enacted at the marriage bureau by the D.C. Superior Court.
(Bob Booth / MCT)
WASHINGTON —
They had come a long way to see the giant pandas. Several thousand miles, in fact.
But when Muscovites John Boyko and Corina Naraevskaya strolled up leafy Connecticut Avenue to the entrance of the National Zoo Tuesday, they were confronted with a locked gate and a large white sign: "All Smithsonian Museums and the National Zoo are closed today due to the government shutdown."
"We are a little bit shocked," said Naraevskaya. The couple's prospect for a glimpse of the cuddly giant animals chomping on bamboo looked grim for this trip. They were in Washington for just a couple of days, part of a road trip down the East Coast. "Tomorrow we have a flight back," Naraevskaya said.
A couple of reporters milling around the zoo entrance broke the news to them that they will need to strike from their agenda a visit to the United States Holocaust Memorial Museum, also part of the Smithsonian.
Boyko, 25, expressed confusion at how the whole Smithsonian could be shut down. "We did not expect this," he said.
Soon after, another visitor strolled up to the zoo entrance. This one from closer by, Virginia Beach, Va.
Jessica McClanahan, 31, had heard about the shutdown but hadn't realized it would mean she and her boyfriend would be unable to get into the zoo. Her companion, wearing a shirt with a Panda on it, stomped off when told the zoo was closed.
"Are you kidding me?" he yelled.
"We didn't know," McClanahan said. "That sucks. It's shut down for the day?"
Probably longer, in fact. How many days the shutdown will last remains unknown, but few in Congress seem to think it will end right away.
Most tourists, however, had apparently gotten word before setting out to see the animals. By late morning more journalists than actual tourists were hanging out at the front gates. Reporters were occasionally joined by locals who wandered over to the gate to snap photos with their iPhones.
For them, the closure was historic. The National Zoo is supposed to be closed only one day a year, Christmas. The free attraction is one of Washington's biggest draws, with millions of visitors each year crowding the surrounding neighborhood on their way in and out.
Panda enthusiasts who can't get to the zoo – or can't get enough of the pandas during their visits – bookmark its famous Panda Cam on their web browsers. But now, even Panda Cam has gone dark.
"We know it is a great disappointment," said spokeswoman Linda St. Thomas, referring to the closure of the Zoo and the 18 other Smithsonian museums. "When people come to D.C., the Smithsonian is a big part of their visit."
evan.halper@latimes.com
Twitter: @evanhalper
---