12 Images
Alleged Corruption and the Courthouse
'Old-boy network'
A sheriff's deputy looks out on the Las Vegas Strip from the new $185-million Clark County courthouse. "I don't think what goes on in Nevada bears any resemblance to a justice system," one Southern California lawyer said.
(Béatrice de Géa / LAT)
In the courthouse's shadow
Las Vegas is one of the fastest-growing metropolitan areas in the United States. But many of its courts have not grown with it, much less grown up.
(Béatrice de Géa / LAT)
Ethical questions
District Judge Nancy M. Saitta awarded more than $1 million in fees for a certified public accountant and his attorneys, two of whom held a campaign fundraiser for her while she was ruling on their case. "People who appear in my courtroom are all on equal footing," she said.
(Las Vegas Sun)
'There's a bowl for the checks'
A thank-you note that Saitta sent to attorneys who contributed money to her campaign.
()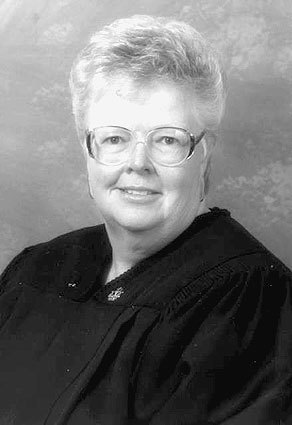 Judge Joseph S. Pavlikowski
Judge Joseph S. Pavlikowski
(Ethan Miller / Las Vegas Sun)
Judge Donald M. Mosley
Judge Donald M. Mosley
()
Follow the money
Judge Donald M. Mosley listens to lawyers' concerns during a 2002 trial. Mosley gave $10,000 in unspent campaign funds to a girlfriend. He called it a loan. She said it was a gift. The judge's campaign fundraising reports show that the money was neither withdrawn nor paid back.
(Sam Morris / Las Vegas Sun)
Family ties
Mosley with former girlfriend Terry Figliuzzi and their son. "He brought it home in cash and tossed it on the table. It wasn't a loan," she said.
()