Bernie Sanders' fundraising drops in April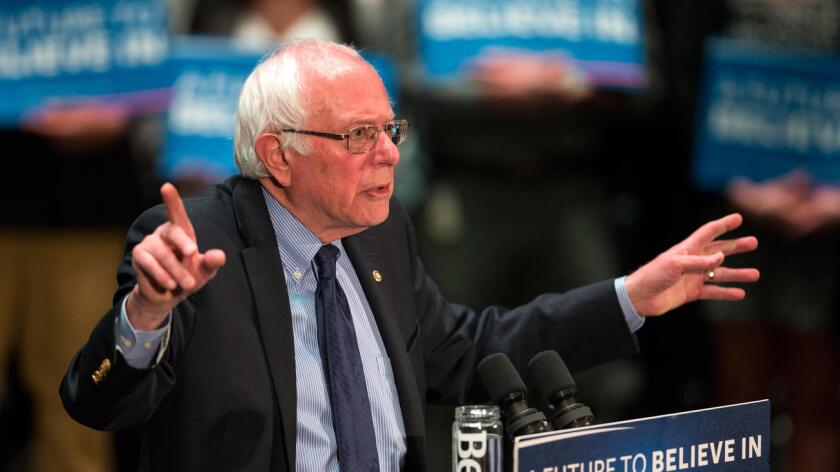 Sen. Bernie Sanders' presidential campaign brought in just $26 million in April as contributions plummeted from earlier months, another sign of his fading candidacy.
The total was a little more than half the $46 million he raised in March. Sanders barely touched on the fundraising figure during a news conference at the National Press Club in Washington on Sunday, instead focusing on the $200 million his campaign has raised altogether since he announced a year ago that he would run for president.
"We have shown we can run a strong, winning campaign without a super PAC and without being dependent on big-money interests," he said.
But Sanders trails Democratic front-runner Hillary Clinton by a wide margin in total delegates with only about a dozen contests left, and last week he laid off hundreds of campaign workers and acknowledged that he is focused on influencing the party platform at its convention in July in Philadelphia.
Sanders again made the case that superdelegates, the party insiders who can vote for whomever they choose at the convention, should factor in their states' popular votes, and which candidate has a better chance of beating Republicans in the fall.
Sanders trails Clinton by 275 pledged delegates but can count on the support of only 38 superdelegates, compared with 502 for Clinton, according to a count by the Associated Press. (The Sanders campaign says 42 superdelegates support him.)
Flipping party leaders who have committed to Clinton could be difficult. Clinton has been shoring up their support for years and many publicly announced their support of her before Sanders entered the race.
"We must have the strongest candidate to beat [GOP front-runner Donald] Trump, or another Republican, and I think the objective evidence is that I am that candidate," he said.
Sanders repeatedly does better than Clinton in hypothetical general election match-ups that pit each of them against Trump, but such polls at this early stage of a presidential race are rarely indicators of November's outcome.
Sanders has criticized party rules that allow hundreds of superdelegates to vote for whom they want, but as the primary season draws to a close he's also begun to appeal to them and even promised that the national convention will be contested, though that appears unlikely.
"It is virtually impossible for Secretary Clinton to reach the majority of convention delegates by June 14 with pledged delegates alone," Sanders said. "She will need superdelegates to take her over the top at the convention in Philadelphia. In other words, the convention will be a contested contest."
With 546 pledged delegates up for grabs, California's June 7 primary is the big prize left on the primary calendar. Sanders would have to win 65% of the remaining pledged delegates to secure the nomination before the convention.
"That is, admittedly, and I do not deny it for a second, a tough road to climb, but it is not an impossible road to climb and we intend to fight for every vote in front of us and for every vote remaining," he said.
Ted Cruz avoids saying whether he would support Donald Trump — nine times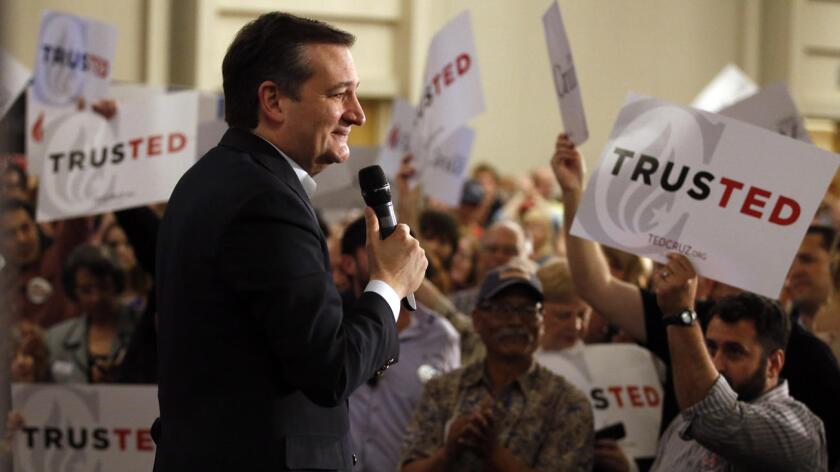 Texas Sen. Ted Cruz sidestepped questions about whether he would support front-runner Donald Trump as the Republican presidential nominee during an interview — nine times.
Cruz repeatedly pivoted from the questions posed by "Meet the Press" host Chuck Todd, either saying he intends to push the contest to the Republican National Convention in July or blaming the media for not pushing Trump enough.
Virtually shut out of delegations in recent primaries, Cruz is mathematically eliminated from clinching the nomination through primary elections. He hopes to block Trump from winning the 1,237 delegates he needs to secure the nomination and then flip delegates' votes in Cleveland.
"So let the record show, you have not taken a position on whether Trump — whether you can support Trump if he's the nominee. Fair enough?" Todd said in wrapping up the interview.
"And let the record show you tried very, very hard to get me to commit to supporting Trump," Cruz responded.
Watch the interview here:
As Republican candidates pitch to California GOP, Trump's argument is simple: I'm a winner
The challengers trying to derail Donald Trump's march to the Republican presidential nomination detailed sharply different paths to a victory in California's June primary as they made their pitches before state GOP delegates facing the unusual prospect of an election that matters.
Ohio Gov. John Kasich raised the banner of electability, insisting Friday that despite his long string of defeats, November voters in California and elsewhere would come to him in an electoral epiphany.
Texas Sen. Ted Cruz offered a pitch — involving the Delta smelt — tailored specifically for the Central Valley, where he hopes to amass enough delegates to deny Trump the nomination, tossing the decision to the summer national convention.
But Trump's argument was by far the more clear-cut. As if he were the political reincarnation of the late Oakland Raiders owner Al "Just Win, Baby" Davis, Trump insisted that the point was a November victory — and that his campaign has proved he's a winner.
His speech at the three-day state GOP convention had almost nothing to do with California. But he pressed repeatedly Friday on the notion that his nomination is inevitable and that the party's chances in the fall depend on unifying in support of him.
The convention seemed to lean toward Trump's inevitability; no giant groundswell rose on behalf of Cruz, despite his red-meat speech that touched on the environment, immigration and the 2nd Amendment, or for Kasich's more laid-back approach.
Applause soared, however, at mentions by all three candidates of the need to defeat Hillary Clinton, the likely Democratic nominee. Each made the argument that he would best accomplish that goal, but Trump's giant delegate lead and the fact that polls suggest he's likely to grab the majority of the 172 delegates at stake in this state on June 7 have dampened expectations for the other two.
Donald Trump doubles down on accusing Hillary Clinton of playing the 'women's card'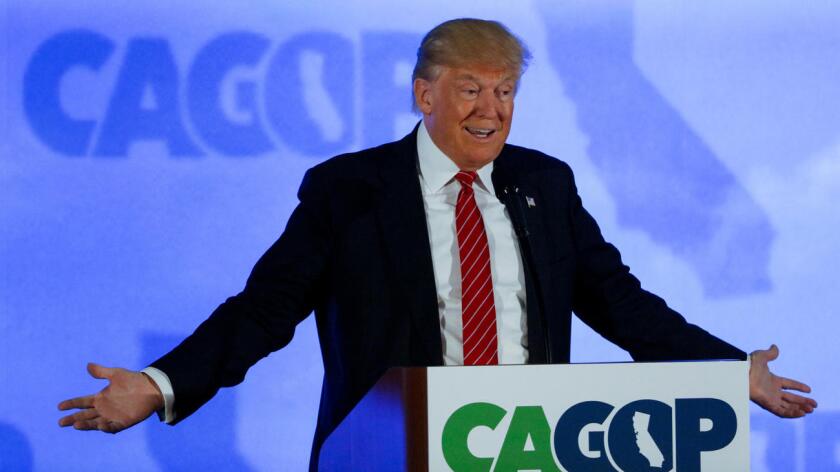 Donald Trump doubled down on his criticism of Democratic front-runner Hillary Clinton on Sunday, arguing that his comments about Clinton playing the "women's card" aren't hurting him with female voters.
"I'm my own strategist, and I like what I said, and it's true. I only tell the truth, and that's why people vote for me," he said on "Fox News Sunday." "Even women don't like her. They don't like her. But it is the women's card, and she plays it, and I'll let you know in about six months whether or not she plays it well, but I don't think she'll play it well.
"It's true. If she were not a woman, she wouldn't even be in this race."
Clinton shot back last week that she's fighting for women and families, and said if that counts as playing the women's card, "deal me in."
On CNN's "State of the Union," Clinton said she has experience with men who go "off the reservation."
"He can say whatever he wants to say about me. I could really care less," Clinton said. "We're going to talk about what we want to do for the country and he can continue on his insult-fest, but that's the choice that he's making."
Trump, in his first appearance on a Sunday morning news show in a month, downplayed the protests outside a campaign rally in Orange County and the California Republican Convention in Burlingame last week as the work of professional agitators. More than a dozen people were arrested at the protests and at least one police vehicle was damaged.
"These are wise guys that stomp on policemen's cars and it's a terrible thing that people are allowed to get away with this," Trump said. "These people have to be dealt with very strongly, because you can't allow that to happen to a police car."
Trump camp not pleased with delegate selection process yet again
Donald Trump has declared himself no fan of the Republican delegate selection process, where many convention-goers are picked at insular party confabs.
His team was singing the same tune this weekend in Arizona, where Trump came up short in the delegate hunt compared to his nearest rival, Sen. Ted Cruz.
Trump backers blamed the Arizona GOP's use of a new online voting system for their poor performance, saying glitches had led to confusion and calling (unsuccessfully) for a new vote.
Donald Trump has the most delegates, but how many does Ted Cruz have?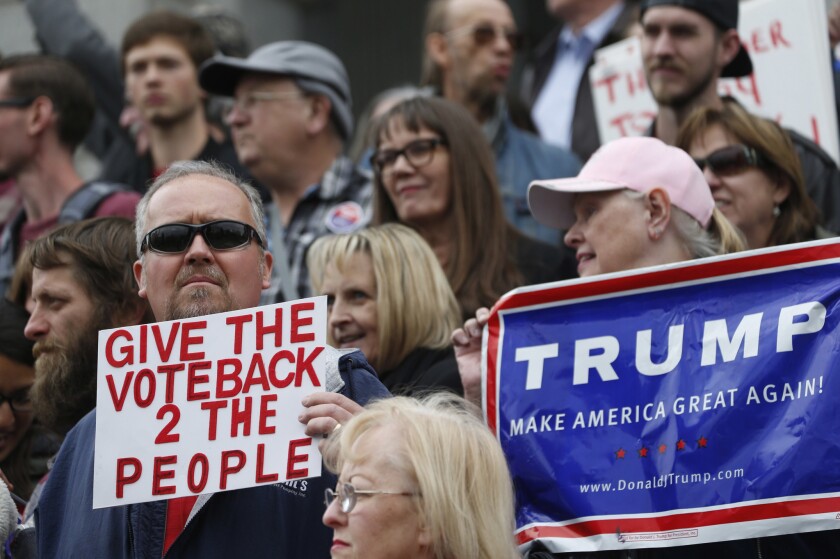 Stay up-to-date on the delegate totals ahead of Tuesday's Indiana primary.