Donald Trump questions debate schedule, citing conflicts with football games
Donald Trump has begun questioning the presidential debate schedule, complaining in an interview aired Sunday that two of three scheduled debates conflict with NFL games and claiming the NFL sent him a letter of complaint.
The debate over debates is a tradition in electoral politics, one that usually ends in, well, debates.
"I don't think we should be against the NFL," Trump told ABC's "This Week." "I don't know how the dates were picked. I don't know why those particular dates."
The NFL later denied sending a letter.
Trump's campaign later conceded to ABC that he had not, in fact, received a letter.
"Mr. Trump was made aware of the conflicting dates by a source close to the league," the campaign told ABC. "It's unfortunate that millions of voters will be disenfranchised by these chosen dates."
Reince Priebus, the Republican Party chairman, also weighed in against the schedule.
"Why would we present the next president of the United States, one of the two of these folks, on a Sunday night or a Monday night?" he said Sunday on CBS "Face the Nation." "Why wouldn't we want to maximize the audience and the viewership so that people can feel free to watch? I -- I don't understand why they would do that."
The bipartisan Commission on Presidential Debates set the schedule last year. The first debate is scheduled for a Monday, when the NFL has a weekly game, and the second one is scheduled for a Sunday, when most teams play.
The presidential and vice presidential dates are:
Sep 26, 2016 First presidential debate, Hofstra University, Hempstead, NY
Oct 4, 2016 Vice presidential debate, Longwood University, Farmville, VA
Oct 9, 2016 Second presidential debate, Washington University in St. Louis, St. Louis, MO
Oct 19, 2016 Third presidential debate, University of Nevada, Las Vegas, Las Vegas, NV
The commission said Sunday that it will not change the schedule, saying it was impossible to avoid conflicts.
Don't let the 'aw, shucks' fool you: Tim Kaine is a force for Clinton on campaign trail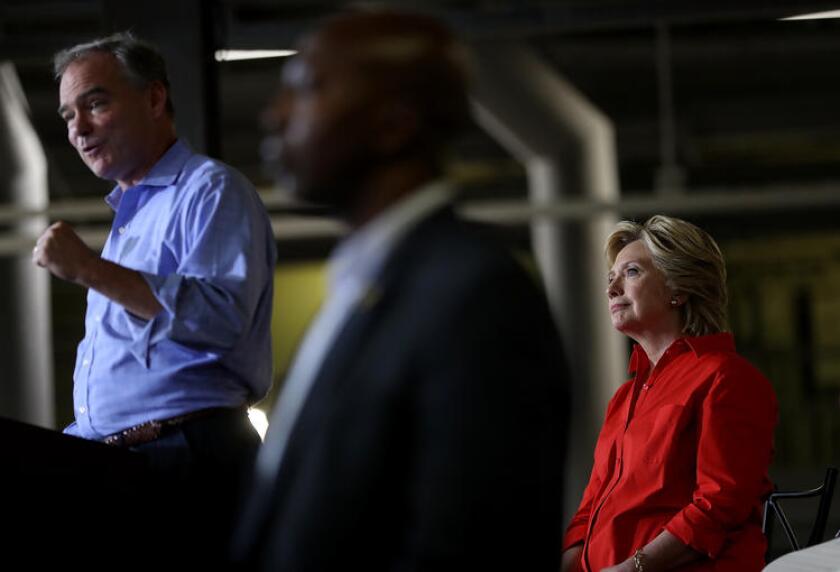 Wherever Tim Kaine goes these days, he says it's "a treat" to be there.
It didn't matter whether the bus he was riding with Hillary Clinton, for their first campaign swing since the Democratic convention, deposited him in a wire factory or a toy manufacturing plant.
Not only was it a treat, Kaine told his audiences, but he was so honored to be Clinton's running mate that he "just can't put it into words."