Trump calls Obama the 'founder' of Middle East terrorist group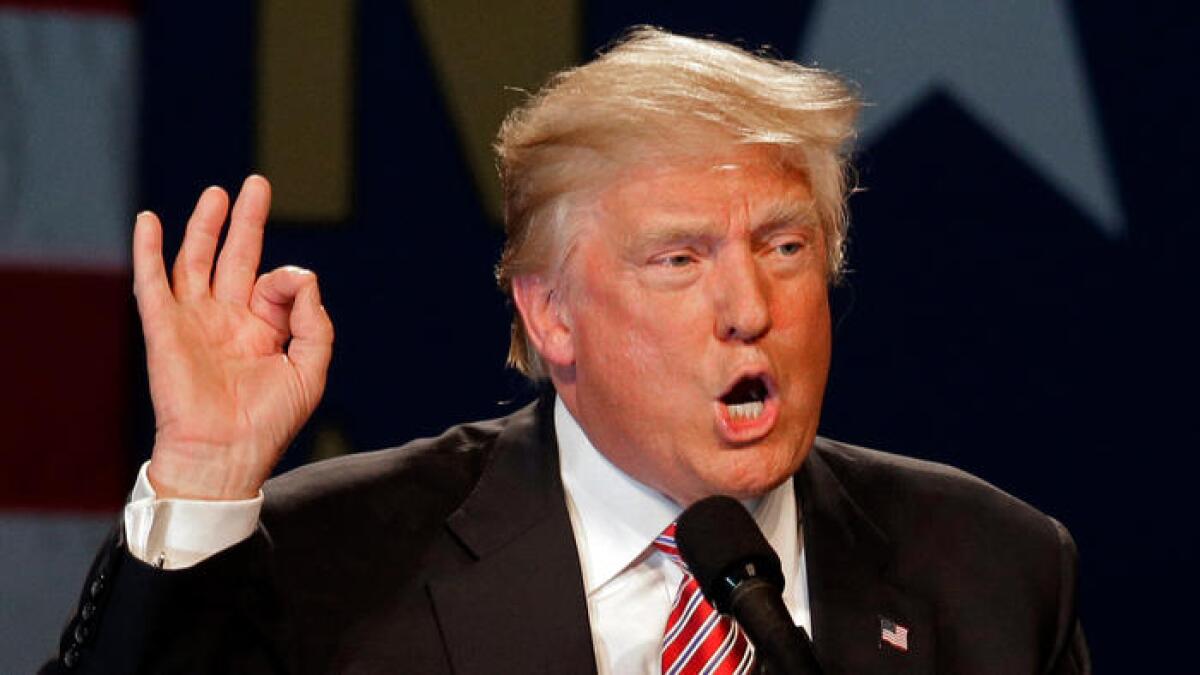 Donald Trump called President Obama the "founder" of Islamic State on Wednesday, the latest in a series of remarks suggesting that Obama sympathized with Muslim terrorists in the Middle East.
"ISIS is honoring President Obama," Trump told supporters at a rally in Fort Lauderdale, Fla., using an acronym for Islamic State. "He is the founder of ISIS."
After making the allegation twice more, Trump added, "And I would say the co-founder would be crooked Hillary Clinton."
Trump's charges came moments after he said that Russia had seized Crimea "during the administration of Barack Hussein Obama," a rare use of Obama's middle name that was notable given Trump's past insinuations that the Christian president was secretly Muslim.
The Republican presidential nominee also falsely stated twice that he had opposed the Iraq war from the start, despite a 2002 recording of Trump saying that he would support a U.S. invasion.
Trump, whose inaccurate statement on Iraq is a staple of his campaign stump speech, criticized Clinton, his Democratic rival, for voting as a U.S. senator to authorize the 2003 invasion. Previous Clinton rivals, including Obama in the 2008 Democratic primaries, have used her support for the war to inflict political harm, but the audio proof of Trump taking the same position undermines that line of attack.
Trump's remarks on Islamic State were open to interpretation. They were part of his policy argument that Obama's withdrawal of U.S. forces in Iraq opened the way for the terrorist network to spread across Iraq and Syria.
After Omar Mateen killed 49 people in a mass shooting at an Orlando, Fla., nightclub in June, Trump questioned whether Obama was genuinely committed to stopping terrorist attacks by Islamic extremists.
"He doesn't get it, or he gets it better than anybody understands – it's one or the other, and either one is unacceptable," Trump told Fox News.
He said Obama was "not tough, not smart, or he's got something else in mind. And the something else in mind – you know, people can't believe it."
When NBC asked for clarification, Trump said: "There are a lot of people that think maybe he doesn't want to get it. A lot of people think maybe he doesn't want to know about it."