U.S. reaches refugee milestone amid campaign debate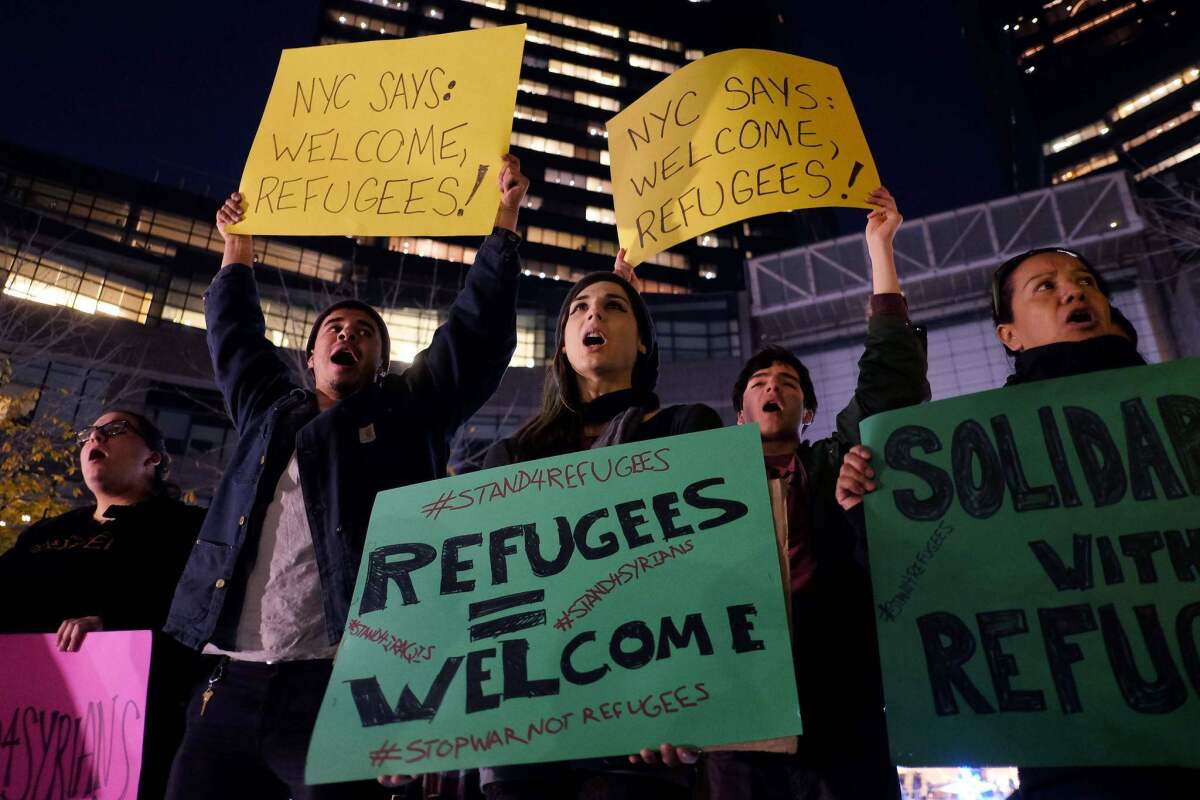 The U.S. was set Monday to welcome its 10,000th refugee from Syria, hailed by the White House as an achievement reached ahead of schedule and "without cutting any corners."
Whether the country should have admitted even that many, or far more, remains the subject of fierce political debate.
The escalation of the Syrian civil war prompted a global refugee crisis last summer as millions fled to Europe from the Middle East and other global trouble spots. Amid pressure from the international community to ramp up the pace of refugee admissions, President Obama set the goal last fall of resettling 10,000 Syrians in the U.S. — a figure far lower than some international allies had sought but one the administration's critics saw as tantamount to "opening the floodgates" and inviting a potential national security threat.
In marking the milestone, the White House charged that both sides had politicized the issue and that Obama's focus throughout has simply been to do the right thing. In a statement, National Security Advisor Susan Rice thanked government agencies that played a role in the screening processes, as well as the communities that have welcomed "these new neighbors, demonstrating the values that have made our nation great."
Although Rice said the 10,000 refugees represented a six-fold increase over the previous year's admissions, the number was a minuscule fraction of the 20 million refugees currently fleeing war zones and other harsh conditions around the world. Activists called on the U.S. to do more, including accepting larger numbers.
"Thousands of families from Syria have found safety on our shores, and that is a wonderful thing," Tarah Demant, senior director of the U.S. branch of Amnesty International, said in a statement. "But so many are still trapped in horrific conditions in refugee camps or war zones. The U.S. must do more to uphold its responsibility to do all it can to protect those fleeing human rights abuses."
White House Press Secretary Josh Earnest said that the president hopes the U.S. will "expand our ambition" to admit more refugees. Secretary of State John F. Kerry is discussing the matter with members of Congress, but Earnest conceded the increase would likely not be more than several thousand.
As of March, the United Nations High Commissioner for Refugees had submitted more than 32,000 Syrians to the U.S. for resettlement consideration. Over the last five years, more than 378,000 Syrians have sought asylum in Germany, by comparison.
Republican presidential nominee Donald Trump has attacked Democratic rival Hillary Clinton for proposing a more significant uptick; she called for admitting 65,000 Syrian refugees during a 2015 interview.
In a speech this month, Trump proposed modifying already-rigorous screening measures to preclude admitting "any who have hostile attitudes towards our country or its principles — or who believe that Sharia law should supplant American law."