Hillary Clinton assails Donald Trump for saying he would sue accusers
Campaigning together for the first time in weeks, Hillary Clinton and Tim Kaine planned Saturday to highlight how different their vision is from Donald Trump's.
But the Democratic nominees said Trump accomplished their goal for them with his address in Gettysburg, Pa., earlier in the day.
"Donald Trump went to Gettysburg, one of the most extraordinary places in American history, and basically said if he is president, he will spend his time suing women who have made charges against him based on his behavior," Clinton told reporters on her campaign plane in Pittsburgh.
"Tim and I are going to keep talking about what we are going to do if we are given the great honor of serving."
Kaine, standing shoulder to shoulder with Clinton in the aisle of the packed plane, expanded on Clinton's observations about Trump's address, which the GOP candidate had billed as a policy outline for his first 100 days in office.
"The parts that grabbed everybody's attention, and that he seemed most personally invested in, were all the scores that he needs to settle, the people he is mad at," Kaine said.
Clinton trains fire on Republican Senate candidate in Pennsylvania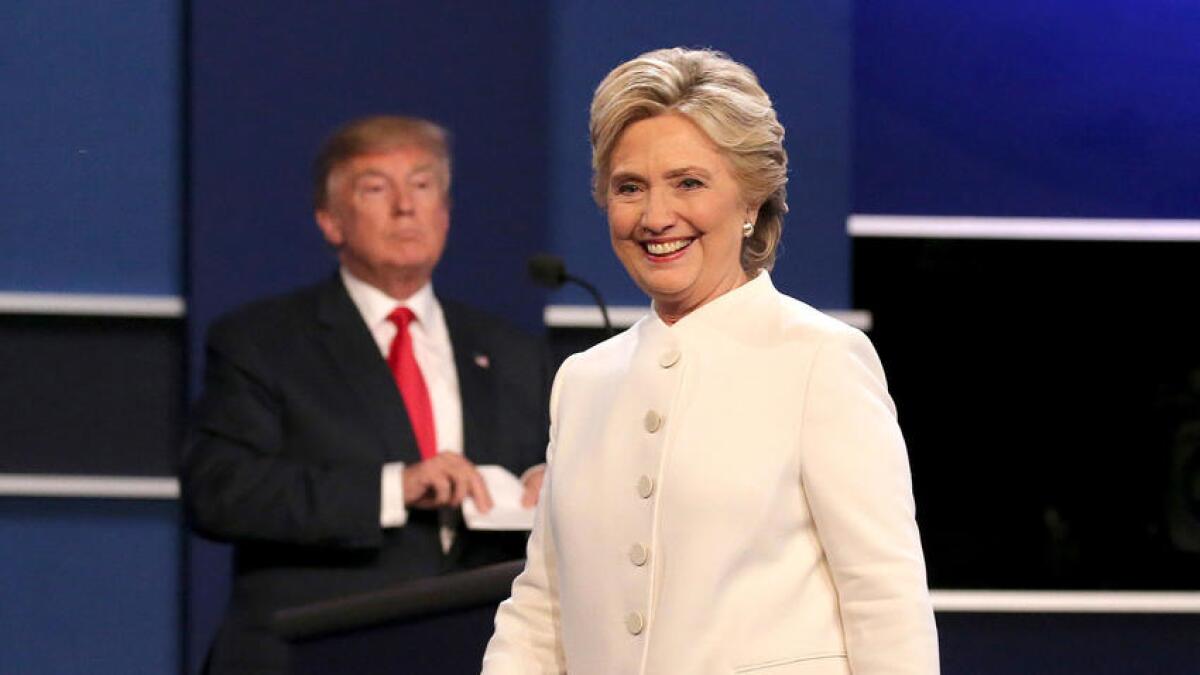 Campaigning in Pittsburgh Saturday, Hillary Clinton didn't just focus her fire on Donald Trump. She also attacked Pennsylvania's Republican Senate candidate, charging him with refusing to repudiate the GOP presidential contender.
"He still refuses to stand up to Donald Trump," Clinton said of Sen. Pat Toomey. "A lot of Republicans have. They have had the grit and the guts to stand up and say, 'He doesn't represent me.'"
Clinton's tough remarks about Toomey during a spirited address before a crowd of 1,800 reflected the new attention her campaign is putting on down-ballot races as election day nears and her lead over Trump looks increasingly insurmountable.
The shift in focus also comes after the biggest pro-Clinton superPAC, Priorities USA, recently began redirecting resources to down ballot races.
Clinton rattled off a litany of Trump moves that have pushed other Republicans away: calling Mexican immigrants rapists, saying "terrible things about women," questioning whether the first African American president was a legitimate citizen.
"How much more does Pat Toomey need to hear?" Clinton said. "If he doesn't have the courage to stand up to Donald Trump after all this, can you be sure he will have the courage to stand up for you?"
Clinton's remarks come as polls show her comfortably ahead in Pennsylvania, while the Democrat running for Senate, Katie McGinty is not faring as well.
McGinty is locked in a tight race with Toomey. As Democrats have in other states, they are seeking to paint Toomey as in lockstep with Trump, whom swing voters view warily.
But it is not always an easy sell.
Next door in Ohio, Republican Sen. Rob Portman appears to be cruising to reelection, even as Clinton has gained ground in recent weeks and is now tied with Trump.
Adult film actress is the latest to accuse Donald Trump of kissing her
An adult film star Saturday became the latest woman to step forward and allege that Donald Trump made inappropriate sexual advances toward her.
Jessica Drake, who works for the pornography company Wicked Pictures, said she met Trump 10 years ago while in Lake Tahoe at a golf tournament.
After some flirting during the day, Drake said Trump invited her and two friends to his room at a hotel.
"When we entered the room he grabbed each of us tightly in a hug and kissed each one of us without asking permission," Drake said, with her attorney Gloria Allred at her side.
After 45 minutes of talking to Trump they left his room, she said. But Trump or a "male speaking on his behalf" called later and offered her $10,000 and use of his private jet for sex. Drake said she declined.
"This story is totally false and ridiculous. The picture is one of thousands taken out of respect for people asking to have their picture taken with Mr. Trump," his campaign said in a statement. "Mr. Trump does not know this person, does not remember this person and would have no interest in ever knowing her."
Drake is the 11th woman to step forward in recent weeks alleging Trump of sexual misconduct.
The accusations come on the heels of the release of a 2005 audio recording in which Trump boasted about groping women.
Trump said later that he did not engage in such behavior.
On Saturday, while speaking in Pennsylvania, Trump vowed to sue his accusers.
"Every woman lied when they came forward to hurt my campaign," Trump said. "Total fabrication. The events never happened. Never. All of these liars will be sued after the election is over."
Donald Trump's brand takes a hit from sexual assault allegations and lewd video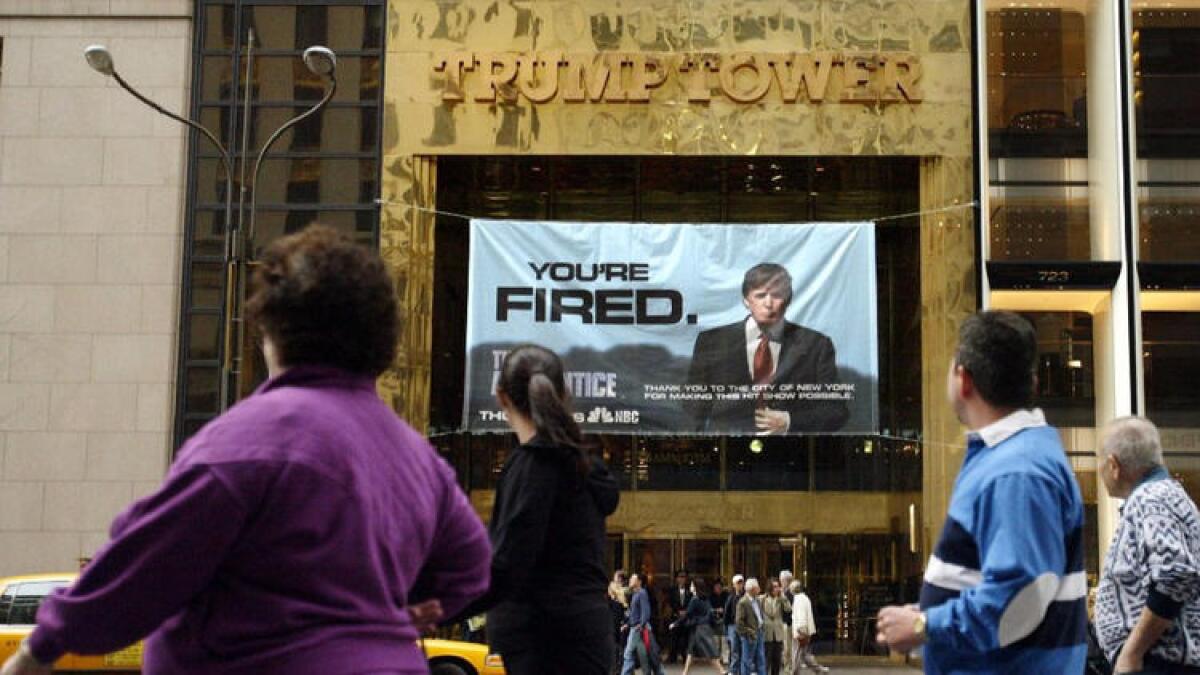 In the tradition of P.T. Barnum, an earlier showman-turned-politician who is credited with saying there's no such thing as bad publicity, Donald Trump may have thought he had nothing to lose in running for president.
Even a defeat might serve to raise his visibility and burnish a name brand that has become his most valuable asset.
But while Trump's unconventional campaign has brought him a lot of free publicity and newfound popularity bordering on reverence among his mostly white, conservative, working-class supporters, it also has turned off many Americans who now associate his name with racism, misogyny and bigotry.
And there are increasing signs that the ugliest presidential race in modern history has tarnished the Trump name to such degree that it may jeopardize — or, at a minimum, alter — the future of his business enterprises
Hmmm, about those lawsuits, Donald Trump
'All of these liars will be sued when the election is over': Donald Trump denounces accusers
Donald Trump launched another late attempt to fix his sagging campaign Saturday, delivering a speech billed as a closing argument in a hotel ballroom near the battlefield that turned the direction of the Civil War.
Yet even as Trump praised Abraham Lincoln for uniting the country, he laced his Gettysburg speech with familiar charges of a rigged election and corrupt media, along with a new vow to sue 10 women who have accused him of sexual misconduct.
"All of these liars will be sued when the election is over," Trump told a small audience at the Eisenhower Hotel.
Trump's aides had previewed the speech as a policy address that would highlight his first hundred days in office. But almost all of the promises had been made before in other speeches and news releases.
Donald Trump says women accusing him 'will be sued after the election is over'
Donald Trump delivered a message Saturday to the women who have accused him of sexually assaulting them over the years: Prepare to be sued.
Campaigning in Pennsylvania on Saturday, Trump called the women's accusations falsehoods bent on damaging his campaign in its final weeks.
"Every woman lied when they came forward to hurt my campaign," Trump said during a speech in which he also rolled out his plans for his first 100 days in office. "Total fabrication. The events never happened. Never. All of these liars will be sued after the election is over."
So far, nearly a dozen women have spoken publicly about Trump groping or kissing them in the past.
Many of Trump's accusers have come forward this month after the release of a 2005 recording in which Trump can be heard making lewd comments and boasting about groping women.
On Saturday, another accuser is set to make a public statement about Trump.
And this week, yet another woman, Karena Virginia, described an encounter with Trump while she leaving the U.S. Open tennis tournament in Flushing, N.Y., in 1998.
Virginia said she was waiting to be picked up when she noticed Trump among a group of men looking at her and commenting on her appearance.
Trump then approached her, grabbed her right arm and touched her breast, she said. When she flinched, he responded: "Don't you know who I am?" Virginia said.
"I felt intimidated, and I felt powerless."
Donald Trump says he'd block any mergers between AT&T and Time Warner
At his rally in Gettysburg, Pa., on Saturday, Donald Trump came out in opposition to a possible AT&T-Time Warner merger.
Trump also said he plans to sue all of the women who have accused him of sexual assault following the unveiling of a 2005 video in which Trump bragged about groping women.
Clinton campaign: No health issues after mailed powder found
The Hillary Clinton campaign says four people have been examined by medical personnel after a white powdery substance arrived at a New York campaign office, and they have reported no health issues.
Campaign spokesman Glen Caplin said federal and local officials determined the substance was non-hazardous; he provided no further details Saturday.
Police say preliminary tests showed the substance found Friday in an envelope at Clinton's Manhattan office, where mail is received, was not harmful. A police spokesman declined to identify what the substance was.
The envelope arrived around 5:30 p.m. Friday. It was taken to Clinton's Brooklyn headquarters, and the 11th floor there was evacuated.