Fort Mojave Indian Tribe Band marches down the street of a reservation village outside Needles during a rehersal – a scene that has been a tradition here on the California-Arizona border for 100 years.
(Irfan Khan / LAT)
Fort Mojave Indian Tribe Band members Madeline Wilson, on flute, and Benjamin Dunkle, on tuba, warm-up before a practice march.
(Irfan Khan / LAT)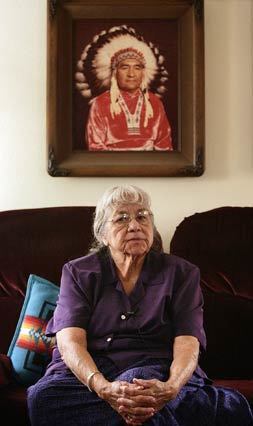 81-year-old Betty Barrackman sits underneath a framed photo of her husband Llewellyn, who died at the age of 87. Llewellyn kept the band going for decades, like his father before him. "He lived for the band," Barrackman said of her husband. "He didn't ever want to let it die."
(Irfan Khan / LAT)
Iva Espinoza holds 9-month-old Deven Dunkle in the room used for Fort Mojave Indian Tribe Band practices. Devin's father, Benjamin Dunkle, plays tuba in the band.
(Irfan Khan / LAT)
A stray dog named "Snoop" follows the Fort Mojave Indian Tribe Band members as they march through the streets near Needles, CA.
(Irfan Khan / LAT)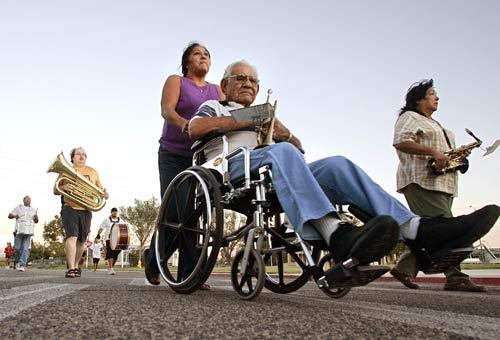 Trumpet player Tony Salas gets a push from Izetta Courtwright during the rehersal. A century ago, dozens of Indian tribes nationwide had bands that played the music of John Philip Sousa and other patriotic anthems. The bands were an outgrowth of government-run boarding schools that sought, brutally at times, to erase Indian cultures, religions and languages in the name of assimilation. Only a few bands survive. The Fort Mojave tribe's is thought to be the oldest.
(Irfan Khan / LAT)
Fort Mojave Indian Tribe Band drummer Carlos Espinoza Jr., 46, practices on his snare drum. In 1906, Mojave elders enlisted Albert J. Eller, a German-born music teacher at the Ft. Mojave Indian boarding school in Arizona, to help form a band to play patriotic marches. Their goal: to defuse racism by embracing the dominant culture's popular music.
(Irfan Khan / LAT)